British oil and gas giant BP (NYSE:BP) pays a hefty 5.10% yield. Compare this to its American counterparts Exxon (NYSE:XOM) and Chevron (NYSE:CVX)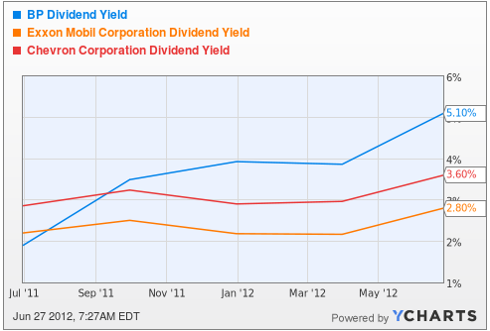 That's a huge difference in favor of fish and chips. A huge difference. Uh oh, you don't think that yield represents too large a chunk of their profits do you?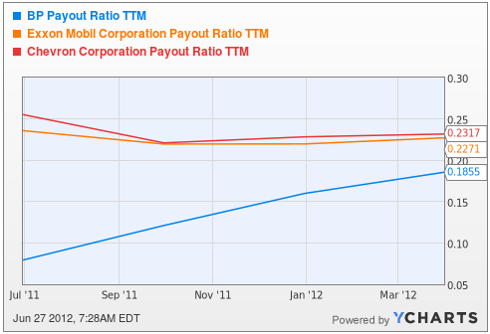 Phew. This company is just plain better than its American counterparts, and there's the dollar:
remember to take into account in what currency they get paid and in what currency they are denominated
The strong American dollar can hurt US companies selling abroad but help foreign companies selling in to the US market. Gooooooooooooal for fish and chips.
So, that yield of BP's is not only dramatically higher than the Americans', it's a smaller portion of their profits. And then there is that nasty dollar situation. That's it for me, I'm off to a fancy restaurant to loudly and intrusively inquire of the neighboring tables if they own any BP and storm out if they don't.
Just one last thing, a small matter really, but let's have a peek at the balance sheets: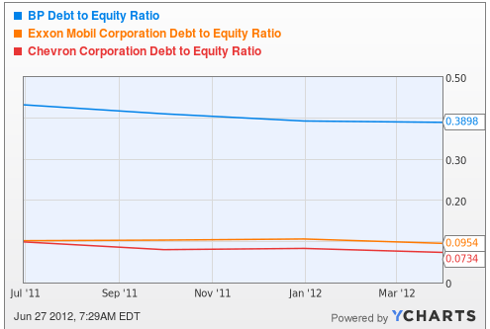 Oscar: "Oh."
Kevin: "Yeah. Oh."
And there we have it. BP is much more leveraged than Exxon or Chevron, and that could be risky if Europe can't keep its economy together.
Oh, I know! Probably with interest rates so low BP has been borrowing at near 0% in order to do a truly MASSIVE share buyback program!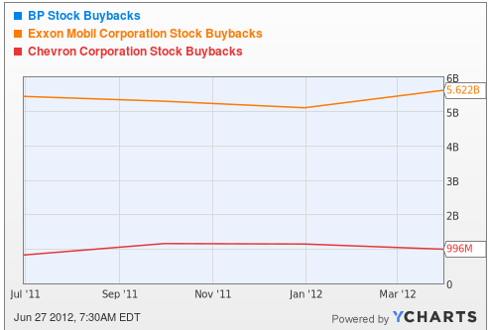 Well, maybe Exxon has anyway. And then there are the legal matters.
Conclusion
As always, a big yield number looks great but you have to look beneath the surface and see if there are any red flags. BP's debt compared to it competitors is clearly out of whack and while it does not have to be bad for business necessarily it is something that we must make up our minds about before we let that juicy yield draw us in.
BP has been put on sale like much of the energy sector, a rare chance to get quality energy names at a discount. Consider these other energy names while fear rules the market: Arch Coal Inc (NYSE:ACI), Alpha Natural Resources, Inc. (NYSE:ANR), Apache Corporation (NYSE:APA), Baker Hughes Incorporated (NYSE:BHI), Peabody Energy Corporation (NYSE:BTU), Chesapeake Energy Corporation (NYSE:CHK), ConocoPhillips (NYSE:COP), Chevron Corporation , Devon Energy Corporation (NYSE:DVN), Enbridge Energy Partners, L.P. (NYSE:EEP), EOG Resources, Inc. (NYSE:EOG), Halliburton Company (NYSE:HAL), Hess Corp. (NYSE:HES), Linn Energy, LLC (NASDAQ:LINE), Marathon Oil Corporation (NYSE:MRO), National-Oilwell Varco, Inc. (NYSE:NOV), Plains All American Pipeline, L.P. (NYSE:PAA), Petroleo Brasileiro SA (ADR) (NYSE:PBR), Penn West Petroleum Ltd (NYSE:USA) (NYSE:PWE), Royal Dutch Shell plc (ADR) (NYSE:RDS.A), Seadrill Ltd (NYSE:SDRL), Schlumberger Limited. (NYSE:SLB), Statoil ASA (ADR) (NYSE:), Suncor Energy Inc. (NYSE:SU), TOTAL S.A. (ADR) (NYSE:TOT), Valero Energy Corporation (NYSE:VLO), Exxon Mobil Corporation
Disclosure: I am long ACI.