Perhaps no sector has confounded equities investors more than the homebuilders, an industry whose recovery seems to get prematurely called about every six months. Forecasting hasn't been any easier six years into the crisis, and shareholders have paid for the uncertainty. Homebuilder share prices -- Pulte (NYSE:PHM), D.R. Horton (NYSE:DHI), Ryland (NYSE:RYL), Lennar (NYSE:LEN) and Toll Brothers (NYSE:TOL) -- shot up 25% to 50% this year to mid-May, but recent weeks have taken much of those gains back.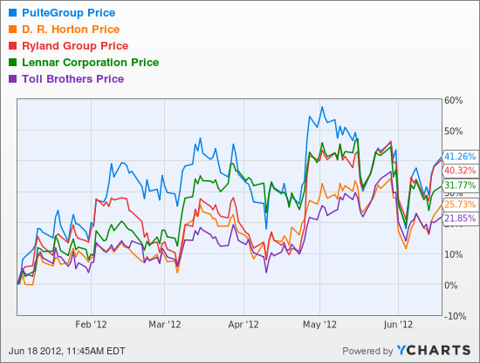 PHM data by YCharts
It's easy to understand the confusion. Everyone wants a big recovery play, and what better place to find one than in an industry that's been depressed for six years? But the recession has reaked havoc with the balance sheets of all homebuilders, which is why YCharts Pro gives almost the entire sector 'Avoid' ratings. And the good news that doubled some share prices in the sector in the past eight months has turned to a mushy mix of indicators in an eerily familiar manner.
On the plus side, the number of homes for sale ticked sharply down in April. Realtors in some places say there's actually a shortage of houses for the clients to consider. Perhaps new homes will be needed to fill the void.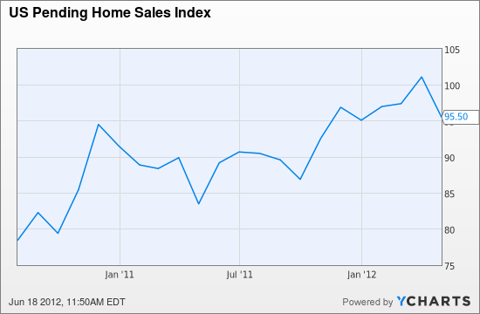 US Pending Home Sales Index data by YCharts
Homebuilders were optimistic enough about their futures to ramp up housing starts more than 16% over last year's numbers.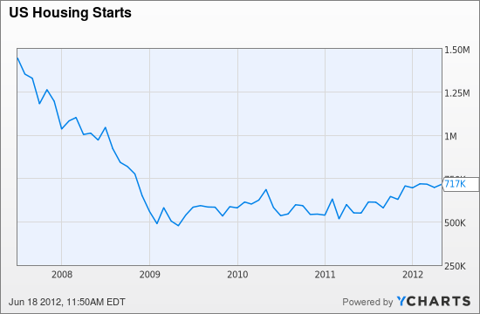 US Housing Starts data by YCharts
On the worrisome side, RealtyTrac reported a 9% spike in foreclosures in May. Home prices in March were lower than they have been since the housing crisis began in 2006, which makes it difficult for anyone who needs to sell a house in order to buy another one (and that would be most homeowners). The Census Bureau reports that there are still millions of homes sitting vacant. Like those foreclosed properties, the vacant ones presumably will go on the market some day, perhaps when prices rise.
All of which makes one wonder whether the homebuilders can sell those 717,000 new homes.
Low mortgage rates remain the most shining ray of hope for homebuilders. The 30-year mortgage rate remains at a record low, which provides a big incentive to buy now to anyone able. Compared to 2006, it's like a 50% off sale.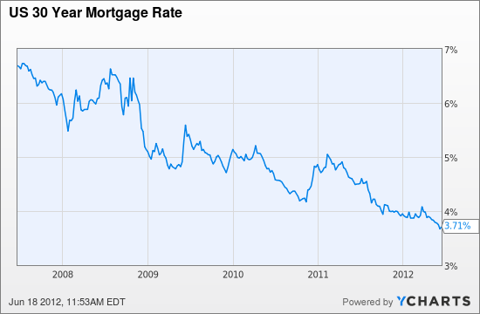 US 30 Year Mortgage Rate data by YCharts
The fact that the masses aren't rushing out to buy now probably just reflects how many people are stuck in homes they can't sell; which, of course, severely limits the number of people that can buy homes.
There's little in the numbers to comfort a long-term value investor in the homebuilding sector, especially with high valuations on the share prices now and weak fundamentals of most of the companies. But it looks like a very nice time to buy a vacation home.
D. R. Horton Inc. is rated Avoid. Lennar Corporation is rated Avoid. PulteGroup Inc. is rated Avoid. Ryland Group Inc. is rated Avoid. Toll Brothers Inc. is rated Avoid.
Disclosure: No positions