A piece by Morgan Stanley (NYSE:MS) yesterday entitled: "Global Equity Strategy: Our Top Global Dividend Ideas" (MS client log-in required) could prove especially valuable to Seeking Alpha's dedicated income investors. Given Morgan Stanley's expectation of weak equity market returns in the developed world, their analysts contend that dividends will be an even greater proportion of total equity returns in subsequent periods. The logarithmically scaled graph below shows that the nominal compounded annual growth rate (OTCPK:CAGR) of investor returns from dividends in the United States since 1901 has been 4.9%, or over half of the total nominal CAGR of domestic equity investments of 9.5%.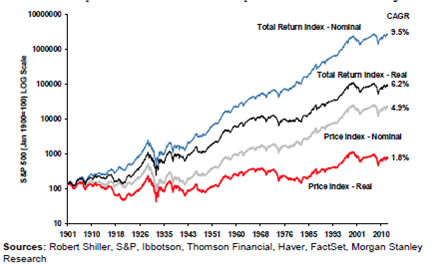 Over the last generation, dividends have been relatively less important to total returns of equity holdings than they have been historically. In the 1980s, falling discount rates from a disinflationary environment favored price gains over dividend yields. In the 1990s, outsized gains in growth and technology stocks driven by a record economic expansion and the ushering in of the Internet Age, saw price returns outdistance the dividend yield component of equity returns by a record amount. Low absolute returns in the 2000s perhaps shielded from view the fact that, without the dividend component, total equity returns would have been decidedly negative. Investors who have went through this three decade period where dividends were relatively less important to total equity performance have potentially underestimated the import of dividend payers prospectively.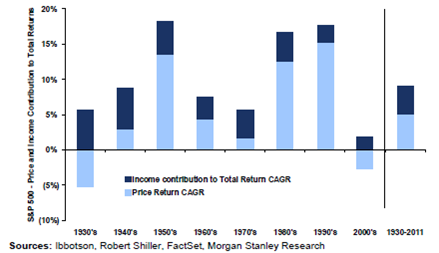 In the United States, the dividend yield relative to U.S. Treasury securities stands at least at a fifty year premium. The graph below shows the market dividend yield divided by the government bond yield. The current ratio of 1.4x is much higher than the historical average of around 0.5x. Some could contend that this makes U.S. equities relatively cheap, while others could contend that this signals that U.S. dividend yields are likely to fall given the economic risk priced into U.S. government bond yields. I am decidedly in the former camp given the high levels of liquidity on U.S. corporate balance sheets, and historically low payout ratios (28% ex-buybacks versus long-run average of 56%). Dividend yields favor equities over returns from traditional fixed income by the greatest margin in at least half a century.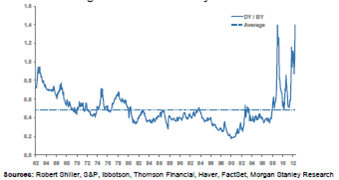 Morgan Stanley listed sixteen stocks who have a consensus 2012 dividend yield above its median bond yield on the respective company's outstanding debt issues, and where Morgan Stanley has a overweight rating on the stock. Low bond yields signal that the credit markets believe that the company can continue to internally finance their operations, or that bond investors will lend the company incremental money at low nominal rates, lessening the company's need to reduce its dividend. The sixteen companies listed below are in descending order by the difference between dividend yields and bond yields.
The sixteen names above actually form a widely diversified portfolio with exposures in energy, (DO, CVX) information technology , consumer staples (GIS, PEP, PM), healthcare (PFE, SJM), materials (NUE, FCX), telecommunications , industrials (EMR, GE), and financials . Twelve of the sixteen names are in the Dividend Sweet Spot of between 3% - 6%, which has produced higher total returns on average over time. Only Centurylink, the wireline telecommunications company, has a dividend yield of above six percent, and it is also singularly the only below investment grade rated company listed given its challenging and secularly declining business model.
On a second screen, Morgan Stanley listed stocks with attractive and sustainable dividends and an overweight rating by MS analysts. The screen included companies with a market capitalization of greater than $2 billion, a dividend yield of between 2.25% and 6%, and analysts estimates of growing dividends, a dividend payout ratio of less than 75%, a net debt/cap less than 15%, and a free cash flow yield of greater than 5%. GE, PFE, PM, CL, EMR, NUE are again included on this second screen, which also includes Honeywell with a 2.8% dividend yield (NYSE:HON), Accenture 2.8% (NYSE:ACN), Las Vegas Sands 2.3% (NYSE:LVS), Baxter 2.7% (NYSE:BAX), ACE Limited 2.7% (NYSE:ACE), LyondellBasell Industries 3% (NYSE:LYB), Archer Daniels Midland 2.3% (NYSE:ADM), Marsh & McLennan 3% (NYSE:MMC), Cardinal Health 2.4% (NYSE:CAH), Marathon Petroleum 2.5% (NYSE:MPC), Western Union 2.4% (NYSE:WU), Invesco 3.2% (NYSE:IVZ), Interpublic Group of Companies 2.3% (NYSE:IPG), and Lear 2.9% (NYSE:LEA).
The aforementioned ADM, CL, EMR, NUE, and PEP are all also members of the Dividend Aristocrats, companies that have paid increasing dividends for at least twenty-five years. The Dividend Aristocrat investing style can be approximated through SPDR S&P Dividend ETF (NYSEARCA:SDY). My earlier analysis demonstrated that companies with this dividend payout profile have produced higher average returns with less volatility of returns over a long time period.
After a thirty year hiatus, dividend investing is likely to move back to the forefront for domestic equity investors, and dividends will again form a large part of your total return from equity investments. I hope this article gives Seeking Alpha investors several approaches to thinking about how to construct a solid and sustainable dividend portfolio.
Disclosure: I am long SDY. While I hold few single name equity exposures, I am long domestic equities, and the long-term portion of my portfolio is tilted towards solid and sustainable dividend payers.