In an article I wrote earlier in the month, I pointed out that short sellers were taking significant risk in being bearish at the time. The most important factor cited was the significant accumulation of shares from a couple of unrelated parties. An additional filing was issued last week showing greater purchases by these entities. At first blush, investors have seen this factor as a big positive. Not only does it show that one or more institutional holders have significant confidence in their China Medical (CMEDY) holdings, but the sheer accumulation of shares by these holders has sent shares higher.
On further examination, the continued accumulation of shares by these interests does pose risks. As most investors know, any time an investor(s) has greater than 50% control of voting stock, the biggest risk is that a limited number of entities have voting power over the entire company. This includes decisions on whether or not a company gets sold and at what price.
I wrote another article recently on Books A Million (NASDAQ:BAMM). Books A Million is one of only two remaining publicly traded book retailers. The company is majority owned by insiders. Insiders at this company waited until the stock went down around its 52-week low and made an offer for a 20% premium. However, as can be seen in the charts below, the 20% premium barely compensates shareholders for the obliteration in shareholder value that has taken place at the company since 2009. Management at Books A Million likely made the takeout offer with two primary motivations. First, the insiders saw great value in the operation and would like to purchase a good asset on sale. Second, management is fed up with an underperforming stock price. Some management teams look to their stock price as a symbol of their success versus how the company has done financially or what its prospects are. For those management teams that have suffered years of declining market value, the frustration can cause them to want to either sell or take themselves private.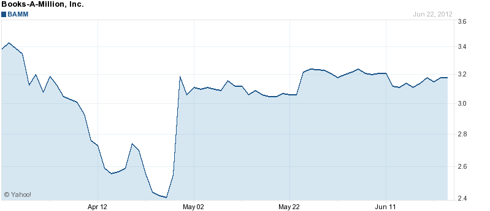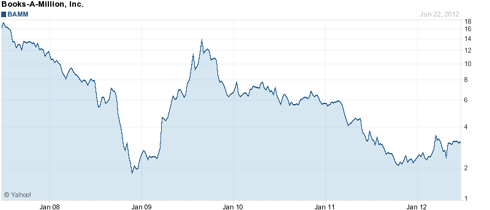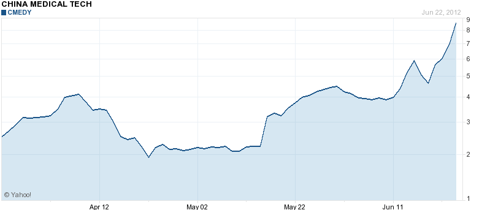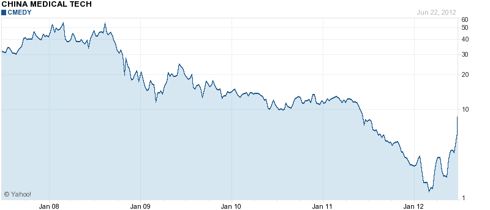 Management at China Medical likely was frustrated similar to management at BAMM. If you look at the charts above, you can see the similarities. At this point, it is impossible to know if management at China Medical has any hand in the recent accumulation of shares. Assuming AER and its affiliates are being truthful in their SEC filings, they do not. Either way, one or more parties owns a majority of shares. If the intent is to take the company private, remaining shareholders have little, if any, control over the final purchase price. That puts current shareholders at significant risk.
Concerning the recent winding up petition that has been circulating, investors that are interested should read it. The petition states that bondholders are owed their money plus applicable interest. The assumption is that because the company has gone dark on the investment community, including its bondholders, that it is essentially insolvent. The petitioner does not purport to have confirmed whether or not the company has ample assets to cover its accelerated obligations. Those who are bearish on China Medical rightly point out that this petition is a negative factor, as it puts the company closer to litigation and eventual bankruptcy. However, investors should consider the alternative argument. If the company and/or majority shareholder(s) have accumulated a significant majority of remaining shares, they could pay the bondholders off in full and have taken control of the company at an advantageous price. As of the last financial filing, the company had more than $200 million in cash, which is enough to cover half of its obligations. Assuming it has been operating since its last financial filings, the company would have produced another $50 million or so in cash.
As I've stated in all of my articles, investors don't know exactly what is happening with China Medical Technologies. The facts are that the company has gone dark and not made its debt payments. Since then, shares have traded in an extreme range from $0.60-$9.20. The only shot that investors have to make money over $10 is if management and/or related entities are buying up every last share on the open market and that is a risky reason to own a stock, especially when the company has an enterprise value approaching $500 million.
Disclosure: I am long CMEDY.