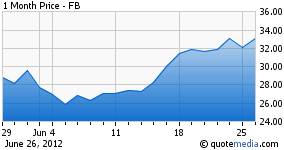 A recent article at Bloomberg Businessweek alerted me to a bit of important information that should play a role in the valuation of many social media companies, including Facebook (NASDAQ:FB). The article entitled 'Likejacking': Spammers Hit Social Media said as many as 40% of all member accounts at social media sites are probably run by spammers. If that's the case, and since members or subscribers are used as a measure of value for these companies by both investors and advertisers, then the stock market's favorite stocks of the day are probably grossly overvalued.
Mark Risher, CEO of Impermium - a seller of anti-spam software, says up to 40% of the accounts opened at social media sites are created by spammers. He says roughly 8% of the messages sent via social media are spam, and that's on the rise. Spam volume has doubled over the last six months, according to Risher. Of course, the social media giants including Facebook and Twitter, and others employing social media aspects like Zynga (NASDAQ:ZNGA), Yelp, Inc. (NYSE:YELP), Groupon (NASDAQ:GRPN), LinkedIn (LNKD), Google (NASDAQ:GOOG), AOL (NYSE:AOL), Yahoo (YHOO), Renren (NYSE:RENN), SINA (NASDAQ:SINA), Baidu (NASDAQ:BIDU) and Sohu.com (NASDAQ:SOHU), are constantly at work finding and removing spammers from their systems. Yet, spammers are increasing in number just the same.
Facebook's 845 million users are the reason why the stock has a market capitalization of $71 billion. Mark Zuckerberg recently took my advice and refocused the investment community on that fact. The stock turned around after the company announced its progress with Facebook Exchange, its new real-time bidding advertising system. That's because of the value added aspects of every new income generating initiative that leverages the company's huge and rapidly expanding user base. But what if 40% of Facebook's users were spammers, or even 10%? The stock has taken a hit since its IPO, but not on this news. So if Facebook and other social media stocks have fattened valuations because of inflated user bases, then their shares should be penalized. That could happen over time, as the companies fail to realize market expectations, or it could happen over the short-term as the idea becomes incorporated into the efficient market's valuation machine.
For sure, this aspect of social media has been discounted into the shares of these companies in some degree. Wall Street's analysts should not have missed it, but I wonder if they have underestimated it. Has it been incorporated to the extent matching reality? Facebook's S-1 does not directly mention the damage spammers could do to the user experience or how they could inflate the stock's valuation. However, some of the key risk factors are relative.
Facebook's relative risk factors in my view (from Facebook's S-1 Registration Statement):
If we fail to retain existing users or add new users, or if our users decrease their level of engagement with Facebook, our revenue, financial results, and business may be significantly harmed.

-- Clearly the user experience is hampered by spammers. It keeps users from engaging comfortably in communications with friends and with Facebook and partner applications by raising user concern about the risk of the click. Also, if spammer risks are highlighted in media or by word of mouth, it could drive loss of users and limit new user additions.

We generate a substantial majority of our revenue from advertising. The loss of advertisers, or reduction in spending by advertisers with Facebook, could seriously harm our business.

-- Obviously, if user figures are over-estimated, then the rates social media firms earn from advertisers will be limited. Also, some advertisers may shy away from advertising if press were to get bad enough regarding spam and privacy infringement.

Our business is highly competitive, and competition presents an ongoing threat to the success of our business.

-- Competitors may emerge who are better at defending against spam, which could deal a market share hit to existing players if they fail to meet a new standard.

Improper access to or disclosure of our users' information could harm our reputation and adversely affect our business.

-- Some "likejackers" mislead users to allow them access to accounts. Obviously, this could drive user bleed.

Our business is subject to complex and evolving U.S. and foreign laws and regulations regarding privacy, data protection, and other matters. Many of these laws and regulations are subject to change and uncertain interpretation, and could harm our business.

-- Laws intended to stop spammers may negatively impact social media firms like Facebook.
It's hard to tell how well the risks of inflated user counts have been discounted into the stock prices of social media firms like Facebook. Directly, since user counts are applied in some valuation metrics, this report would indicate the stocks could be as much as 40% inflated. We would expect the inflation ratio to decrease as user counts rise, so that for the leaders in usage, like Facebook, the impact could be much smaller. Whatever the case for each individual social media firm or firms incorporating social media, a valuation haircut is likely in store over time.
This is similar to the risk banks and other lenders face with regard to borrower defaults, for which they reserve capital to cover. Since there's no payment due from false and detrimental users, these firms need not reserve against their bad debt risks. However, maybe investors had better make an allowance for it.
I had recently indicated Facebook could stop the post-IPO bleeding if it could remind the investing public of why it had been so admired to begin with. The company followed through only days after I published those comments. However, there is a risk to these stocks if this latest report of mine offers the market pricing machine new and relevant information. As with most market bubbles, the glossy finish dulls on hot stocks as they move from early theory about potential to the realities of operating in a world that corrodes everything. Spammers are just another form of corrosion for Facebook and friends.
Disclosure: I have no positions in any stocks mentioned, and no plans to initiate any positions within the next 72 hours.