Nokia (NYSE:NOK) has definitely seen some brighter days. The company failed to catch up on the swift trend towards smartphones and was kicked aside by fierce competition. This is well reflected in the share price of the company which dropped by over 90% over this 5 year period. The present Nokia is merely a shadow of its former self.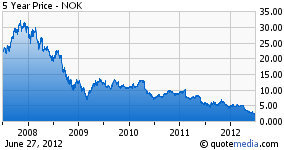 A bargain or a trap
Nokia could end up having the same fate as the famous Blockbuster. But to me, Nokia's current price does not reflect its true worth:
Microsoft (NASDAQ:MSFT) did not join forces with Nokia for nothing. The new and innovative Lumia 900, is likely to appeal to the general public with a very sensible price. The outcome of this product is not yet priced in Nokia's share price. We have witnessed what a joint venture with Microsoft can do the share price of the partner company, in the case of Barnes & Noble (NYSE:BKS). BKS pretty much doubled after all was said and done.
The value of Nokia's 30,000 patents is extremely hard to quantify. Even if the company sells half of its patents, it could potentially raise about $4 a share, that is twice the current share price of the company.
What do the technicals tell us?
Recently, trading in NOK is characterized by enormous volatility. This is often the case in securities that have pricing issues. Traders find it hard to price them, which leads to a malfunctioning price discovery process and the share price jumps all over the place.
This creates opportunities in the form of gaps. There is a whole methodology concerning how to trade gaps. Since we can't go into too much detail, the rule of thumb is to always fade them. In other words, gaps down or gaps up will sooner or later be closed (price will move up or down, respectfully).
Nokia's stock price has experienced several gaps lately as a result of a mix of rumors and news about the company. In the past two months alone, the stock has gapped down 3 times: from $5 to $4.4, from $3.54 to $3.3, and from $2.78 to $2.5.
The stock does seem inexpensive at current levels but we will always wait for the price to prove itself. Only after the stock ceases to create its 'lower lows' format will we join it. Once the stock begins its ascent, those gaps will gradually close.
Trading instructions
Long Nokia once price crosses $2.5 upwards, place your stop loss at $2.3, take profit at $3. We will monitor this position very closely and will issue updates accordingly.
Disclosure: I have no positions in any stocks mentioned, but may initiate a long position in NOK over the next 72 hours.