The US economy may be suffering from a severe lack of exports and a whopping $50 billion trade deficit, but one thing America still exports with ease is Americana. Global growth is slowing, global nail-biting is increasing in intensity, but all-American stocks like McDonald's (NYSE:MCD) don't seem to take the least bit of notice. MCD traded sideways while the rest of the market was in total freefall during the Great Recession. Since then, the behemoth fast food chain's revenues have gone up (see Chart 1), the stock has skyrocketed almost 70% (see chart 2), and has continued paying out a consistent dividend. These numbers already take into account its 13.5% correction since the January 20th all-time high of $102.22.
Chart 1

Chart 2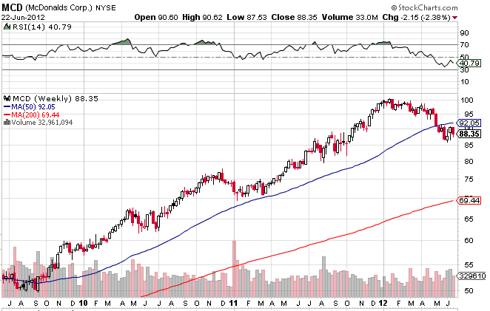 This is a very strong showing, but unless you're looking for a 10-15% bounce off this recent correction or you're a long term buy and hold type, the upside in MCD will probably be limited. One of the rules of buy-low-sell-high is buy low, after all.
How did McDonald's accomplish this growth through global financial turmoil? Cheap fast food that people like and can afford even when (perhaps even especially when) they are short on cash, coupled with a portal to American culture wherever in the world one happens to be chomping on a Big Mac.
With this in mind, we turn to Chanticleer Holdings (HOTR) (HOTRU). Chanticleer is concentrating its efforts on acquiring international Hooters restaurant chains, and they are currently the only way to own Hooters through a Nasdaq listed company. HOTR just began trading on the NASDAQ last Thursday.
Their exclusive focus on acquiring international chains as opposed to those within the US itself reveals an interesting strategy. We all know what Hooters has that McDonald's doesn't, which only strengthens the allure of Hooters International in its appeal to non-Americans as classic Americana. Chanticleer knows this as well, and it is no coincidence that international Hooters chains make almost double the profits as their sister stores in America.
Chanticleer is in good company when it comes to the franchisee business model. Turning back to the McDonald's paradigm, there is Arco Dorados Holding (NYSE:ARCO), which operates close to 1800 McDonald's branded restaurants worldwide. Their yearly revenues have increased to $3.66 billion in 2011, up from $3.02 billion in 2010. Taking a look at ARCO's price action (in blue) compared with MCD (in red) over the last month in the Google chart below, we can see that ARCO functions as a sort of 2X leveraged play on MCD. ARCO is still relatively new, so we'll see what happens over the next few months as MCD gets out of its recent correction. With ARCO close to historic lows, revenues on the rise, and McDonald's continuing its growth, this could be an opportune time to step in.

As for Chanticleer, they are currently on the expansion path. Most recently, they acquired exclusive rights to operate Hooters chains in Brazil. With Brazil's international reputation for week-long 24-hour day-and-night Carnival parties, Hooters seems to fit right in. Along with Brazil, Chanticleer currently has rights to develop and operate Hooters restaurants in South Africa, Australia, and Hungary. In a sign of readying for further expansion, just last Thursday (June 21) they issued 2.4 million shares of common stock at $4.50 a share under the symbol HOTRU, raising $10.8MM. Each share in HOTRU includes one share in common stock plus one warrant to purchase an additional share at $5 with an expiry date of 5 years. While the company is still in its infancy and continues to incur losses as it expands its international Hooters holdings, all restaurants currently in operation are profitable according to its last 10Q, with total profits exceeding $850,000.
Chanticleer still has quite a long way to go with Hooters, but if you believe in affordable fast food, international Americana appeal, and, well, the Hooters concept, then HOTR is worth considering. The stock currently rests at $4.34, off a low of $2.05 last October. (See Yahoo chart below for price movements.)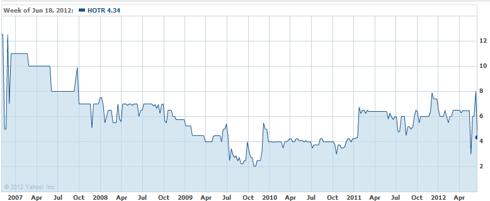 Chanticleer's market cap is a miniscule $5.43MM ($16.3MM if you include HOTRU). But part of buy-low-sell-high is to buy low, after all. As McDonald's has amply proven, financial turmoil can thrash away at the global economy, but cheap fast food will still sell. As for girls, nothing has ever really changed on that front either.
Disclosure: I have no positions in any stocks mentioned, and no plans to initiate any positions within the next 72 hours.