It is inarguable that the cornerstone of managed care is prevention. If prevention is the true driver of developing cost efficiencies in medicine, then vaccines will continue to play an integral part in the practice of preventive medicine. In this context, the news of the recent approval of GlaxoSmithKline Pharmaceuticals' (NYSE:GSK) MenHibrix (Meningococcal Groups C and Y and Haemophilus b Tetanus Toxoid Conjugate Vaccine) will be well received by healthcare providers, payers and parents alike.
Bacterial meningitis, as reported by the World Health Organization (WHO) remains a serious threat to global health, accounting for an estimated annual 170,000 deaths worldwide and affects a veritable cross-section of people and ages. Quoting the National Institute of Neurological Disorders and Stroke:
Each year in the United States about 2,600 people get this highly contagious disease. High-risk groups include infants under the age of 1 year, people with suppressed immune systems, travelers to foreign countries where the disease is endemic, and college students (freshmen in particular) who reside in dormitories. Between 10% and 15% of cases are fatal, with another 10-15% causing brain damage and other serious side.
Meningitis is difficult to accurately diagnose and has no rhyme, or, reason. Once contracted it can spell a downward spiral in worsening condition within a span of one to two days with possible complications, that include: neurological problems, amputations and disseminated intravascular coagulation.
Haemophilus influenzae type B (Hib), once a leading cause of meningitis, is a rarity since Hib vaccines are routinely given to infants based on age (2, 4, 6 months and 12 - 15 months of age). These are the current manufacturers of Hib Vaccines as single and combination vaccines:
Product: ActHIB (Hib)
Manufacturer: Sanofi (NYSE:SNY)
Year Licensed: 1993
Product: Pentacel (DTaP-IPV and Hib)
Manufacturer: Sanofi (SNY)
Year Licensed: 2008
Product: HibTITER (Hib)
Manufacturer: Wyeth - part of Pfizer (NYSE:PFE) sold to Nuron Biotech
Year Licensed: 1990
Product: PedvaxHIB (Hib)
Manufacturer: Merck (NYSE:MRK)
Year Licensed: 1989
Product: Comvax (HBV-Hib)
Manufacturer: Merck (MRK)
Year Licensed: 1996
Product: Hiberix (Hib approved for booster dose)
Manufacturer: GlaxoSmithKline (GSK)
Year Licensed: 2009
Product: MenHibrix (Meningococcal Groups C and Y - Hib)
Manufacturer: GlaxoSmithKline (GSK)
Year Licensed: 2012
Opportunity #1 for GSK MenHibrix: Reliable and Concomitant Supply of Hib
Despite the fact that there are a multiple suppliers of Hib vaccine, there have been intermittent breaks in the supply chain based on lack of production, contamination in supply or manufacture, and manufacturers choosing to use their vaccine production lines to manufacture more profitable vaccines. In this scenario, it would conceivably make sense to use MenHibrix instead of a single Hib vaccine and a single meningococcal vaccine. You are guaranteed the supply and delivery of Hib along with the meningococcal vaccine in one shot.
With the ubiquitous use of vaccines against Pneumococcus and Hib, it appears that Neisseria Meningitidis is highly likely to be the most prevalent causative agent of Bacterial Meningitis. Moreover, Neisseria Meningitidis is the only bacteria able to generate epidemics of meningitis. Again, according to the WHO,
Several different bacteria can cause meningitis. Neisseria meningitidis is the one with the potential to cause large epidemics. Twelve serogroups of N. meningitidis have been identified, six of which (A, B, C, W135, X and Y) can cause epidemics. Geographic distribution and epidemic potential differ according to serogroup.
Serogroup distribution varies every year, however, serogroups B, C, and Y cause most cases of meningococcal disease in the United States. It is important to underscore that the most common vaccine-preventable serogroups are C and Y. No vaccine is currently available in the United States to protect against serogroup B.
Although there are currently available vaccines to prevent bacterial meningitis each has its limitations. The first meningococcal conjugate vaccine (MCV4), Menactra, was licensed in the U.S. in 2005 by Sanofi Pasteur; Menveo, was licensed in 2010 by Novartis. Both MCV4 vaccines have been approved by the Food and Drug Administration (FDA) for people 2 through 55 years of age. In April 2011, Menactra received FDA approval for use in children as young as 9 months. So you readily see that this is later than the time frame when infants are being immunized for Hib (2,4, and 6 months).
Additionally, as of 2010, there remains very little evidence that any of the current vaccines offer continued protection beyond three years.
Opportunity #2 for GSK MenHibrix: Perfect for At-Risk Infants Under 1 year of age.
MenHibrix has been approved with the earliest ages to give meningococcal vaccine to coincide with Hib vaccination and is suitable for the at-risk population of infants under one year old.
Using MenHibrix vaccine makes sense and ... saves cents. Insurance companies prefer to reimburse the costs for combination vaccines to minimize payment of repeated administration costs to physicians who choose to use monovalent vaccines (single agent vaccines).
Opportunity #3 for GSK MenHibrix: Payer prefer to pay less Administration Fees
There is a Payer advantage to reimburse and promote combination vaccines. Instead of paying an administration fee for two (2) vaccines (one Hib and one Meningococcal) they pay just one administration fee for the combinational vaccine MenHibrix. Also in a world of insurance companies and HMOs whose membership immunization rates is a metric by accrediting organizations, combination vaccines are a blessing as they tend to boost their overall immunization rates for a myriad of preventable diseases.
Vaccines are an important facet of business for GSK and their combined sales in 2011 approached $1 billion. Although it is significant, it is not dominant. But, having said this, the investment that GSK is making in its vaccine pipeline is substantial and covers the gamut of both preventive and therapeutic vaccines. In GSK's own words:
We market over 30 vaccines worldwide to prevent potentially life-threatening or crippling illnesses such as hepatitis A, hepatitis B, diphtheria, tetanus, whooping cough, measles, mumps, rubella, polio, typhoid, influenza and bacterial meningitis.

We are also targeting therapeutic vaccines that may prevent relapse in cancer patients. The strength of our vaccine pipeline will provide opportunities for us to consistently deliver new vaccines for many years to come.
But, GSK's greatest ally, and impetus, toward combination vaccines are ... moms. There are millions of moms in this country who bear witness to the current CDC vaccine recommendations that call for children to receive 33 vaccinations for 14 diseases in the first 18 months of life.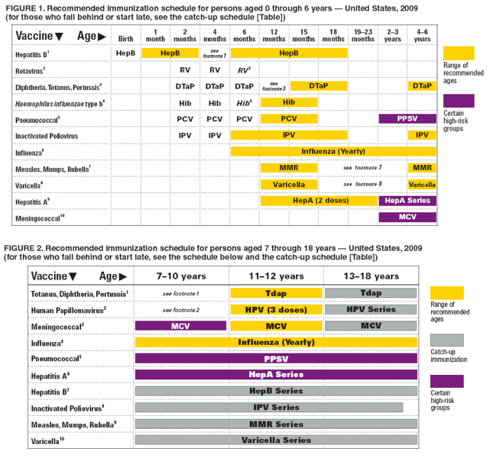 Tables taken from CDC
Although it is painful for their unsuspecting child to receive a shot at the pediatrician's office, it is usually the moms who assume much of the shot aversion and pre-anxiety associated with their infant's battery of inoculations. So the prospect of the veritable reduction in needle sticks is a welcomed, and demanded, expectation largely advocated by a legion of knowledge-bearing and care-passionate mothers who will switch pediatricians if the optics suggest that either a physician or nurse is violating one of the principle precepts of medical ethics: "primum non nocere," first do no harm. Needle sticks, when it comes to disturbing the peaceful world of infants, is perceived as harm. This is clearly a case where less is truly more.
Opportunity #4 for GSK MenHibrix: Reduction of Needle Sticks
MenHibrix, with the approved indication for prevention of meningococcal serogroups C and Y and Hib disease and with a dosing schedule to coincide with the standardized immunization of infants with Hib vaccine, puts MenHibrix in an enviable position relative to the CDC Approved Immunization Schedule that is followed by most pediatricians and family practitioners. Since HIB vaccine is given at 2, 4, 6, and 12 - 15 months of age, then it makes sense to give MenHibrix so that you eliminate one needle stick at each of these dosing intervals. Additionally, this would confer immunological protection for children less that one year of age who are considered high-risk population and for those toddlers who may spend some of their formative years in day care centers where exposure from unprotected (unvaccinated) children may be high.
Having said the aforementioned, one still has to wait for specific recommendations by the Center for Disease Control (CDC) and the Advisory Committee on Immunization Practices (ACIP). The question becomes will they unanimously agree on the use of Meningococcal immunizations in infants less than one (1) year of age and change their published schedules for immunizations? I would suspect the overwhelming answer to be a resounding yes.
It is important to realize that no single company has the majority of antigens to manufacture all the most popular vaccines. So there has been an ebb, and flow, relative to what pharma companies have done well in this market. However, the companies that continue to innovate and be responsive to the needs of the customers will prosper. In my estimation, the companies that fit this bill, are GlaxoSmithKline, Sanofi and Novartis (NYSE:NVS).
So the challenge will be mobilizing their resources to demonstrate the practicality of using MenHibrix early in the immunization schedule instead of individual shots of Hib and possibly delaying the immunization against N. Meningitidis later in an infant's life. In this regard, GSK is eminently suited to this challenge since its Vaccine Division has a wealth of experience with polyvalent (combination) vaccines and has amply demonstrated its educational skills is helping healthcare practitioners adopt new vaccine protocols based on efficacy, simplicity, reduction of needle sticks and national guidelines.
Again, vaccines prevent end-stage disease that usually consumes an exorbitant amount of healthcare dollars. The thesis then becomes if a pharma company is proficient in preventing disease, then it truly can partner with healthcare organizations in eradicating disease and suffering. Companies such as GSK have shown a growing proportion of its business dedicated to immunization medicine. This recent approval, coupled with some recent HHS grants to companies like GSK (subject of a future article) no doubt, should be greeted as great news by the investment community and for the community of moms who ultimately control how the healthcare dollar is spent for most families.
Estimate of MenHibrix Dollar Potential
MenHibrix is slated to generate a significant revenue stream for GSK. A cursory analysis of the market potential is fairly compelling. Assuming:
That there were approximately 4 Million births in the USA last year
That only a 50% immunization rate is achieved with MenHibrix
That the cost of a dose of MenHibrix is $75 (low cost estimate) with a treatment cost (X4) = $300
Under these assumptions, the sales generated would yield $600 Million/annum.
Let's assume that only 1/2 of the remaining 50% that did not initially get immunized could obtain free immunizations of MenHibrix if they were considered eligible for state programs such as Vaccines for Children Program (VFC). Assuming this would contribute another 1 Million infants for immunization and result in another $300 Million resulting in a total of $900 Million in terms of total market potential. Obviously, this would play out if GSK achieved approximately a 75% market share of doses. This does not factor in the need for booster shots. But, we will have to see how GSK competitors respond to MenHibrix.
Adding a highly reliable dividend yield makes for a worthy long position in GSK.

Graph supplied by Fidelity.com

Table supplied by Fidelity.com
So at the end of the day, MenHibrix should provide a booster shot in the arm of GSK and offer both shareholders and moms (and their babies) additional downstream value. Each new vaccine developed by GSK will create a significant degree of competitive immunity for GSK by generating a renewable source of revenue generation and contribute to the most prominent facet of managed care: prevention. Add 98 cents to the aforementioned and you should have a dollar.
Disclaimer: The information in the aforementioned article is provided for informational purposes only. It represents the opinions of the author and is not a call for action relative to the buying or selling of stocks and other investment vehicles. It is highly recommended that you conduct your own research and reach your own conclusions before you make an investment in anything.
Disclosure: I am long GSK, NVS.
Additional disclosure: I have worked within the pharmaceutical industry in a variety of positions for over 31 years.