We believe that InvenSense (NYSE:INVN) and ChipMOS Technologies (NASDAQ:IMOS) have sold off too much and provide a good opportunity for a rebound.
InvenSense
INVN is a producer of Micro Electro Mechanical Systems ((NASDAQ:MEMS)), like gyroscopes and accelerometers and related software, stuff that together provides motion tracking sensors. They became big through the Nintendo (OTCPK:NTDOY) Wii, but have captured a significant slice of the smartphone and tablet market as well, especially in the Android segment.
While smartphones and tablets provide some of the fastest growing markets in the technology space, INVN also is well placed to take advantage from other segments, like optical image stabilization and mobile payments. Their competitive advantage lies mostly in the gyroscopes, which are the most difficult and most expensive MEMS sensor to make.
We think it is insufficiently recognized, for instance, that the InvenSense MPU 6050 6-axis gyroscope and accelerometer is inside the highly touted Samsung Galaxy S III smartphone. Demand for this phone seems to be limited by parts shortages only and is expected to top 10 million within two months of its launch.
The shares are not expensive, but the market sell-off keeps making them cheaper. At just over $10 per share, they're almost back to IPO levels, the sell-off seems way overdone to us.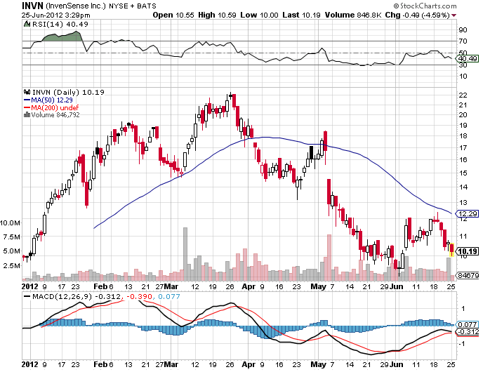 In the latest quarterly earnings PR, the company reiterated its guidance for the full year at 40-50% revenue growth and the (ever so slightly) disappointing quarterly figures were caused by some parts supply issues.
ChipMos
ChipMOS is a Taiwanese chip design tester that processes, checks, tests, and modifies silicon wafers produced by Taiwan Semiconductor Manufacturing (NYSE:TSM), Intel (NASDAQ:INTC), Fujitsu (6702.Japan), Texas Instruments (NYSE:TXN), Himax (NASDAQ:HIMX), Micron Technology (NASDAQ:MU) and other customers, and assembles them into components for use in electronic devices.
The market cap is $260M with 27M shares outstanding (float is 8.55M) and last year's revenue was $601.4M. For a company generating $114.8M in free cash flow (NYSE:FCF) last year (see investor presentation), one cannot argue these shares are expensive.
The company went almost out of business in 2009, when it was overleveraged and caught by the financial crisis. However, it has produced a notable comeback:
Its stock, in the mid-$20s before the downturn, sank to a low of 18 cents in December 2008 [Barrons]
Today the company is around $10 (after reaching almost $20 in March) and is producing positive cash flows and reducing its debt. Its board even approved a dividend. According to analyst Richard Shannon with Craig-Hallum Capital:
But because its business was basically stable, and it was only one of two players in its particular business niche, they were able to recover relatively quickly, moving from a negative 29 cents a share of free cash flow in 2010 to $4.24 in 2011, and toward an expected $3.60 in 2012 and $4.11 in 2013. [Barrons]
Although it looks like these figures are a bit of a stretch, we very much like the part where Shannon says they're only one of two players in its particular niche.
We're especially impressed with the speed of the debt reduction:

The first quarter (seasonally weak) was grosso modo in line with earlier guidance, but debt was, despite a net loss of 21 cents per (diluted) share further reduced by $18.1M (to $311.2M while cash stood at $254.5M at the end of Q1). They reiterated their guidance for the full year nevertheless:
our target for 2012 remains to achieve revenue growth of approximately 10% compared to 2011 and to generate free cash flow of approximately US$110 million [PR newswire]
As Seeking Alpha contributor Valuable Insights has already pointed out, there is a large gap between profits and free cash flow ($4.22) per share:
Depreciation, which exceeds cap-ex (cap-ex was 5x the current level in 2007), will begin falling dramatically this year and EPS should approach FCF over the next 8 quarters as depreciation declines.
The same Valuable Insights contributor, writing in March this year, is very bullish about the shares. We're not quite that enthusiastic as we think the underlying business might very well be softening a bit. But the amount of cash they generate is quite a compelling argument to pick up a few shares.
As you can see in the graph below, the shares have given back quite a lot recently, so we think that some softening in their customer's markets is already being priced in. The shares are very close to being oversold and sitting right at the 200 day moving average.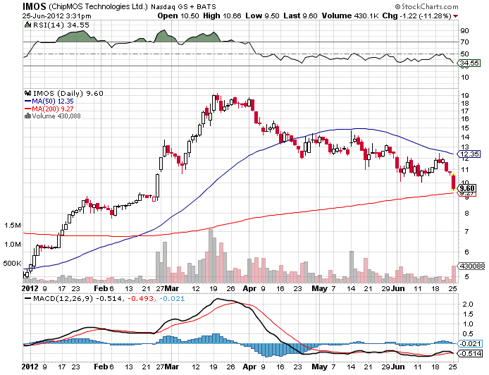 Disclosure: I have no positions in any stocks mentioned, but may initiate a long position in IMOS, INVN over the next 72 hours.