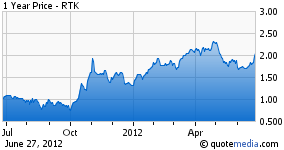 Rentech (NYSEMKT:RTK) owns and develops technologies that enable the production of certified synthetic fuels and renewable power when integrated with certain other third-party technologies. The company's clean energy technology portfolio includes the Rentech-SilvaGas biomass gasification technology and the Rentech-ClearFuels biomass gasification technology, both of which can produce synthesis gas from biomass and waste materials for production of renewable power and fuels. The Rentech-ClearFuels Gasifier can also produce renewable hydrogen as a product. Rentech also owns the patented Rentech Process which is based on Fischer-Tropsch chemistry. The Rentech Process can convert syngas from the company's own or other gasification technologies into complex hydrocarbons that then can be upgraded into fuels or chemicals using refining technology that we license.
Rentech also owns, through its wholly owned subsidiaries, the general partner interest and approximately 61% of the common units representing limited partner interests in Rentech Nitrogen Partners (NYSE:RNF), a publicly traded limited partnership. Rentech Nitrogen Partners manufactures and sells nitrogen fertilizer products including ammonia, urea ammonia nitrate, granular urea and urea liquor in the Mid Corn Belt region of the United States.
The stake in RNF provides significant upside potential for RTK. A 61% stake of RNF is worth about $610 million vs. RTK's current market cap is $418 million. Over the past year, RTK has been unlocking shareholder value. First, the company had an IPO for Rentech Nitrogen in the fall of 2011. The company now has refocused its efforts towards creating shareholder value and has already taken sizeable steps including cost reductions and share repurchases. The slide below is from the company's annual meeting presentation.
A brief note on the share repurchase program: in February, the company announced a share repurchase program of up to $25 million. At the current valuation gap these share repurchases are very accretive. In its most recent 10-Q filling, the company said that as of March 31, 2012, Rentech had not repurchased any shares of its common stock under the program. In RTK's annual meeting presentation on 6/5, RTK disclosed that it has repurchased $12.7 million of shares as of market close 6/4/12 under the program.
RTK consolidates its stake in RNF on its balance sheet. Netting out RNF's balance sheet leaves RTK with about $210 million in assets and $75 million in liabilities for a book value of about $135 million. The bulk of the assets are in cash with a balance of $174 million. Taking a very rough approach to this estimate for simplicity purposes and assuming that the rest of RTK's assets are worthless, leaves the holding company with value of $100 million. Adding up the holding company's assets of $100 million plus a 61% stake of RNF, which is worth about $610 million (38.3 million share outstanding * $26.34 share prices * 61% stake), leaving a breakup value of RTK of $710 million, at quarter end, or $3.14 a share (225.9 million shares outstanding).
Now, taking into account that RTK has spent $12.7 million on share repurchases at a price of $2 a share, which is about the average the stock traded at between March 31 and June 4, suggests that RTK has repurchased 6.35 million shares. The updated valuation is this: $88 million for holding company valuation plus $610 million for RNF stake is a valuation for the company of $698 million. With 219.5 million shares outstanding suggests a breakup value of $3.18 a share or upside of 74% from today's prices.
The risk of cash burn is somewhat mitigated as the company has been proactively conserving cash and reducing expenses. For the 12 month period ending 9/30, RTK expects cash spend to drop 34-37% over the period 12 month period. That equates to a $42-44 million cash operating expenses and capital expenditures for the year. RTK expects to receive about $54.4 million from RNF which is a pre-tax gain of about $10-12 million of cash on the year.
Although management only owns about 4% of RTK, management has a nice incentive to get the shares over $3 a share 2/3 of management's 2011 annual equity award vests only if RTK's price reaches $3 or more for 30 consecutive days.
There is also a 5% investor on board, Park West Asset Management, which is being vocal about the company using cash for shareholder-friendly activities. From the company's Q1 call transcript by Peter S. Park: "I just wanted to make a comment and then also to ask a couple of questions. We would -- as we've talked about in the past, we would strongly encourage you and your board to buy lots of stock back at the current price. And we were very disappointed that you didn't buy any stock back."
The risk in the investment lies in two factors: management's hunger for an acquisition and RNF's performance declining significantly.
Disclosure: I have no positions in any stocks mentioned, and no plans to initiate any positions within the next 72 hours.