Natural Gas - Background
The use of horizontal drilling, in combination with hydraulic fracturing, has greatly extended the ability of producers to profitably extract natural gas and oil from hard rock formations, like the shale play in the U.S.
Large scale shale gas production began after experiments by the Mitchell Energy and Development Corporation (MND/B) during the 1980s and 1990s made deep shale gas production a commercial reality in the form of the Barnett Shale in North-Central Texas. After the apparent success of the technology, other companies started adopting the same, and by 2005, the Barnett Shale alone produced almost 0.5 trillion cubic feet of natural gas per year. As these companies gained confidence in the ability to profitably produce natural gas in the Barnett Shale, they began pursuing other shale plays.
The following is an illustration of the shale formations in the U.S.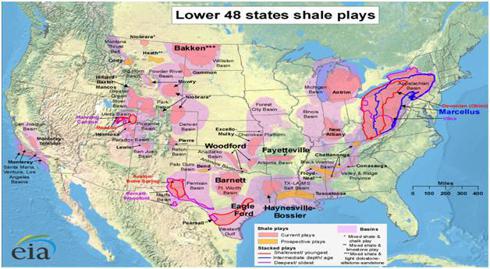 Estimated Reserves
The U.S. Energy Department released its latest estimate of gas reserves, in its Annual Energy Outlook, stating that approximately 482 trillion cubic feet can be produced from shale basins across the U.S., down 42% from 827 trillion reported in last year's outlook. This reduction in estimates is due to the new reserve estimates from the Marcellus Shale, which have been reduced by 66% from previous estimates.
Natural gas reserves in the U.S. have witnessed a dramatic increase from an estimated 163 trillion cubic feet in 1993 to the latest reported 482 trillion cubic feet in January 2012.
Excess Supply and its Impact on Natural Gas Prices
Due to the introduction of hydraulic fracturing and horizontal drilling, companies in the U.S. were able to extract gas from these shale formations at lower costs, increasing their profitability as well as the supply of natural gas available in the domestic market.
Shale gas accounted for 27% of natural gas production in 2010, then reaching 34% last September. According to HIS projections, it is expected to grow to 43 percent by 2015 and 60 percent by 2035.
The increased supply of natural gas in the domestic market has decreased the fuel's price by more than 40% in the past one year.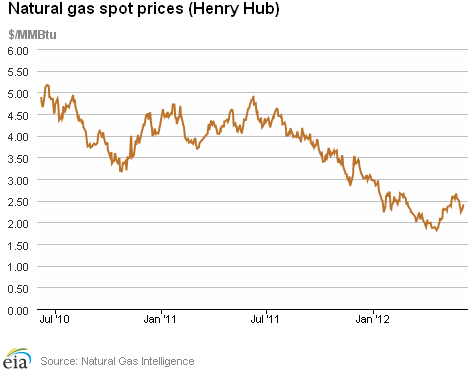 Reaction to Reduced Prices by Producers
Producers have started reducing their production of natural gas, and have started shifting from gas to liquid-and-oil plays. The reason behind the reduced production and the shift is the excess supply of natural gas, which has led to a decrease in natural gas prices in the U.S.
International Price of Natural Gas
The prices of natural gas have remained steady in international markets, due to the increasing energy demand from emerging markets, coupled with a stable supply of natural gas.
Natural gas prices in the U.S. are trading at a significant discount to international markets due to the excess local supply, which is landlocked. Natural gas is normally transported through pipelines, since it takes up more volume per unit of energy produced in gas form, which is why it is not feasible to ship it. Therefore, gas producers in the U.S. are generating a product that has to find buyers in North America.
Can Natural Gas be Exported to enjoy High International Prices?
The way around for these producers could be to condense natural gas down into a liquid, which will make it transportable. The result would be LNG, which is natural gas in a lower volume format, and in this form it can be loaded onto tankers and shipped across oceans efficiently.
Cheniere Energy (NYSEMKT:CQP) won approval to build the largest LNG plant in the U.S., on the Gulf of Mexico for the sole purpose of facilitating domestic producers of shale gas who would like to export their product. The project is expected to cost $10 billion and is expected to be completed by 2015. Cheniere has already signed off take deals with clients from UK, Spain, India, and South Korea that account for almost 90% of the plant's expected output.
It is worth mentioning here that Cheniere Energy spent years, trying to get approval from authorities to build the LNG plant, which was opposed by environmental groups like Sierra club, that believe the conversion of shale gas to liquid form is hazardous to the environment, since it emits carbon dioxide. While other groups opposed due to the expected price hike in the domestic market.
In Northeast Asia, the price of LNG is close to $17/MMBTU, due to the strong demand from Japan and South Korea, and the export of LNG will be beneficial for not only the producers of natural gas, but also for the U.S. economy.
Will Price Rebound to Previous Levels?
Due to the excess supply of natural gas in the U.S., we are of the opinion that prices will remain depressed from their previous levels. However, the substitution effect will induce clients to slowly shift their consumption towards natural gas from oil, and the increased demand should cause natural gas prices to recover from the existing price levels.
We believe that the demand for natural gas will increase due to increased production of electricity by utility companies, a shift by producers to oil plays, increased usage in transportation (accounting for about 65% of the oil consumption in the U.S.), and the export of natural gas in the form of LNG.
Natural Gas Plays
Range Resources (NYSE:RRC), Devon Energy (NYSE:DVN) and Chesapeake Energy (NYSE:CHK) are some of the important natural gas plays, and the United States Natural Gas Fund (NYSEARCA:UNG) is the ETF for natural gas which investors can buy to play a spike in natural gas prices.
Range Resources has a production mix of 78% natural gas, 16% natural gas liquids and 6% oil, and offers a dividend yield of 0.30%. It is expected to achieve 30%-35% organic growth in 2012 and 75% of it 2012 gas production is hedged at a floor of $4.45/mcf.
Devon Energy has a production mix of 63% natural gas, 16% natural gas liquids and 21% oil, and offers a dividend yield of 1.5%.
Chesapeake Energy Corp. has a production mix of 78% natural gas, 16% natural gas liquids and 6% oil, and offers a dividend yield of 2.1%.
Disclosure: I have no positions in any stocks mentioned, and no plans to initiate any positions within the next 72 hours.