Everything about Chipotle Mexican Grill (NYSE:CMG) screams "buy" except the ridiculous 57 times earnings at which it is currently trading.
Fundamentally, I love everything the fast-casual, burrito-bowl serving restaurant has to offer. Since its IPO in 2006, revenues have basically tripled and the numbers of restaurants in the chain have doubled.

The company boasts some of the best profits in the fast-food industry with margins around 25%, and it does all this while producing "Food with Integrity." This saying is plastered all over its 1,230 restaurants and serves as a testament to its naturally sourced ingredients. Chipotle's revolutionary serving style allows for the company to serve as many as 300 customers in a single hour. These facts prove that Chipotle's business model works, but it does not ratify its current valuation.
I feel as if a fair value of Chipotle is $333, which is 20% below its current price. The stock is overvalued for many reasons. The first one being Chipotle's PEG ratio equals two. A stock's PEG ratio can be found by dividing the earnings per share by the annual earnings per share growth. Anytime I see over one and half times in a PEF ratio I begin to get worried, but two times is definitely a red flag because the stock is so overvalued.
Secondly, looking at the other big players in the quick-service and fast-casual restaurant industries proves Chipotle's current PE is unsustainable. The average of those restaurants is right around 18. The closest competitor, Panera Bread (NASDAQ:PNRA), is trading at 30 times earnings, which is right around its current earnings growth.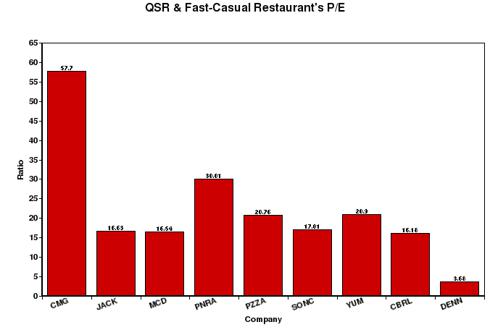 Why should Chipotle receive such a high valuation? Why are people paying almost twice as much for Chipotle?
Thirdly, many competitors are lining up Chipotle in their crosshairs and are ready to take away some of its customers. With Qdoba (NASDAQ:JACK) beginning to offer discounts at many of its stores and Taco-Bell (NYSE:YUM) getting ready to roll out its new "Cantina" style menu, which will include much more upscale, Chipotle-like items, Chipotle could be in store for a realty check. People see what Chipotle is doing and are simply imitating the Mexican fast-food giant. I can see this having a very detrimental affect on the company.
Finally, Chipotle is walking on a tightrope from one earnings report to the next. The last quarter of 2011 Chipotle's revenue was right under $600 million and the first quarter of 2012 Chipotle reported revenues just shy of $650 million. The company is certainly growing and meeting earnings estimates, but the economy is extremely volatile and the consumer is frustrated. It does not help that Chipotle has plans for further expansion into Europe. As soon as one report comes back with bad news the price is going to come crashing down. That is when I am going to make my move and buy the stock.
I want to reiterate how much I love the fundamentals of this company and what Steve Ells has done should be applauded, but it is simply too expensive for me right now.
Disclosure: I have no positions in any stocks mentioned, and no plans to initiate any positions within the next 72 hours.