It's not a secret that shares of Google (NASDAQ:GOOG) have not performed well in recent times. They have done almost nothing over the past two and a half years. In fact, they really haven't done much over the past five years, as seen from the chart below. Shares are now at 5 month lows, but they might be ready for a rebound. Google's much anticipated Nexus tablet was formally announced this morning. Investors in this name have been waiting for something positive, so will the Nexus launch help shares find a bottom? Let's take apart Google.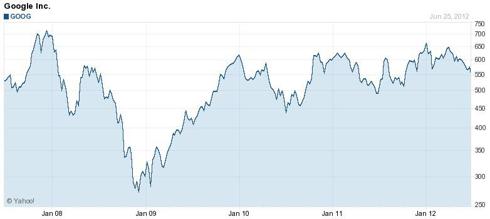 Source: Yahoo! Finance
Google shares got off to a bad start in 2012 when the company announced a less than stellar Q4 earnings report. Shares rallied back to the $650 level by early April, but then fell again after the Q1 earnings report. Despite beating estimates, a de facto "2 for 1" stock split that was very confusing to investors (it would create a new issue of shares, not just a normal 2 for 1 split), had many scratching their heads. At that time, I stated that Google was going the wrong way, and I'm still not totally thrilled with where the company stands.
The news has appeared to get worse for Google as well just in the past few weeks. First, Apple (NASDAQ:AAPL) announced a new mapping solution for iOS 6, which means no more Google Maps on the iPhone. Google has since slashed prices for Maps API. Another issue with the company is that many seem concerned over the health of CEO Larry Page. The company claims that Page had lost his voice, but Page missed last week's shareholder meeting, and he also will not speak at this week's I/O developer conference or next month's earnings call. Apple shares seemed to sell off every time there was a "health update" on Steve Jobs, and although Page doesn't have as much influence as Jobs did, it still is not a good sign when your CEO is not there. The third issue for Google was the recent announcement from Microsoft (NASDAQ:MSFT) of its own tablet, called the Surface. While I didn't provide a full analysis of Google, I did state that Google was another name to consider in the Surface winners/losers debate.
To me, Google shares are in a lull currently because everyone around them is doing something. We heard a few weeks ago that Apple and Baidu (NASDAQ:BIDU) have partnered up to make the Baidu search product available on the iPad and iPhone in China. Baidu already holds a large share of the search market in China (about 75-80%), with Google around 15-20%, but this could expand Baidu's lead even more. Google is already being challenged in the US by Microsoft's Bing, which is gaining share, so they don't want to lose share in China as well.
So for now, it all comes down to the Nexus. The Nexus Seven is a 7-inch model that will cost $199, which puts the Nexus in the same area as Amazon's (NASDAQ:AMZN) Kindle Fire. It will also run Jelly Bean, Google's next version of the Android Operating System. It also contains Google Now, a feature similar to the Siri virtual assistant on the iPhone. The Nexus could possibly challenge the Surface, but it will take a while to see the true impact on the industry leading iPad. For now, a $199 tablet probably will not take away much market share from the iPad. Google might subsidize these Nexus tablets to the tune of hundreds of dollars, with the goal of getting some revenues and then selling apps and ads. Google has a long way to go. The iPad represented 59% of global tablet sales in 2011, with Android models far behind.
While the Nexus might face some tough competition, it will certainly help boost Google's revenues a bit. Analysts are currently expecting Google to increase its non-GAAP revenues by 21.4% this year and 19.1% next year. Earnings per share (non-GAAP) are forecast to rise by 20% this year and 16.3% next year. However, in the past 30 days, the average earnings per share estimate has been cut by 20 cents for this year and 40 cents for next year. Google is currently trading at just under 13 times this year's expected earnings (non-GAAP again), compared to about 14 times when I discussed the name in late April. The stock price has come down, but so too have earnings estimates (down 15 cents for this year's number and 22 cents for next year in the past two months). We'll see how the estimates change after the Nexus announcement is made.
So Google investors will be looking at this week's Nexus announcement for a bottom in the stock. Over the past year or so, the $560 level has been a bit of support for the name, with $660 being the ceiling. Google has made nice runs into earnings the past two quarters, and I'm thinking that there is another chance that happens again here (but be careful, it dropped post-earnings those 2 quarters).
Google's shares seem to be close to a bottom, but they can fall further if global markets take a tumble. Also, weakness in Europe can definitely have a negative impact on Google's business. For those investors who are buying Google in 100 share blocks, you may also want to consider selling an equal portion of upside calls against your position until the July expiration (expire July 20). For instance, based on Wednesday trading, you could sell the $600 calls for about $9. That would provide a little bit of protection should Google shares decline, but would give you additional profit should Google rebound a little.
Disclosure: I have no positions in any stocks mentioned, but may initiate a long position in GOOG over the next 72 hours.