With every economic storm cloud there is always a silver lining. The current situation in Europe is no exception. Even though many of the countries in the European Union are going into a slight double dip recession and the daily headlines about Greece and Spain are ominous, the European economies will eventually get better and move forward into growth scenarios. Here are three solid European companies that have been around for along time and that all currently offer a 4% dividend or better.
ABB Ltd (NYSE:ABB)
ABB is a global leader in power and automation technologies that enable utility and industry customers to improve their performance while lowering environmental impact. It's a Switzerland-based company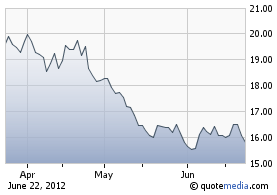 with a $36 Billion market cap. It's currently hovering around its 52-week low and appears to be quite a bargain at this level. ABB has a current P/E of 11.34 and analysts covering the stock are forecasting earnings per share of $1.47 this year and $1.72 per share in 2013. It currently yields a dividend of 4.30%.
Novartis AG (NYSE:NVS)
Novartis AG is a huge multinational pharmaceutical/biotech/healthcare products company much like a Merck (NYSE:MRK), Pfizer (NYSE:PFE) or Johnson & Johnson (NYSE:JNJ). It was created in 1996 through the merger of Ciba-Geigy and Sandoz. Through its many subsidiaries Novartis is involved in just about everything associated with the medical field - research, development, manufacturing and marketing of healthcare and pharmaceutical products worldwide. The company develops pharmaceuticals in numerous therapeutic areas, including cardiovascular, oncology; neuroscience, respiratory and many other medical areas. The company also markets and sells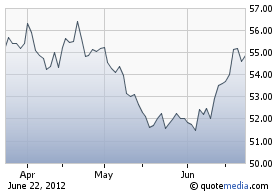 medical instruments, surgical equipment, instruments, disposable products and much more. Novartis is also based in Switzerland and commands a $132 Billion market cap. Novartis has a current P/E of 15.48 and analysts covering the stock are forecasting earnings per share of $5.36 this year and $5.46 per share in 2013. It currently yields a dividend of 4.50%.
Royal Dutch Shell (NYSE:RDS.A)
Royal Dutch Shell is a large well known oil and gas company the likes of Exxon (NYSE:XOM) and Chevron (NYSE:CVX) that operates worldwide. The company explores, extracts and refines crude oil and natural gas. It also converts natural gas to liquids to provide cleaner-burning fuels; markets and trades natural gas; extracts bitumen from mined oil sands in Canada and converts it to synthetic crude oil. Its refinery operations converts crude oil into a range of refined products, including gasoline, diesel, heating oil, aviation fuel, marine fuel, lubricants, bitumen, sulfur, and liquefied petroleum gas (NYSE:LPG); and produces and sells petrochemicals for industrial use. The company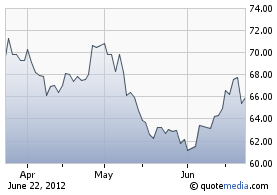 has interests in about 30 oil refineries; operates over 100 distribution facilities; and has a collection of over 40,000 service stations under the Shell brand name. Royal Dutch Shell has a market cap of $206 billion and is based in the Netherlands. Royal Dutch Shell has a current P/E of 6.67 and analysts covering the stock are forecasting earnings per share of $8.85 this year and $9.32 per share in 2013. It currently yields a dividend of 4.70%.
Conclusion:
These are three very solid multinational companies offering a sustainable dividend yield over 4%. You won't see a 4% yield in a Treasury Bond or CD any time soon. As the European economies recover over the next few years the stock prices should rise nicely from current values. These three stocks present a great opportunity to earn better than a 4% return on your money while you wait for the capital appreciation.
Disclosure: I have no positions in any stocks mentioned, but may initiate a long position in ABB, RDS.A over the next 72 hours.
Additional disclosure: I am currently long APPL, INTC, UNXL, MDU and MVIS.