Here we analyze fundamental and growth metrics for the major U.S. soft drink names to determine the most attractive current investment opportunities.
Soft drinks are an attractive sector
Soft drinks represent an attractive, defensive segment for investors. Barriers to entry are high because of the significant fixed costs involved in building brands through advertising and the challenges of creating a distribution network. Looking at an ETF which tracks the sector as well as other food and tobacco companies (iShares S&P Global Consumer Staples Sector Index - KXI), the outperformance on a 5 year basis is clear, perhaps in part because the consumer companies tend to offer both a healthy dividend yield combined with stock repurchases (see detail here), but also because consumer goods tend to outperform at times of poor overall market performance.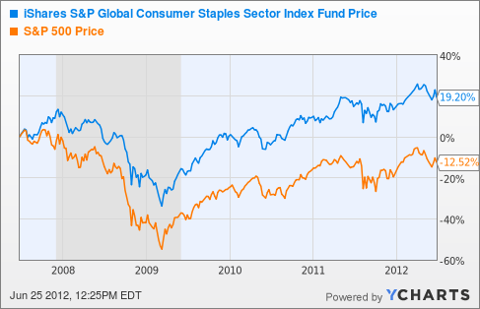 KXI data by YCharts
4 Options For Investors
Within soft drinks, investors have a good selection of options. There are two giants in Coca-Cola (NYSE:KO) and Pepsi (NYSE:PEP) in the hundreds of billions, and two smaller companies in Dr. Pepper Seven Up (NYSE:DPS) and Monster Beverage Corporation (NASDAQ:MNST).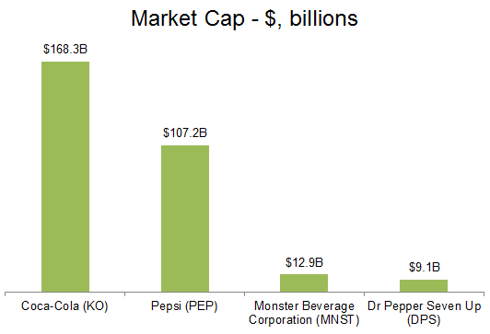 Source: Author's chart, data from Yahoo Finance
Relative P/Es Over Time
Looking at the relative price to earnings ratios over time, valuations have been falling in line with the broader market, and are currently in the mid-teens with Monster on a much higher valuation given its growth rate and some level of acquisition premium given ongoing speculation that Coke may acquire Monster, which Coke denied in April 2012. This year appears relatively favorable for the sector given declining commodity costs and broad-based volume growth.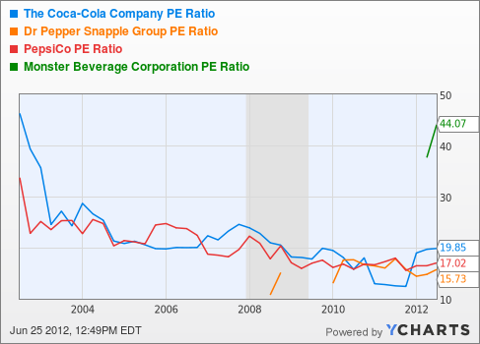 KO PE Ratio data by YCharts
Earnings growth prospects
Below is the latest guidance, revenue growth and dividend payout for each company.
| | | | |
| --- | --- | --- | --- |
| Company | 2012 Guidance | Q1 Revenue Growth | Dividend Yield |
| Coca-Cola | None given. | 5% | 2.7% |
| Pepsi | Core EPS of $4.18 (5% decline from 2011, implies P/E of 16.4) | 4% | 3.1% |
| Dr Pepper Seven Up | Core EPS $2.90-$2.98 (implies p/e of 14.5) | 2% | 3.2% |
| Monster Beverage Corporation | None given | 28% | 0% |
Source: Author's analysis based on company reports, Yahoo Finance
Conclusions
There are more similarities than differences between Coke, Pepsi and Dr. Pepper given similar P/Es, dividends and growth profiles. At the present time, Dr. Pepper appears relatively more attractive given its lower P/E ratio and slightly higher dividend yield. Coke's higher growth rate is offset by its high P/E relative to the group and Pepsi appears fairly valued relative to the others with forecast EPS decline a concern. The main caveat with regard to Dr. Pepper is its relatively slow rate of sales growth in Q1 relative to peers.
Monster requires a different frame of analysis. With revenues growing at 28% vs. 3-5% for the others, it clearly deserves a premium multiple. However, on a 44x P/E the 27% revenue growth must continue to at least 2015 to see the stock as fairly valued to peers (assuming revenue growth mirrors EPS growth), which also entails scaling from $1.8B to $4.8B in revenue, at that scale sustaining growth in the billions vs. the hundreds of millions becomes a challenge, simply because of market size. However, an acquisition could be a source of upside for Monster shareholders before then, and the franchise could inject growth into a larger company such as Coca-Cola.
Overall within the sector the most attractive investments in order appear to be:
1. Dr. Pepper Seven Up
2. Monster [though note very different risk profile to the others]
3. Coca-Cola
4. Pepsi
Risks
There is an opportunity cost risk to investing in soft drinks, though the sector has performed well, a pick up in economic growth could cause underperformance.
Dr. Pepper's relatively slow growth to peers in Q1 is a concern and if it persists could cause underperformance.
Dr. Pepper's brand portfolio is weaker than Coke or Pepsi, which may present a medium term risk.
Monster appears to be the riskiest play in the group in both directions and could easily under or outperform the others by a significant margin.
Disclosure: I am long DPS.