Synergy Resources Corporation (SYRG) is sending signals of strength to investors. Synergy reported a record net income during Q2 2012 of $6.1 million, or $0.13 per share. The company's net production has increased 183% from Q2 2011 and it has added 101 wells since Feb. 29, 2011.
Synergy is primed to take advantage of a bull move in oil prices or natural gas prices. Either of these energy markets can and have been impacted by unforeseen supply shocks that spike prices. Synergy is a small-cap company with a relatively large amount of reserves. A supply disruption event could send its stock price soaring.
Click to enlarge images.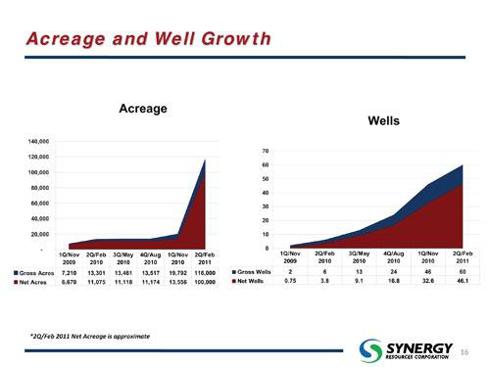 Synergy is well positioned. Its major zones of production are the Wattenberg Field, the Niobrara shale formation, and the Dener-Julesburg Basin. The D-J Basin and the Wattenberg Field have proved themselves to be profitable over the years, and Synergy's management has over 30 years experience in the D-J Basin. Synergy's interest in the Niobrara formation will utilize horizontal drilling techniques in order to hopefully tap into the rich resources located there. In summary, Synergy is a unique blend of consistent production growth and explosive profit potential.
For numbers people, here are the reserve estimates:
FUTURE

NET

FUTURE

INCOME

PROVED

OIL

GAS

GROSS

BEFORE

DISCOUNTED

RESERVES

BBLS

MCF

REVENUES

TAX

AT 10%

Developed
Producing

870,745

5,551,989

$99,621,000

$78,966,000

$48,085,000

Developed
Non-Producing

207,163

1,824,607

25,844,000

16,821,000

9,128,000

Undeveloped

2,413,863

16,421,174

281,037,000

174,657,000

65,363,000

Total

3,491,770

23,797,770

$406,502,000

$270,444,000

$122,576,000
Synergy has 69.56 million shares outstanding. According to its own reserve estimates as seen above, the company's net income per share is 270.444 million/69.56 million = 3.887. Even using the discount rate (-10%), the net income per share is 122.576 million / 69.56 million = 1.76. As you can see, these numbers are pre-tax, but still extremely strong fundamental indicators for the value and growth of Synergy's stock value.
Remember, foresight is the father of insight.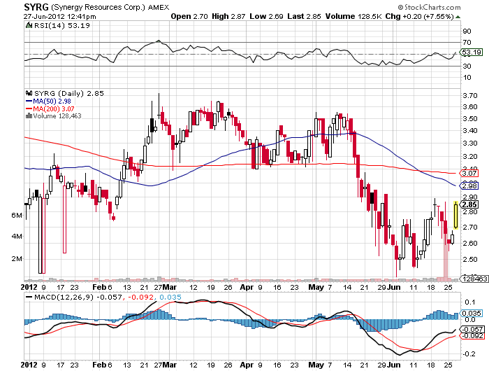 Disclosure: I am long SYRG.