It's hard to keep a market with low non-systemic risk down. The Aussie had reversed Monday's losses on Tuesday, and spiked higher today - Wednesday - following a mixed U.S. Durable Goods number and a jump in pending U.S. home sales. The Aussie has a tight correlation to U.S. blue chip stock indices and benefits from positive U.S. economic developments. The direction on the Daily chart is now back higher.
Buoying the currency earlier in the week were reports that the Russian Central Bank was buying AUDUSD. The light calendar also continues to be supportive of this carry pair. We see dips in the Aussie as continuing to be supported by institutional and sovereign fund buying, and thus opportunities to scout buy set-ups and signals. We'd love to see a dip toward .9800 longer-term but realize this may be wishful thinking, and feel 1.0425 will likely hold as resistance through mid-summer - see Figure 1. More near-term we like 1.0040 as a level to watch for buy set-ups with an upside target of 1.0140.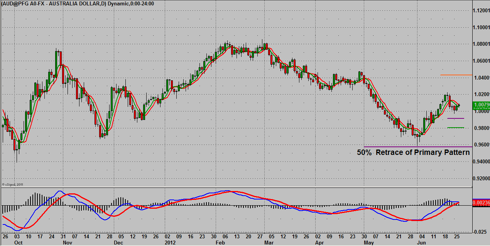 Figure 1. AUDUSD Daily Chart
The euro bear rolled on this week, following more confusion and speculation as to the fate of its member's debt. Our own take is that even when/after the Germans realize they need to help their neighbors, if only to maintain the value of their own home, there will still be little reason to hold the currency given their demographics. On the bright side, central bankers have done a fine job of supporting the euro which is definitely appreciated by global stock markets and other asset class markets. The world is a better place when global stock indices are on more sure footing and currencies are stable. We see a modest long-term downtrend for the euro and hold that maintaining reasonably sized short positions while being prepared to add to them on short-squeezes is the way to go. Speaking of short-squeezes if price can't get below and stay below 1.2450. The big question in my mind is where are the buy stops of those same Wall Street hedge funds who got bloodied last year sitting?
We do not subscribe to the school of thought that the economy and currency will collapse - Europe survived far, far tougher times in the previous century and kept right on moving forward. And while it may not be a popular theme in today's drama and conflict charged news world, the other free markets around the world will continue to maintain the cycle of growth being impulsive - trending - and recessions being reactive - counter-trending - and we always contend that it is better to trade with the trend.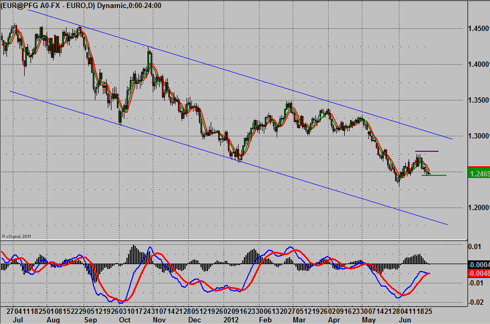 Figure 2. EURUSD Daily Chart
Trading involves risk of loss and is not suitable for all investors.
Disclosure: I have no positions in any stocks mentioned, and no plans to initiate any positions within the next 72 hours.