In this article, I will run you through my comparable analysis for two cheap but fundamentally strong stocks. It appears to me that a buying opportunity has emerged for these 2 stocks, but for you as an investor, further research is still warranted on your part before pulling the trigger.
Joy Global (NYSE:JOY)
Shares of JOY have plunged 40.41% over the past 12 months. At $51.90 per share, the stock trades just slightly above its 52-week low of $50.90. The valuation is at 5.2x the NTM EBITDA and 6.9x the NTM EPS. Consensus estimates expect revenues, EBITDA, and EPS to grow at a solid 2-year CAGR of 16.1%, 17.5%, and 15.8%, respectively. Accounting for those, JOY is trading at a PEG of just 0.4x, a substantial discount relative to the growth.
The table below shows my comparable analysis based on major mining equipment manufacturers in the developed markets. Relative to its peers, JOY has an above-average growth potential. It is also the most profitable firm measured by many of the margin and return metrics. The firm's liquidity position is also healthy as it is able to maintain a positive free cash flow margin and a liquid balance sheet. As such, JOY's superior financial performance should deserve a fair size of valuation premium. However, to justify the current market price of $51.90, my relative valuation model shown below actually requires a 26% discount on both the peer average P/E and EV/EBITDA multiples, suggesting that the market is not giving any credit to the firm's excellent financials.

Tiffany & Co. (NYSE:TIF)
TIF shares remain depressed after the stock has dropped 34.16% over the past 12 months. At the current price of $50.29, the shares are trading at 7.0x the NTM EBITDA and 13.2x the NTM EPS. Revenues, EBITDA, and EPS are forecasted to grow at a 2-year CAGR of 8.2%, 8.0%, and 11.3% over the current and next fiscal years. Taking those into perspective, TIF trades at a 1.0x PEG, implying a reasonable valuation relative to the growth potential.
Based on the comparable analysis for major players in the luxury retail sector, TIF underperforms the peer averages in many of the financial metrics but with only slight misses. It makes sense for the firm to trade at a slight valuation discount relative to the peer averages, but the relative valuation model still requires a 24.9% discount on both the peer average P/E and EV/EBITDA multiples to achieve the current price of $50.29. The substantial discount is overblown to me given that TIF's financial performance remains solid and its established brand equity and strong presence in emerging markets should help sustaining and even boosting the current growth speed.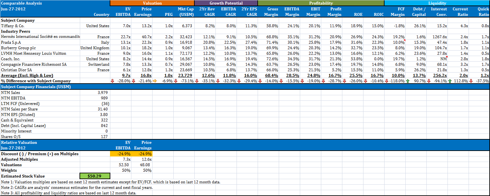 Bottom line, the large valuation discounts indeed provide investors a solid margin of safety on the investments. One of my conservative strategies to invest in value companies is to sell an out-of-money put option. If price remains above the strike at expiration, the premium is earned. In the case that the price dips further, shares can be acquired at an even more attractive value.
The comparable analysis tables are created by author and financial data is sourced from company 10-Q, 10-K, press release, Yahoo Finance, YCharts, Wall Street Journal, Thomson One, Bloomberg, CapitalIQ and Morningstar.
Disclosure: I am long TIF.