Fears of a double-dip recession abound, and the impact of these concerns continues to reflect in the prices of basic materials companies. With Europe on the brink, growth stagnating in China, and the United States economy on the rocks, global industrial production has been less than accommodating to the prices of commodity materials. Yet for investors with a long-term outlook willing to allocate towards distressed assets that are vital for global production, some of the current leaders continue to trade towards the bottom of their normalized price range.
Click to enlarge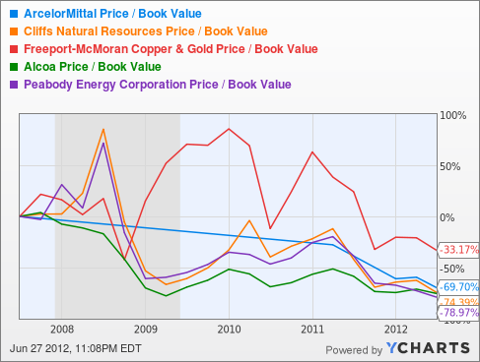 MT Price / Book Value data by YCharts
As seen in the chart above, price-to-book values have continued to fall coming out of the "Great Recession". This suggests that a price recovery has yet to take place even as industry has been shoring up its balance sheets. Interestingly enough, most of these companies have done a tremendous job at increasing their tangible book values over the past few years. As a reminder, tangible book value discredits intangible assets and goodwill from its calculations, and therefore offers a more hardy valuation to rely on.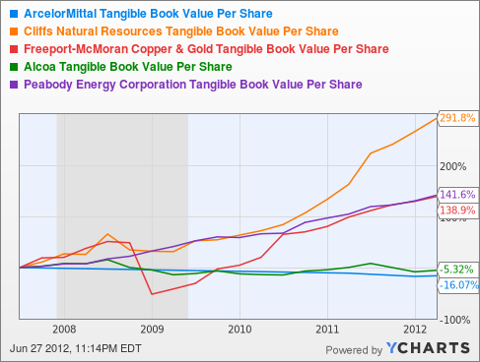 MT Tangible Book Value Per Share data by YCharts
Yet these charts show only one aspect of the valuation picture. A side-by-side comparison between some of these basic material leaders shows that some of these companies have additional measures, which can lead one to believe that they may be undervalued. All values were taken as of June 27, 2012.
| Company Name | Mkt. Cap. | Fwd. P/E | P/BV | Fwd Div% | Current Ratio | Industry |
| --- | --- | --- | --- | --- | --- | --- |
| ArcelorMittal (MT) | $22.12 Billion | 4.79 | 0.38 | 4.5% | 1.58 | Steel |
| Cliffs Natural Resources Inc. (CLF) | $6.75 Billion | 4.64 | 1.09 | 5.5% | 1.15 | Iron |
| Freeport-McMorRan Copper & Gold Inc. (FCX) | $30.50 Billion | 6.30 | 1.86 | 4.0% | 3.51 | Copper |
| Alcoa, Inc. (AA) | $9.10 Billion | 9.07 | 0.64 | 1.4% | 1.25 | Aluminum |
| Peabody Energy Corporation (BTU) | $6.07 Billion | 6.27 | 1.00 | 1.6% | 1.86 | Coal |
Though not reflected above, it is interesting to note that Cliffs Natural Resources recently raised its annual yield from 3.1% to the current 5.5% forward-looking annual yield. Similarly, ArcelorMittal has been cutting capacity in anticipation of a slowdown and divesting non-core assets. Alcoa has been stating for some time that aluminum demand has actually been growing due to an industrial shift towards lighter materials. More recently, Peabody Energy's CEO stated that China's coal demand has been in an upswing in recent months, suggesting an increase in industrial output in the country. This possible reflection of China's industry would also bode well for Freeport-McMoRan, as copper prices are largely influenced by China's growth.
It is important to remember that in a recession, basic materials companies tend to be among the first to depreciate in value. As a result, there is an inherent risk in seeking an entry at these levels if one believes another recession is at hand. However, the fact that these companies continue to trend lower despite indications that they may be oversold could in itself be a leading indicator that it is time to recognize value regardless of a future global event.