We were pleased to get a positive reception on our first report about Philip Morris International (NYSE:PM). We have held a long position in Philip Morris International since March 31, 1999, when it (along with Kraft Foods: KFT) was part of Philip Morris Companies (NYSE:MO), and we have been pleased with the results of the company and its spin-offs during this time.
We believe that Philip Morris International is a great investment, as it one of those rare-breeds of companies that offers an above average dividend yield of 3.48% (as of June 20th, 2012) and is a dividend growth champion (Dividends have increased at a compounded annual growth rate of 13.75% since it was spun off from Altria Group).
Click to enlarge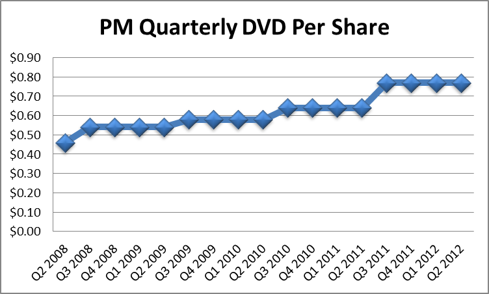 Source: Philip Morris International's Dividend Schedule and History
Philip Morris International was the former international division of Altria. That still did not prevent Philip Morris from competing against British American Tobacco (NYSEMKT:BTI), Imperial Tobacco (ITYBY.PK, IMT on the London Stock Exchange) and Japan Tobacco (JAPAF.PK, 2914 on the Tokyo Stock Exchange), not to mention numerous other non-US companies that were local to the international markets that Philip Morris sought to penetrate.
Despite the fact that Philip Morris faces strong competition from Imperial Tobacco and Japan Tobacco, we believe that Philip Morris is still the best tobacco company an investor can choose from. One interesting note about Japan Tobacco is that although tobacco accounts for 80% of its revenue, it also generates about 20% of its annual revenue from its food and pharmaceuticals businesses. All of the US and global tobacco companies in our sample have dividend yields that exceed the yield on the S&P 500 SPDR ETF (NYSEARCA:SPY) by at least 30%.
Let us compare operating metrics and business growth since 2003.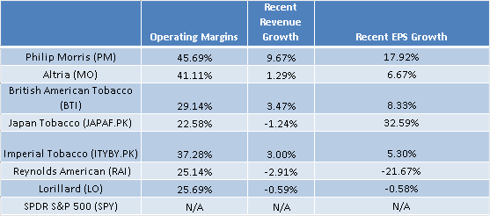 Source: Morningstar Direct
Finally, let us compare dividend growth of these companies since 2008 since Philip Morris International and Lorillard became public companies in 2008. We see that Philip Morris beats out all of its competitors, with the exception of Lorillard (NYSE:LO) and Japan Tobacco. We believe that the catalyst behind Japan Tobacco's dividend growth was its acquisition of Gallaher PLC and a slight reduction in the amount of Japan Tobacco stock held by the Japanese government.
In conclusion, we are pleased with the performance from Philip Morris International. We believe that for those interested in investing in a tobacco company, Philip Morris simply smokes its worldwide competition. Despite the fact that 60% of Philip Morris's gross revenue goes to pay confiscatory excise taxes on its products, Philip Morris and to a lesser extent for the rest of the tobacco industry produce strong levels of profit margins and free cash flows.
Despite the best efforts of the health fascists, the tobacco companies maintain relatively stable revenues and cash flows, allowing the companies to buy back stock and pay dividends to shareholders. The one thing we would prefer to see as shareholders is reductions in the amounts spent on repurchases and to reallocate those excess cash flows to dividend payments.
One of the things we would like to remind the rent-seeking anti-smoking crowd is that cigarettes are a legal product. No one is forced to smoke cigarettes. Plus the German National Socialists were some of the earliest pioneers of the anti-smoking movement and led the first public anti-smoking campaign when they ruled Germany and the rest of Europe with an iron fist from 1933-1945. Of course, that was hardly their most notable claim to infamy.
Disclosure: I am long PM, KFT, MO.
Additional disclosure: Saibus Research has not received compensation directly or indirectly for expressing the recommendation in this report. Under no circumstances must this report be considered an offer to buy, sell, subscribe for or trade securities or other instruments.