It's no secret that many retail investors have been fleeing equities for bonds in recent times. In light of bad jobs reports and a constant stream of dramatic headlines from Europe, investors want a "safe haven" - something they can count on.
Unfortunately, this mass exodus has thrown the proverbial baby out with the bathwater. The broad disinterest in equities has resulted in a selloff of some very solid companies. For investors still in the game, this means that companies with a solid track record and strong growth prospects can often be picked up on the cheap.
One such stock is Caterpillar (NYSE:CAT), the manufacturer of various construction and mining equipment as well as engines, turbines, locomotives, and other heavy machinery. As evidenced by the year-to-date price chart, Caterpillar has been beaten down -- but there are several factors that could make it an attractive investment at this price.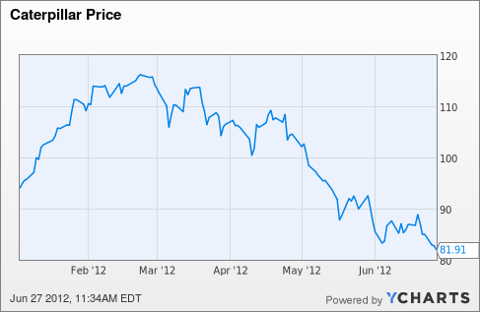 Factor 1: Reasonable Valuation
Caterpillar is at the low end of its historical P/E trading range, suggesting that the stock is undervalued at current prices and may soon undergo a mean reversion. CAT's current TTM (trailing twelve months) P/E of 10.34 is below the machinery industry average of 13.92.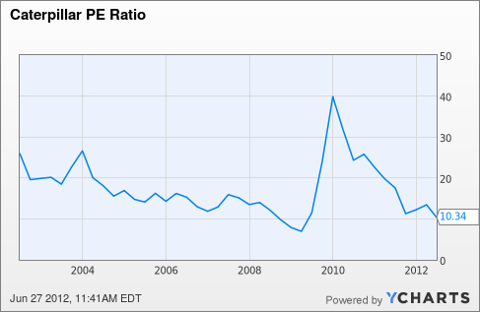 CAT PE Ratio data by YCharts
Caterpillar's PEG ratio is also well below one, suggesting that Caterpillar's current stock price doesn't account for future growth.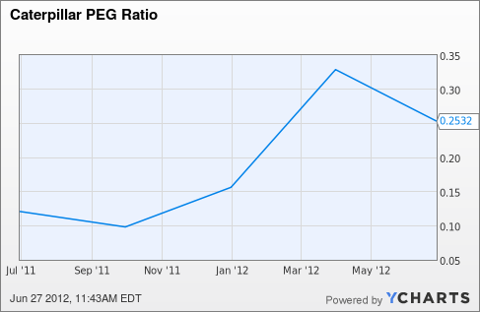 CAT PEG Ratio data by YCharts
Finally, Caterpillar's Price-To-Sales (which is 20% below industry average) is also at the low end of its historical range.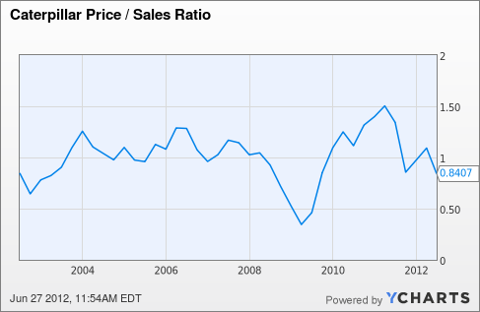 CAT Price / Sales Ratio data by YCharts
Factor 2: Strong Growth
While Caterpillar's EPS growth has declined recently, it is still well above industry averages. Caterpillar's TTM EPS growth is 40.93%, compared with an industry average of 26.13%. Forward EPS long term growth is forecasted at a solid 17.50%, well above the industry average of 12.68%. Growth has been impacted by a reluctance on the part of many companies to replace expensive equipment. However, as the economy continues to recover, sales will continue to increase, and growth figures may be adjusted upward.
It's worth noting that Caterpillar has provided the best risk-adjusted return in its peer group. From Businessweek (link above):
Caterpillar Inc. (CAT), the largest maker of construction and mining equipment, has provided the best risk-adjusted return among its peers since financial markets hit bottom in 2009 as it made acquisitions and expanded in emerging markets such as China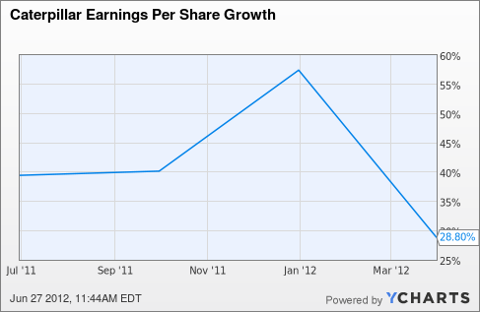 CAT Earnings Per Share Growth data by YCharts
Factor 3: Strong Dividend
Caterpillar's dividend currently yields a solid 2.52%, and the company has a history of dividend increases. These increases mean that down the road, yield-on-cost will continue to improve.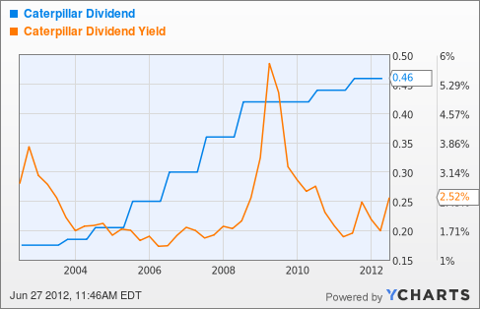 CAT Dividend data by YCharts
Factor 4: Analyst Opinion Bullish
Caterpillar has a "Bullish" 8.0/10 Starmine Equity Summary Score. (The Starmine Equity Summary Score is an accuracy-weighted sentiment derived from the ratings of independent research providers. It uses the past relative accuracy of the providers in determining the emphasis placed on any individual opinion.) Ford Equity Research and Thomas White International have outstanding "Buy" ratings on Caterpillar, while Columbine Capital Services, EVA Dimensions, and Standard and Poor's have "Outperform" ratings. Thomas White International summarizes Caterpillar's recent underperformance as more of a result of market mood than of any bad fundamentals:
CAT's interim price direction and volatility is only partially the result of the company's fundamentals. The strongest external influence is its position in the capital goods sector and the capital machinery industry. This area is noted for its above average sensitivity to the business cycle and for the wide swings in its stocks. Company specific influences relate to the variability of CAT's earnings and the characteristic behavior of investors that own it. We project it will grow with average persistence and at a long-term rate of 18%. Its overall financial quality is high versus other firms.
Conclusion
During times of economic uncertainty, it's especially important to invest in companies that have a solid track record and good prospects for the future. It seems Caterpillar has both of these, in addition to a strong history of dividend increases. (Some investors focus on growth, and some investors focus on dividends. Every investor can be happy with stocks that offer both.)
For the reasons outlined above, Caterpillar may be worth a look at current valuations.
Disclaimer: I am an individual investor, not a licensed investment advisor or broker dealer. Investors are cautioned to perform their own due diligence. All information contained within this report is presented as-is and has been derived from public sources & management. Always contact a financial professional before making any major financial decisions. All investments have an inherent degree of risk. The future is uncertain, and actual results may be materially different from those expected. Past performance is no guarantee of future results. All views expressed herein are my own, and cannot be interpreted as the views of my employer(s) or any organizations I am affiliated with. Presentation of information does not necessarily constitute a recommendation to buy or sell. Never make any investment without conducting your own research and reading multiple points of view.
Disclosure: I have no positions in any stocks mentioned, but may initiate a long position in CAT over the next 72 hours.