In response to Berkshire Hathaway's (BRK.A and BRK.B) $260M investment in General Motors Company (NYSE:GM), we analyzed GM versus Ford Motor Company (NYSE:F). We touched upon the decline of General Motors and how it went from being the most powerful company in the world to being a ward of the state. We also analyzed how the financial crisis forced the automakers to get back to basics in order to try to stave off bankruptcy (Ford remained independent while GM needed a bailout). We also provided 11 reasons to support our conclusion that Ford offered a better investment opportunity for investors versus GM. The most notable reason why we prefer Ford versus GM is because Ford hasn't had to bequeath its automobile technology to SAIC Motor, unlike General Motors.
In our second and third report analyzing, comparing and evaluating Ford versus General Motors, we analyzed eight important items of interest when investing in automakers and we concluded that Ford performed better than GM on all of those metrics.
We conclude our comparative analysis of Ford versus GM by analyzing how similar the companies were from 1999 to 2005, but around 2006, Ford began to take a different path than GM. Both companies saw profits peak around 1999 and had mediocre profitability from 2000 to 2004. Both companies incurred losses on each firm's automotive sector and relied on the finance divisions for corporate profits. In 2005, GM announced at the beginning of the year that it was going to post a loss of $10B. We were amazed that GM didn't even cut the dividend that year and that in 2006 it only cut the dividend by 50%.
Ford preannounced a shocking loss at the beginning of 2006 and announced its "Way Forward" program to right-size the company. This didn't stop the credit agencies from downgrading Ford and GM's bonds to junk bond ratings. However, we believe that Ford's willingness to put everything up for collateral in order to receive $23.5B in new loans ensured that Ford had the liquidity to survive. For some reason, GM was unable or unwilling to borrow fresh capital during this period. We also believe that Ford had better executive management, capital management and operational execution than GM during this time period.
We believe this is why Ford survived as an independent company, whereas GM's efforts were too little and too late in order to avoid bankruptcy. We believe that it was based upon these five factors that we identified and analyzed with regards to Ford and GM what enabled Ford to survive and quickly become profitable whereas GM went bankrupt, needed a bailout and yet still has lower profitability than Ford:
Management: Ford's CEO Bill Ford, Jr. knew that Ford was in deep trouble and that he was not the man for the job. He showed tremendous integrity by stepping down as CEO and appointing Alan Mulally from Boeing to the task. Rick Wagoner should have stepped down around 2005, instead he only stepped down after government pressure in 2009.
Dividend Payments: Ford eliminated its dividend in 2006 when it borrowed $23.5B by mortgaging everything but the kitchen sink. On the other hand, GM still paid $.25/share in dividends up until Q2 2008, which resulted in an annual cash outflow of $566M.
Shareholder Capital: Ford was willing to issue stock from 2006 to 2010 in order to raise money to ensure its survival. We don't know whether GM's management was unable to sell stock or unwilling. Regardless, GM should have followed Ford's lead on that.
Cost cuts: Ford was able to cut costs quicker and deeper than GM and that helped Ford only lose half of what GM lost in 2008 when the crisis was at its peak.
Click to enlarge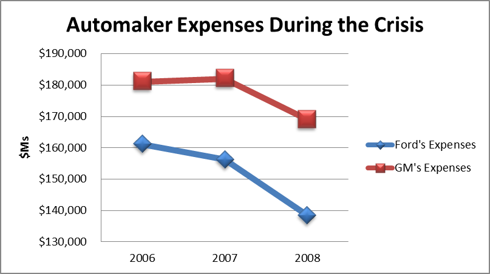 Source: GM and Ford 2008 Annual Reports
Asset Sales: We think that this is probably the one area that GM beat Ford on. GM harvested $23.5B in cash from the sale of marketable securities held, as well as assorted business units from 2006 to 2008. GM Business units sold included Allison Transmission, GMAC Commercial Mortgage and a 51% interest in GMAC in 2006. Ford harvested $7.1B from the sale of non-core business assets such as Jaguar, Land Rover, Aston Martin and a 20% interest in Mazda. Also during 2006-2008, Ford received $3.9B from the sale of derivatives. Finally, Ford also received $1.8B in 2010 from selling Volvo Cars to Geely.
Based on the original 11 reasons we articulated in our initial analysis and on the eight additional factors we identified in our second and third reports, we recommend investors buy Ford Motor instead of GM. Our report series shows beyond a reasonable doubt why Ford survived as an independent company and why GM and Chrysler needed government bailouts.
In our third installment, we quoted Lee Iacocca when he said that the Ford Family has always had the mentality of "the Fords against the world". We believe it is worth repeating because not only is it a great quote analyzing the Ford family's mindset, but also because it is why Ford survived and pulled off the greatest turnaround in the history of global business and why GM needed a government bailout. Even after receiving a bailout, GM's total profitability is less than half of what Ford's low-margin automobile sector is. That is why Ford is our choice with regards to investing in the automobile manufacturing industry. In the period, we began analyzing Ford versus GM, Ford's loss has been narrower than GM's.
Disclosure: I am long BRK.B.
Additional disclosure: Saibus Research has not received compensation directly or indirectly for expressing the recommendation in this report. Under no circumstances must this report be considered an offer to buy, sell, subscribe for or trade securities or other instruments.