In 2Q12, Apple (NASDAQ:AAPL) generated $7.9 billion in revenue from Greater China, which accounted for 20% of the company's net revenue, up from 9% a year ago.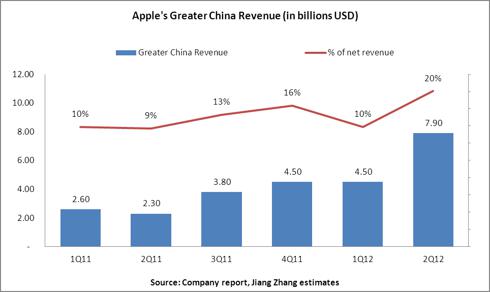 China is becoming increasingly important to Apple and the company is modifying its products to adapt to the local Chinese market. In the recent developer conference, Apple showcased several modifications in the upcoming iOS 6 that will directly benefit the following three Chinese companies:
Autonavi - China's Digital Map Leader
AutoNavi (NASDAQ:AMAP) is a leading digital map content provider in China and I believe the company is the biggest winner coming out of Apple's developer conference. Apple announced that it would purchase surveying and map content directly from AutoNavi to replace Google map, and that AutoNavi will provide turn-by-turn navigation for iOS 6 users.
AutoNavi is an attractive investment because map surveying is highly regulated by the Chinese government, whose policy establishes a high barrier to entry to allow the domestic firms to flourish. AutoNavi's industry leading position in mobile map content and navigation will allow the company to capitalize on the emerging O2O opportunities. The partnership with Apple can enhance AutoNavi's image and promote the adoption of its navigation solutions. For a detailed analysis, please see my June 26th initiating report titled "AutoNavi: Undervalued Digital Map Leader".
Sina - The Most Used Microblog
The new iOS 6 shares similar features with Apple's Mountain Lion in that it integrates Sina's (NASDAQ:SINA) Weibo, so users can share photo, link and other data with a push of the button. As of last quarter, Sina Weibo had over 300 million users in China. I believe the integration with iOS 6 will likely result in incremental user growth and additional traffic. I note that when Apple integrated Twitter into iOS 5, the number of Apple users who also use Twitter more than tripled and iOS 5 has contributed over 10 billion tweets and 47% of all photos on Twitter. Sina could experience similar impact since Twitter is blocked in China.
Youku - The Go-To Site For Online Video
iOS 6 will also integrate Youku's (NYSE:YOKU) online video services, most likely to replace the inaccessible YouTube. I believe that the convenience of uploading and sharing videos using Apple devices will drive Youku's user traffic and engagement, and allow the company to further monetize mobile ads.
Multinational firms pursue a localization strategy that caters their products and services to the local market so that they can extract the full value from their businesses. Simply put, localization allows companies to attract specific buyers and maximize sales.
Apple's modification of iOS 6 is a clear indication that China is a key market and that the company wants to attract the most amount of Chinese buyers and maximize revenue through device sales and revenue sharing agreements with companies such as Baidu (NASDAQ:BIDU) in mobile ads. Heading forward, investors will continue to see increased network effect of Apple products in China as older iPhone models become affordable. According to searches in Taobao, iPhone 3GS currently sells for RMB 900-1,500, which is comparable to the other entry-level smartphones by Samsung, HTC, and Lenovo.
Disclosure: I have no positions in any stocks mentioned, and no plans to initiate any positions within the next 72 hours.