Cardiome Pharma Corp. (NASDAQ:CRME-OLD) shares were up more than 30% after the company announced positive interim clinical results from its 90-day Phase 2b study of its oral application of vernakalant for atrial fibrillation treatment.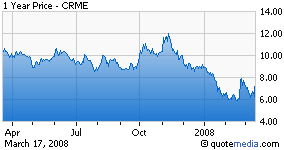 The company said interim analysis demonstrated statistically significant efficacy for the patient group receiving vernakalant (oral) as compared to the placebo, adding the safety data from the interim analysis also suggests that vernakalant (oral) was well-tolerated in the atrial fibrillation population studied during the dosing period under analysis.
Vernakalant (oral) is being investigated as a chronic-use oral drug for the maintenance of normal heart rhythm following termination of atrial fibrillation.