There is an old Wall Street adage that there are two types of companies: those with problems and those that will have problems. Due to my value discipline, I tend to buy the former and lust after the latter.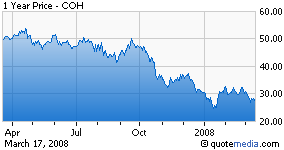 One company I have been watching for several years and lusting after is Coach (COH). Coach has been a stellar performer with margins running consistently higher than their peer group and with rapid sales growth. It has consistently traded at multiples that seemed excessive to my discipline. A complete description of Coach's business can be found on Yahoo Finance.

With the current market correction, Coach has started to attract my attention as a possible investment. The company is currently trading at approximately $27 after bouncing off a low of $23 and change in late January 2008. I am looking for the stock to trade lower over the next 6 months as fears of a recession and slower retails sale weigh on the company. I expect the stock to take out the $23 area and trade at its October 2004 price range of $19-21.
At the $19-21, Coach is a compelling value. My DCF value for the company is $26.67, which is consistent with the company trading at 20.64 times my 2010 trough earnings if the economy suffers a severe recession. I believe a 20X multiple is warranted due to Coach's superior balance sheet and margins.
Therefore, I am patiently waiting on the sidelines, hoping that COH gives me my desired entry point.
Disclosure: No position in the stock