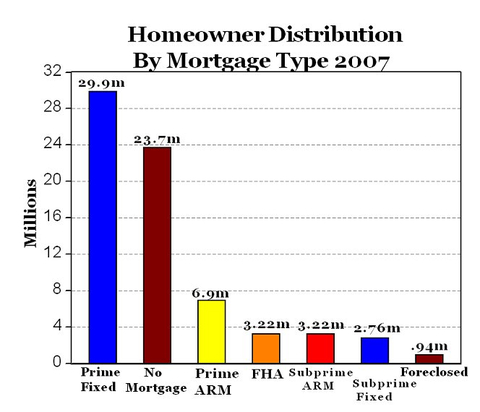 The graph above was created using data from the Mortgage Bankers Association's [MBA] most recent release on delinquencies and foreclosures, and a previous MBA report here. Facts:
1. Of the 69.70 million American homeowners, 23.7 million, or 34% of the total, own their homes free and clear.
2. Of the 69.70 million homeowners, 36.8 million, or almost 53% of the total, have prime mortgages (fixed and adjustable).
3. Of the 69.7 million howeowners, 60.5 million, or almost 87%, have a prime mortgage or no mortgage. Add in the 3.22 million FHA loans, and it brings the total percentage to 91.4%.
4. Subprime borrowers (5.98 million) make up the rest, or only 8.58% of all homeowners, and only 4.6 out of every homeowners has a subprime ARM, which make up almost half of the foreclosures started.
5. Of the 46 million mortgages, 2.04% were in the foreclosure process in the fourth quarter of 2007, or about 940,000 homes. Of the total number of homes (69.7 million) including those with no mortgage, the percent of all homes in foreclosure was 1.35%. Obviously then, 98.65% of homes were NOT in the foreclosure process in QIV 2007.