The Gray Swan Potential
An excerpt of a recent missive by Ray Dalio of Bridgewater was presented at Zerohedge yesterday. We have read the paper, but the salient point is in fact contained in the brief summary that discusses the probability that Germany won't 'blink at the last minute' and that the ECB won't suddenly discover its 'QE' printing press. Dalio concludes that in light of all this one should prepare for a 'fat tail' event - or in other words, a 'gray swan'.
Generally a 'gray swan' is considered a catastrophic financial market convulsion, a mass-correlated hyper-volatility event similar to the crash of 2008. A defining characteristic of the 'gray swan' is that it does not drop in on market participants out of the blue like the 1987 crash did (that was a 'black swan'). Rather, it is a foreseeable crash - the 2008 crash certainly qualifies as a gray swan in that sense.
Japan's mountain of fiscal debt is probably one of the world's biggest gray swans in waiting, but it's been such a long wait that no-one is thinking about it much anymore (which is to say, it is a gray swan that is getting slightly darker as time goes on). The euro area's debt crisis definitely has more imminent gray swan potential.
We are frequently struck by the fact that quite a few market observers in the Anglo-sphere don't really believe it is possible. For all the predictions of imminent doom (see Nouriel Roubini's latest dooming and glooming as an example), deep down nobody thinks it is going to happen. When push comes to shove, so the generally held view, then 'Germany will relent', or 'the ECB will print'.
But what if they don't, and why is everybody so sure of this? Dalio makes an important point about the ECB, which we briefly mentioned yesterday as well - namely, that its governing board is also split into major factions. Nothing will get done that has not the overwhelming support of all of them. Moreover - and this is our opinion, not a point specifically mentioned by Dalio - the ECB's governing council will simply not do anything that could be interpreted as a breach of the central bank's statutes.
Mario Draghi himself has made that crystal-clear not on one, but on several occasions. He even went as far as insisting that it is not the merely the letter of the law, but the spirit of the law that is to be adhered to. In short, don't expect any 'clever legal tricks' from the ECB. This does not mean that the ECB has fully deployed its interventionist tools just yet. There is conceivably a lot more it can do (more on that below) - but what it cannot do and won't do, is Fed or BoE-style 'QE'.
There is no mileage for bureaucrats employed by a supranational entity to stick their necks out too far, since they may be held liable if things go wrong. There would likely be forgiveness if things were to work out fine, but who can guarantee such an outcome? In fact our personal opinion is that the 'inflation solution' would in the end produce an even bigger catastrophe.
Then there is of course Germany - the supposed fount of magical solutions, held to be currently deploying itself erroneously as a roadblock. As the umpteenth (actually, it is the 19th, to be precise) euro-group summit approaches, Angela Merkel has been doing what we have told our readers some time ago leading German politicians always do ahead of these summits - she's been lowering expectations. Only this time, she has been doing so even more forcefully than usual. The most colorful of these events was her meeting with the intensely bailout-skeptical members of her government's junior coalition partner, the FDP. Here is what she said and what they replied:
"But on Tuesday, ahead of the crucial European Union summit in Brussels on Thursday and Friday, she was clearer than ever in her rejection of debt sharing across the common currency area. During a meeting with parliamentarians from the Free Democratic Party (NYSE:FDP), her junior coalition partner, she said there would be no full debt sharing "as long as I live."

[…] several FDP lawmakers responded by saying: "We wish you a long life."
(emphasis added)
Nothing we have heard or read over the past few weeks encapsulates the German stance more clearly or concisely. If she had said 'no debt sharing until the end of the universe', they would all have wished for the the universe to continue for many unperturbed eons.
In parliament, she also found very clear words, to the warm applause of at least her conservative supporters. Her speech in parliament was evidently held after she had read the summit blueprint developed by Messrs. Herman van Rumpoy, Manuel Barroso, Jean-Claude Juncker and Mario Draghi, which can be seen here (pdf).
"In a statement to Germany's lower house of parliament, the Bundestag, Merkel made clear that she will not bow to intense international pressure on Germany to agree to joint bond issues that would calm the euro crisis by stabilizing ailing euro-zone member states like Italy and Spain.

She said the blueprint for closer financial integration drafted by European Council President Herman Van Rompuy, European Commission President Jose Manuel Barroso, Euro Group President Jean-Claude Juncker and European Central Bank President Mario Draghi contained major shortcomings, and that she would seek support for her own ideas in Brussels.

"I profoundly disagree with the stance taken in the report that precedence is given to mutualization, and that more control and enforcable commitments take second place and are phrased in very imprecise terms," said Merkel, to applause from conservative parliamentarians.

"There is a clear discrepancy between liability and control in this report, so I fear that the summit will once again talk too much about all kinds of ideas for possible joint liability, and much too little about improved controls and structural measures."

She said instruments such as euro bonds, short-term euro bills and a common debt repayment fund would be in breach of the German constitution in any case, and that she regarded them as "economically wrong and counterproductive."

[…]

In a clear signal to international partners to tone down their demands, Merkel said Germany's economic strength has its limits and that its scope to bail out other nations must not be overestimated. "Germany is the economic motor and anchor of stability in Europe but even Germany's strength isn't endless," she said.

Merkel, who on Tuesday declared that Europe would not share debt liability "as long as I live," repeatedly stressed her opposition to euro bonds, saying: "The mistakes of the past must not be repeated. Politically enforcing equal interest rates after they didn't work well in markets would be repeating an old mistake."

She said she would push for the summit to agree to a timetable and a working method to decide on reforms of the euro's architecture. "Our work must convince those who have lost confidence in the euro zone, not by self-deception and sham solutions but by fighting the causes of the crisis," she said.
(emphasis added)
When Americans read something like this, they may often wrongly believe that she is merely placating her domestic audience. In part, she is of course - but the above is also reflecting what she has come to believe. Flip-flopping is not as common in German politics as seems to be widely assumed.
Allow us to repeat the decisive passages above with regards to debt mutualization:
It is 'against the German constitution', it is 'economically wrong and counterproductive', there will be 'no political enforcement of equal interest rates', and what is needed is 'fighting the causes of the crisis, instead of adopting sham solutions'.
First of all, the part about the constitutional obstacle is really all one needs to know, but secondly, what is there in Mrs. Merkel's opinion and assessment of the fundamental economic situation and the associated incentives that anyone could possibly disagree with?
However, there is so much dissension now in the ranks of the euro-group that a clear course probably won't be agreed to at the summit. We actually believe that if the German ideas - intensive structural reform coupled with strict control and enforceable commitments - were to be adopted unanimously and then quickly put into practice, the markets would become a lot less jittery. The problem is not necessarily that the German course is 'too strict', the problem is the lack of unanimity regarding the way forward and the slowness and uncertainty attending the ratification and implementation of agreements.
This is why dangerous looking charts like the ones below must give us pause.
---
Click to enlarge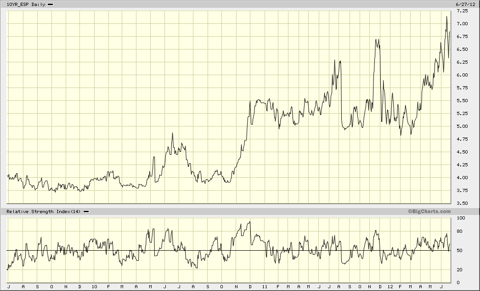 Spain's 10-year government bond yield has broken out. The last two breakouts were followed by swift retracements - and with the exception of the November 2010 breakout that was the case with every initial breakout attempt. And yet, here we are, nearly at new highs.
---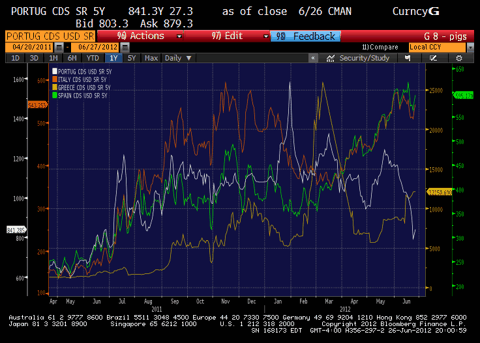 5-year CDS on Spain's sovereign debt (green line) are far above their previous highs already. Italy's have not yet bested their previous highs, but are perilously close to doing so as well. Greece (yellow line) is apparently about to go bankrupt for the second time.
---
Below we show two charts - the S&P 500 index and the strongest major stock market index in the euro area, the German DAX. What is noteworthy is the divergence between them (a higher high in the SPX versus a lower high in the DAX) and the fact that the most recent decline from the highs has taken the shape of an impulse wave.
These divergences and the fractal shape of the initial declines at the very least spell 'danger'. It is always possible for divergences to disappear again and impulse waves can also appear in corrective structures. Still, this time the DAX has failed to appreciate noticeably in spite of a sharp decline in the euro. This is a marked difference from the aftermath of the market upheaval in the summer of 2010, after which the DAX climbed quickly to new highs for the move as the weak euro provided a tail wind for the shares of German exporters.
There are never any guarantees for specific market outcomes. Given the low expectations attending the summit, it is not inconceivable that almost any kind of agreement - even an obviously insufficient one - may become a trigger for a short term relief rally. On the other hand, it is precisely when divergences like the ones shown below are in place that the scene is potentially set for extreme outcomes in the other direction.
---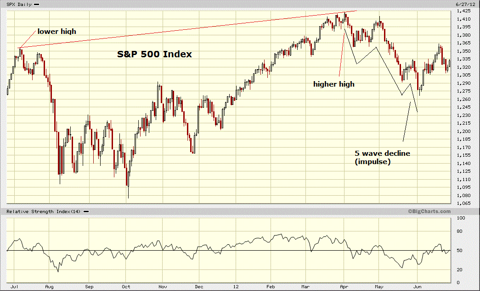 First the S&P 500...
---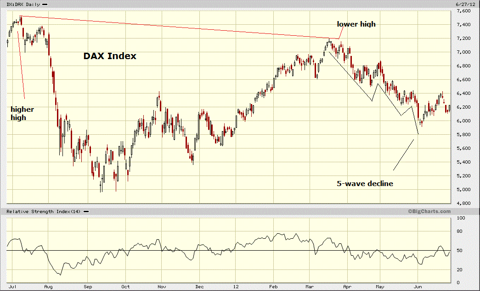 And here the German DAX for comparison purposes.
---
A Two Day Summit? Make That A Four Day Summit…
No-one is under more pressure at the euro-group summit than Mario Monti. We have previously discussed the fact that he has lost political support at home, both among his grumbling allies in parliament (the Berlusconi-led camp is getting rather antsy, with Berlusconi himself lately sniping at Monti quite frequently), as well as among the increasingly restive electorate. Italy's political establishment is worried that more and more voters are flocking away from the main parties to small and often radical fringe parties - even fringe parties with no political program whatsoever, like Beppe Grillo's 'Five Star' movement. Deposing Monti may soon be regarded as a price worth paying, especially if he returns without any concrete success from the summit.
"Monti is facing even more political pressure on the home front. Italian borrowing costs have been rising dangerously in recent weeks and the prime minister's popularity, and political support, has been plummeting. Should he return from Brussels without clear successes, his government could topple - an impression reinforced recently by statements from former Prime Minister Silvio Berlusconi, who leads Monti's largest coalition partner, the People of Liberty. Berlusconi has recently said that it would not be a bad thing were Germany to leave the euro and also has indicated his party might back out of the governing coalition, which would lead directly to Monti's fall.

Monti, it would seem, has not been immune to the pressure. In a speech to parliament on Tuesday, he said he will continue to push his proposal for using the ESM to lower borrowing costs and that he would not go to Brussels to "rubber stamp" statements that had already been written.

He also said that he was prepared to stay in Brussels until Sunday night to get an agreement that will calm markets. Given the acrimony on the eve of the meeting, other EU leaders might be wise to extend their hotel reservations as well."
(emphasis added)
The social mood in Italy is clearly rather negative at the moment - as evidenced by the MIB index hovering only a little bit above its 2009 crash low. In fact, we think that the chart of the MIB looks rather dangerously poised here. A break of the 2009 low would be a serious development from a technical perspective. There is however a positive RSI divergence on the weekly chart, so perhaps a breakdown will be avoided in the near term. It is definitely a situation worth keeping a close eye on in coming days and weeks.
---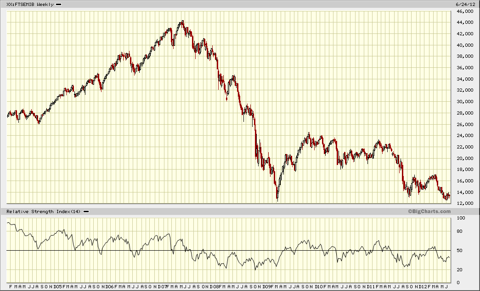 Italy's MIB index is perilously close to its 2009 low.
---
It is also noteworthy in this context that Spain's IBEX has already broken below the equivalent 2009 low and is now testing this level from below. In this case one must give due consideration to the fact that a potentially positive divergence between the two indexes now exists - as one has made new lows relative to 2009 and the other hasn't yet. However, the divergence is so small that it won't take much to erase it. Both indexes continue to look suspiciously similar to the Nikkei after its bubble peaked in 1989.
---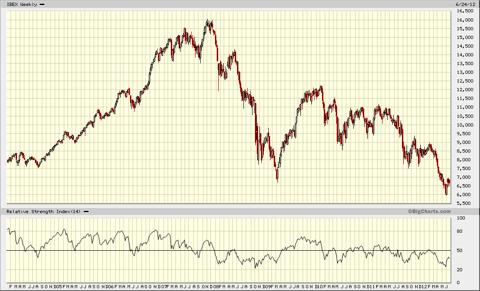 The IBEX has already broken below its 2009 low.
---
Unfortunately for Mr. Monti, camping out in Brussels for four days may not really help his cause either. What he wants is some way of getting Italy's (and by implication, also Spain's) bond yields down to a level that Italy can live with as fast as possible. In other words, he wants to see some sort of forceful interventionist measures deployed. This is precisely what Germany is not likely to be willing to do, as it rightly fears that the reform momentum may be lost if market pressure is eased.
However, the German side may underestimate the volatility of the Italian political situation. Italy has not had stable government for a long time. Governments as a rule change in Italy at about four to five times the frequency seen in other major industrialized countries (there have been 63 governments since 1945). Berlusconi's reign was actually one of the most stable of the entire post WW2 era.
Imagine though what would happen if Monti were suddenly deposed after his return from Brussels. Would markets just sit still? If the 'Tremonti Plunge' was any indication, the answer is that they probably wouldn't.
As an aside to this, Italy has a problem that is very similar to Spain's with regards to its upcoming debt rollovers. They are heavily front-loaded as can be seen below:
---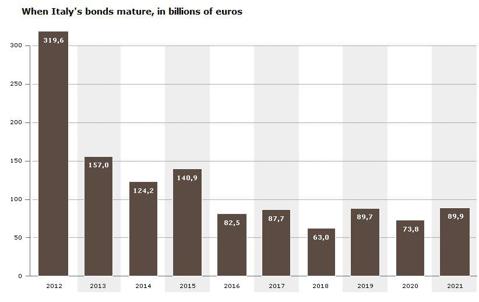 Italy's annual debt rollovers in billions of euros. Even with the LTRO induced buying spree by its commercial banks earlier this year, there is still a big chunk of debt waiting to be replaced in 2012.
---
In light of all of the above, one simply cannot dismiss Dalio's 'fat tail' warning out of hand. It need not necessarily happen right after the upcoming summit, but it is a danger that will be with us for some time even if the markets greet the summit outcome with temporary relief.
The ECB - Departing Into the 'Twilight Zone'?
A recent Bloomberg article discusses the 'tools' left in the ECB's inflationary toolbox in order to combat the deleveraging cycle in the euro area. Allegedly Mario Draghi is about to take leave of the euro-zone in order to 'enter the Twilight Zone', a fabled territory of nutty monetary experimentation not even Heli-Ben dares to frequent.
"European Central Bank President Mario Draghi is contemplating taking interest rates into a twilight zone shunned by the Federal Reserve.

While cutting ECB rates may boost confidence, stimulate lending and foster growth, it could also involve reducing the bank's deposit rate to zero or even lower. Once an obstacle for policy makers because it risks hurting the money markets they're trying to revive, cutting the deposit rate from 0.25 percent is no longer a taboo, two euro-area central bank officials said on June 15.

"The European recession is worsening, the ECB has to do more," said Julian Callow, chief European economist atBarclays Capital in London, who forecasts rates will be cut at the ECB's next policy meeting on July 5. "A negative deposit rate is something they need to consider but taking it to zero as a first step is more likely."

Should Draghi elect to cut the deposit rate to zero or lower, he'll be entering territory few policy makers have dared to venture. Sweden's Riksbank in July 2009 became the world's first central bank to charge financial institutions for the money they deposited with it overnight. The Fed rejected cutting its deposit rate from 0.25 percent last year. With Europe's debt crisis damping inflation pressures and curbing growth, the ECB may feel the benefits outweigh the negatives."
(emphasis added)
Yes, there actually is such a thing as central bank-administered negative interest rates. The so-called 'zero-bound' is not relevant for the central bank's own deposit facilities, where the excess reserves of commercial banks are parked (these reserves and the currency issued by the central bank represent the vast bulk of its liabilities).
We would note to this that not even a negative deposit rate will induce banks to lend out money by pyramiding deposits upon their reserves if their fear of loss of capital is great enough. We doubt the big German banks would suddenly fall over themselves to lend to credit-starved Greeks or Spaniards, for instance, just because they might have to pay a ¼ point penalty. After all, in Switzerland the entire yield curve up to the five year note has turned into negative territory recently.
If on the other hand the penalty rate becomes large enough (i.e., if the interest rate on central bank deposits is moved deeply enough into negative territory) to actually induce the banks to create new loans and deposits, then there is no telling what could happen in view of €830 billion in excess reserves considering the paltry reserve requirement of 1% (!) for demand deposits in the euro area. In theory, the banks could lever up their reserves by a factor of 100. We don't expect that to happen, we're merely pointing out that it would be possible in principle. So this has to be one of the more crazy ideas out there, since if it doesn't work, it will only reduce the liquidity buffers of banks, whereas in case it does work, it could kick off a major inflationary episode. That doesn't mean it won't be tried. In fact, this particular Bloomberg missive on the topic may be a 'trial balloon' leak in order to find out how the idea is received.
Meanwhile, Chicago Fed president Charles Evans is once again calling publicly for more money printing on the part of the Fed, so the two central banks could perhaps start a competition. Best hang on tight to your gold.
---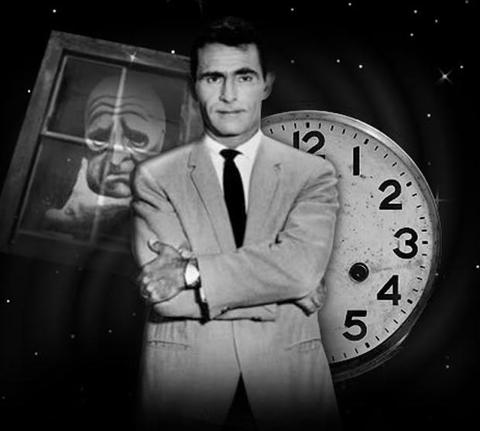 Few central bankers dare to venture in to the Twilight Zone…but Mario Draghi may
(Photo via the Web, source unknown)
---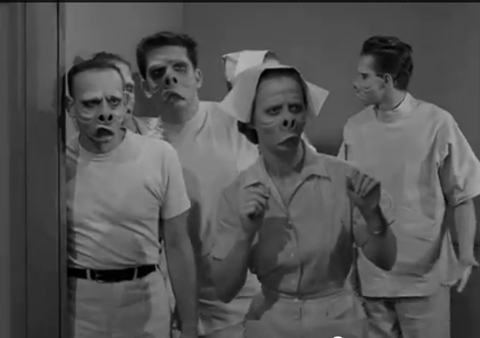 A bunch of evil twilight zone central banker minions waiting to ambush innocent savers.
(Photo via the Web, source unknown)
---
Addendum: Greek Shenanigans and European Court Vacation Rulings
AFP reports that the Greek government is apparently in breach of its bailout commitments as it has failed to lower the headcount of its civil service. It has simply hired almost as many civil servants as it has fired.
"Greece breached the rules of its EU-IMF loan agreement by taking on some 70,000 public sector staff in two years, undermining efforts to reduce the state payroll, a report said on Sunday.

To Vima weekly said the hirings in 2010 and 2011 were highest in local administration, health, the police and culture, where the number of employees actually increased.

It cited a report from a permanent mission to Athens of the so-called 'troika' of international creditors, the EU, IMF and the European Central Bank, and data given by outgoing finance minister George Zannias.

An unidentified troika official told the daily: "While they legislated rules to reduce the number of civil servants, they were bringing people in through the window." The official added that over 12,000 people were hired by local councils even as a cost-cutting initiative merging municipalities was underway.

Zannias' report to the new government coalition after June 17 elections allegedly reveals that although over 53,000 civil servants retired in 2010, the overall number of state staff was almost steady at 692,000 people, To Vima said. In this case, most of the vacancies were filled immediately, the daily said.

Similarly, although another 40,000 staff left in 2011, the net reduction on the payroll was only 24,000. By this time, Greece had promised to only hire one civil servant for every five that left. But over 16,000 people were hired instead of the allowed 8,000, To Vima said.
Leave it to the Greeks to bamboozle everyone with doctored statistics until the truth can no longer be covered up.
Meanwhile, the sorry state of the sclerotic EU labor markets was solidified by a court decision that really boggles the mind.
"For most Europeans, almost nothing is more prized than their four to six weeks of guaranteed annual vacation leave. But it was not clear just how sacrosanct that time off was until Thursday, when Europe's highest court ruled that workers who happened to get sick on vacation were legally entitled to take another vacation.

"The purpose of entitlement to paid annual leave is to enable the worker to rest and enjoy a period of relaxation and leisure," the Court of Justice of the European Union, based in Luxembourg, ruled in a case involving department store workers in Spain."The purpose of entitlement to sick leave is different, since it enables a worker to recover from an illness that has caused him to be unfit for work."

With much of Europe mired in recession, governments struggling to reduce budget deficits and officials trying to combat high unemployment, the ruling is a reminder of just how hard it is to shake up long-established and legally protected labor practices that make it hard to put more people to work and revive sinking economies.

The workers originally won their case in a Spanish court, where they argued that collective bargaining agreements made a distinction between annual leave and sick leave that was recognized by Spanish law. The National Association of Large Distribution Businesses, known as Anged, appealed to the Supreme Court in Madrid, which then asked the Court of Justice for a ruling on how to apply European law covering working times.

The Court of Justice had previously ruled that a person who gets sick before going on vacation is entitled to reschedule the vacation, and on Thursday it said that right extended into the vacation itself.

"The point at which the temporary incapacity arose is irrelevant," the court found. The ruling applies across the European Union of 27 countries.

A spokesman for Anged said the association was not able to comment because it first needed to study the details of the ruling.

Spanish unions have stepped up protests in recent weeks against attempts by Prime Minister Mariano Rajoy to ease restrictions on hiring and firing and otherwise overhaul labor laws.

The ruling does not apply to the 25 percent of the Spanish labor force that is currently unemployed."
(emphasis added)
So in a way, you can only get legally sick during times when you should work, but not while you're on vacation. Should you get sick while on vacation, you will be deemed to have become sick during work. Except if you're unemployed, which enables you to get sick at any time you wish. This will open the door to massive sick-leave fraud, as there is no way for anyone to control whether illnesses during vacations are faked or not.
In all other places on Earth getting sick during a vacation is known as 'bad luck'.
Charts by: Bloomberg, BigCharts