On Monday, cancer therapy developer Tocagen announced a partnership with MRI Interventions (MRIC.OB) and BrainLab AG as part of Tocagen's Phase I/II study of brain cancers in their most aggressive form - high grade gliomas. The study applies Tocagen's Toca 511 retroviral replicating vector (RRV) directly to the brain tumor in tandem with an oral flucytosine, Toca FC, to more aggressively track and attack the affected region.
Glioblastoma multiforme, a form of malignant brain tumor, spreads in microscopic tendrils that can be nearly impervious to removal; even the smallest amount of cells left behind can regrow. But developers hope that the RRC and flucytosine together can accurately and efficiently eliminate the malignancy.
Tocagen will be utilizing MRI Intervention's proprietary technology, ClearPoint Neuro Intervention System, to intracranially apply the Toca-511 RRV therapy. ClearPoint is the only minimally invasive technology of its kind. Using an existing MRI suite, the system allows doctors a real-time, MRI-guided look inside the brain during neuro procedures; the detail and oversight ability are vastly superior to previous technology.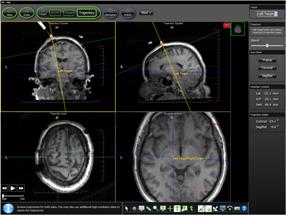 The implications of this alliance, however, are broader than this trial alone. There are currently more than 250 actively recruiting studies for indications of glioblastoma in the United States. Celldex Therapeutics. (CLDX), for example, is recruiting 95 patients to study the effects of their experimental rindopepimut vaccine on glioblastoma. Exelexis' (EXEL) ongoing Phase II Cabozantinib study enrolled 225 patients for treatment of glioblastoma multiforme. Pfizer's (PFE) pipeline product Sunitinib is in a pilot study to test use in indications of glioblastoma. The biggest hurdle for Sunitinib, and for most blood-borne drugs in cerebral indications, is the blood-brain barrier (BBB), the body's natural defense against pathogens entering the brain. Intracranial procedures are one of the few options in bypassing the BBB for direct application. While these studies may not currently require localized application of therapies (intracranially) studies such as Tocagen's are testing the efficacy of direct tumor injection and may represent the future of high grade glioma treatment.
Glioblastoma, however, makes up the smallest part of these MRI-guided surgical indications in the brain. According to MRIC's corporate presentation, the market opportunity for the ClearPoint system includes Parkinson's, Epilepsy, OCD, Depression, Dystonia, Alzheimer's, Huntington's disease, among others. The addressable market tops 2.2 million patients, but more importantly for the time being, treatments in these applications are growing and more studies are testing compounds in tandem with intracranial procedures. MRI-guided surgery was just used in Arizona to successfully treat a handful of epilepsy patients and the University of California SF is running a Phase I/II study of deep brain stimulation for the treatment of dystopia. There are more than 600 Parkinson's and Alzheimer's trials active right now, many of which are testing the efficacy of deep brain stimulation and intracerebral delivery in treating these prevalent diseases.
The opportunity for partnerships like Tocagen's are enormous for MRIC. Whether trials involving ClearPoint succeed or not, the importance for the company lies in the broader adaptation of their system. Not only does the company gain exposure, but the responsibility for success in these trials lies not with the guiding system but with the trial leader. MRI Interventions has much to gain and little to lose.
Disclosure: I am long MRIC.OB.