I suspect that many stock investors don't pay as close attention to the bond market as they probably should. And I confess that I probably don't either.
But I have been watching two spreads lately. Not on European bonds like everyone else seems to concerned with, but keeping an eye on the spread between US Treasuries and US corporate bonds.
This chart shows the difference in yield between 10-Year US Treasuries and the yield on Moody's Seasoned Aaa-rated bonds per data from the St. Louis Fed.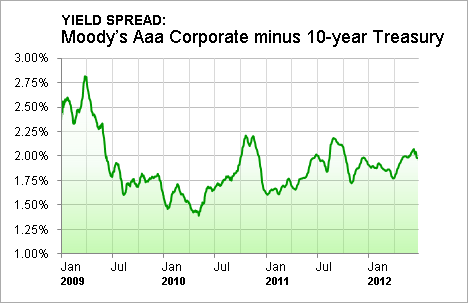 Right now, for example, the yield on those highly rated corporate bonds is around 3.6% with the 10-year Treasury at around 1.7%. That's a spread of 190 basis points (360 minus 170).
Is that a big difference? According to the chart, that spread has certainly been higher, but not as high as last summer or the summer before that.
But what about lower-rated corporate bonds, say the difference between Moody's Baa-rated bonds and 10-year Treasuries?
Well, that spread is now about 334 basis points, and it's pushing against the highest level we've seen since the height of the financial crisis in early 2009.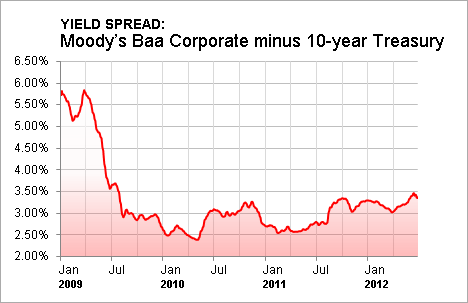 What this means is that investors are demanding a much higher premium for lower-grade corporate bonds, or conversely, willing to accept a much lower yield on Treasuries in comparison. And this chart concerns me just as much as spike in the VIX might.
Why would the higher rated Aaa-Treasury bond spread not be pushing up against new multi-year highs while the Baa spread shown in the second chart seems to be doing just that?
I suspect that any companies that have preserved their Aaa credit ratings since the financial crisis have been improving their balance sheets - adding cash and reducing debt, so there's less pressure on those companies from a rate perspective.
Along with a watching the VIX, keeping an eye on these spreads is a good idea even if you never trade bonds or the ETFs like the SPDR High Yield Bond ETF (NYSEARCA:JNK) or the 7-10 Treasury ETF (NYSEARCA:IEF). They can be a worthwhile tool for evaluating how investors are positioning themselves along the "risk on/risk off" spectrum.
Disclosure: I have no positions in any stocks mentioned, and no plans to initiate any positions within the next 72 hours.