Why buybacks matter
Dividend yield is often analyzed by investors before a purchase, but buybacks, despite being a similar means of returning cash to shareholders, get less respect. I've written before about what buybacks imply at the sector level. This analysis focuses at the stock level, by looking at some of the companies that did the largest buybacks last year relative to their market cap.
The Top 10 S&P 500 Companies By Buyback Yield (2011)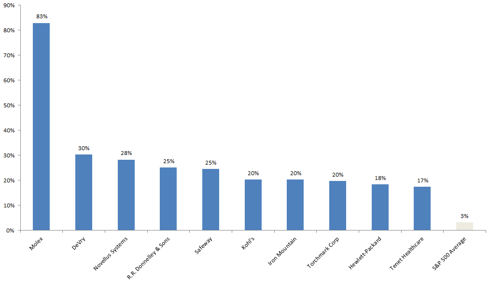 source: Factset
Are any of the top 5 companies interesting to investors?
Molex (NASDAQ:MOLX) stands out for its incredible buyback yield in addition to a dividend yield of 3.6% and 14.6x P/E. The company makes interconnectors and has generated free cashflow for the past 3 years. However, the company appears reasonably valued, but not excessively cheap and the sustainable advantage of the company is not readily apparent, in addition last quarter saw a 2% decline in revenue.
DeVry (NYSE:DV) is suffering from issues plaguing the for-profit education section and may be subject to more legislation. It may be a name contrarian investors want to consider given its P/E of 9x, but earnings for the for-profit education sector this year are risky at best.
Novellus Systems was recently acquired, so no longer trades as an independent company.
R.R. Donnelly (NASDAQ:RRD) seems interesting on various metrics, the 9% dividend yield may be cut as yields that high so often are, but the company trades at 4x free cash flow, which is cheap by anyone's standards. The issue with the company is that its primary business is commercial printing and as the world shifts from printed matter to digital content consumption, so RR Donnelly's core business is challenged. The counterpoint is that RR Donnelly has strong customer relationships and can leverage these into becoming a 'one stop shop' for both print and digital documents and collateral. Guidance for 2012 EPS (before a host of one-off charges) is $1.84-$1.92, which lends some support to the valuation. Like others in the set revenue declined in the most recent quarter, though EPS grew. The company also has significant debt relative to equity ($3.7B of debt vs. $2B of market equity). This means equity value could be significantly reduced if the company does see a decline in earnings given the financial leverage.
Both Safeway (NYSE:SWY) and Kohls (NYSE:KSS) are buy-back centric retail names with P/Es below 10 and yields of over 3%, but in both cases same-store sales are effectively flat. Safeway has a higher yield and lower P/E, but without underlying growth neither are sufficiently cheap to look compelling.
Conclusion
Looking for significant buyback activity is an interesting method for screening for value-based stocks, but often leads to slower growth companies. Of the 5 top buyback stocks for last year, R.R. Donnelly is the most interesting for investors, not because its financial performance is stellar, but because the company is so cheap on most metrics that expectations are sufficiently low for the stock that outperformance appears probable. However, investors should be aware of both the significant leverage and potential market weakness that R.R. Donnelly faces.
Disclosure: I have no positions in any stocks mentioned, but may initiate a long position in RRD over the next 72 hours.