A few weeks ago we completed our 9-part series titled "Building A Do-It-Yourself Dividend Portfolio" in which we highlighted our top-rated dividend stocks within each sector. Our goal was to provide fellow DIY investors with a diversified pool of high-quality dividend stocks that we feel have the potential to be a core holding in your DIY Dividend Portfolio.
While the response to this series was extremely positive (and we thank all readers for their thoughtful feedback). We received many comments and questions asking us to provide additional details about the actual "plan" that governs the DIY Dividend Portfolio. To be completely honest, this was music to our ears. We believe that planning is the most important part of the investing process, yet most investors spend the least amount of time on it (if any time at all).
That said, last week we begin a new 4-part series that will highlight our 4 key principles (in order of importance) to building a successful DIY Dividend Portfolio (see links below for previous articles):
Asset Allocation/Position Sizing (i.e., how much should you buy of each dividend stock?)
Exit Strategy/Risk Management (i.e., when should you exit a stock or hedge your dividend portfolio?)
Stock Selection (i.e., which dividend stocks should you choose for your portfolio?)
Entry Strategy (i.e., when should you buy a specific dividend stock?)
Most investors fail to succeed because they either do not have a plan or they do not have the discipline to stick to their plan. Plain and simple. We passionately believe that if you make these 4 key principles the heart of your investment plan, you WILL achieve long-term success. In addition, we strongly encourage investors to physically write down their rules of investing. This will increase the odds that you will actually follow your rules, which ultimately will increase your odds of success.
Part 3: Stock Selection
We use a combination of fundamental and technical analysis to determine which stocks to buy and when to buy them. For dividend stocks in particular, we have a proprietary rating system that ranks over 700 U.S. dividend stocks on a weekly basis. Our goal is to identify, research, and invest in the dividend stocks that we feel have the best risk/reward profiles.
Our composite rating is derived by ranking each stock based on 28 key fundamental and technical data points in five sub-rating categories:
Risk-Reward Profile (e.g., current yield, Calmar ratio)
Financial Stability (e.g., sales and EPS growth, ROE, leverage)
Dividend History (e.g., historical dividend stability and growth)
Future Dividend Potential (e.g., payout ratio, EPS estimates)
Relative Strength (e.g., 12-month total return and trends)
It should be noted that we also believe that patience is a virtue. Just because a stock has a high Parsimony composite rating, it doesn't necessarily mean that you should run out and purchase it that day. We scan the charts of our top-rated stocks daily looking for strong levels of support and resistance, which ultimately helps us determine a target "Buy Zone" for each stock (we'll touch more on this in Part 4 of this series). We believe that patiently waiting for a low-risk entry point for a given stock will drastically improve your long-term investment results.
Finding the Best Dividend Stocks
We will begin publishing our top 50 dividend stocks (The Parsimony 50) each month on our website starting in July. The Parsimony 50 is a list of the 50 highest-rated dividend stocks based on our current ratings. We believe that the stocks that make up the Parsimony 50 currently have superior risk/reward profiles and are certainly great candidates for your DIY Dividend Portfolio.
Based on last months ratings, below is the top rated dividend stock for each sector. As we highlighted in Part 1, we believe that investors should try to diversify their dividend holdings among the various sectors. Note that our composite rating ranges from 0 (lowest) to 99 (highest).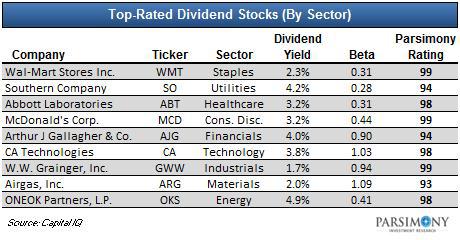 The top stocks on the list above have an average dividend yield of 3.3% and an average beta of 0.50. In general, companies with low betas will tend to be less volatile than the general market and will help dampen portfolio volatility. As you can see from the list above, stocks like Wal-Mart (NYSE:WMT), Southern Company (NYSE:SO), and Abbott Laboratories (NYSE:ABT) that are in "defensive" sectors tend to have the lowest betas.
Only three of the stocks above carry our coveted "99" rating - Wal-Mart, McDonald's (NYSE:MCD), and W.W. Grainger (NYSE:GWW). As a matter of fact, all three of these stocks are members of the S&P 500 Dividend Aristocrats club, which have followed a policy of increasing dividends every year for at least 25 years. As such these stocks also carry a very high Dividend History rating (see table below).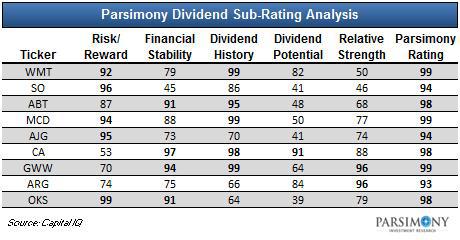 We love analyzing the sub-rating categories of the Parsimony rating (see table above) because it gives you meaningful insight about the strengths of the individual stocks. As shown in the table above, a stock with a high composite rating (>90) will typically also have an 85+ rating in at least 2 of the 5 sub-categories.
Note: Since beginning our DIY Dividend Portfolio series, we have received a lot of questions about Apple (NASDAQ:AAPL). As you know, Apple will start paying a dividend sometime in the next few months. Just for fun, we plugged Apple into our dividend rating model to see where the stock would shake out among its dividend-paying peers. Apple rates pretty well with an overall Parsimony rating of 91. In addition, the stock would have very high ratings in Financial Stability (99), Dividend Potential (93) and Relative Strength (99). You can see the full results of this analysis here.
Summary
We passionately believe that investors can manage their own portfolios, but setting a proper investment plan is the key to success. A plan for selecting the right stocks is an important part of the puzzle. Whether or not you use our rating system to select and monitor stocks for your DIY Dividend Portfolio, we encourage you to create and define a stock selection strategy for yourself and have the discipline to carry it out.
Note to readers: We will be continuing this very important series over the next week or so, so please make sure to "follow" us.