Iron ore is heavily dependent on the prevalent conditions in the steel market in general, and Chinese steel demand in particular. Currently, the slower pace of the Chinese market growth, the worsening Euro crisis, a dip in construction activity - due to the ongoing summer season - and a significant increase expected in iron ore supply, are the main reasons for our bearish outlook on this industry. However, possible bullish catalysts could trigger an increase in Chinese steel demand.
The aforementioned increase would be contingent on the macroeconomic environment getting better, as well as iron ore miners' ability to stick to the current short-term pricing system despite pressure from steelmakers. Iron stocks are also offering high dividend yields. Furthermore, the fact that most iron ore stocks are down in double digits for the year could possibly instigate risky investors to be bullish on this industry. The iron ore stocks have become a pure play on Chinese growth.
Industry Analysis
Around 98% of iron ore is used to make steel. So, the ongoing situation in the steel market has a significant impact on iron ore demand and prices. Out of this 98%, almost 59% of demand is from Chinese steel, which makes it the most important factor to consider for iron ore demand.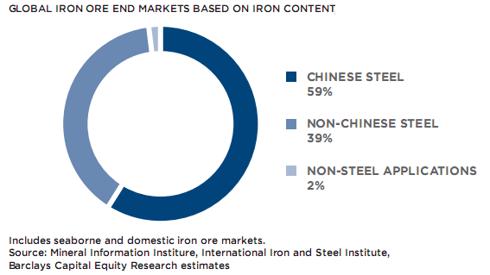 Industry Demand
Despite being the world's biggest iron ore producer, China is a net importer of iron ore, primarily due to the low iron ore content of its domestic ore. As a result, it has a notable impact on iron ore prices.
Currently, the demand for iron ore is very low because of a reduction in its demand for steelmaking. Its demand is curbed as a result of slower global economic activity, especially in China, which is the world's second largest economy and the biggest steel market. In addition, due to overcapacity issues in China, companies' margins were heavily inflicted, resulting in a reduction in the rate of steel production, and a decline in iron ore prices.
The ongoing summer season is also leading to a slower demand of steel because construction projects slow down in this season.
The Euro crisis is preventing improvement in steel, and consequently iron ore markets, because European mills produced about 12% of the world's steel last year. Chinese steel futures have recently hit their three-week lows amidst doubts as to whether the EU summit later this week will result in tangible measures to solve this crisis.
Industry Supply
China's reliance on imported ores is expected to decline below the current level of approximately 60%, as a large number of new iron ore projects in China will come online in the next five years. In the next few years, iron ore prices are expected to decline further as the rate of supply growth is expected to increase the rate of demand growth.
High prices of iron ore, in the previous couple of years, have forced the biggest miners to undertake new and riskier projects in less developed areas. Although they might suffer heavy delays, supply will still follow an increasing trend.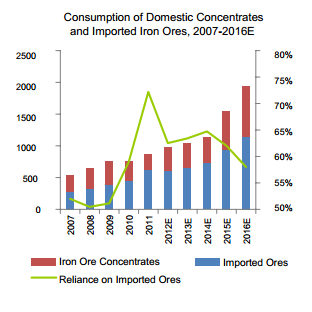 Iron Ore Pricing System - A Possible Catalyst
Before the 2008-09 financial crisis, iron ore was priced on an annual basis. However, some steelmakers, especially in China, defaulted on annual contracts so as to benefit from declining spot market prices. As a result, iron ore started being priced on a quarterly, monthly and spot market system, by the big three iron ore miners: Vale (NYSE:VALE), Rio Tinto (NYSE:RIO), and BHP Billiton (NYSE:BHP).
However, some steelmakers want to return to the longer term pricing regime (i.e. annual basis) so as to protect steel margins from price swings. If iron ore companies move back to an annual system of pricing, this 'locking' of prices could hurt them if spot prices start to increase following a possible improvement in the macroeconomic environment, particularly with regards to demand from China.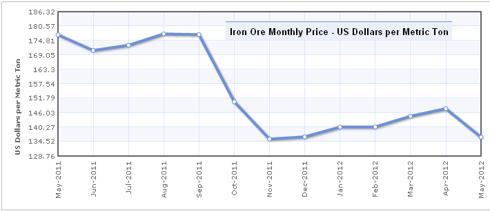 Major Companies
| | | | | |
| --- | --- | --- | --- | --- |
| | VALE | CLF | BHP | Industry |
| Forward P/E (1 year) | 5.09 | 4.46 | 11.16 | 9.84 |
| P/S (NYSE:TTM) | 1.96 | 0.94 | 2.16 | 3.73 |
| Dividend yield | 6.17% | 5.48% | 3.59% | 1.60% |
| Stock Price Performance (YTD) | -12.40% | -26.73% | -13.26% | N/A |
Vale S.A.
Vale is the world's second largest mining company and is a leading iron ore producer. It has recently started to focus on its core assets, and is diverging away from other operations in an attempt to cut costs amidst a weak industry environment. In addition, recent developments suggest a positive outlook for the company in the long-term. These factors, coupled with cheap valuations, enable us to recommend long-term investors to buy its stock. Short-term and risk-averse investors should wait for macroeconomic improvement, and its negotiations with Argentina's government, which, if are unsuccessful, will further reduce its share price.
According to Bloomberg, Vale is expecting iron ore demand to increase from the current level of 80% to 90% in the upcoming years. This will be a good indication for both the company and its stock, if these expectations translate into reality.
Its chief executive, Murilo Ferreira, recently gave a statement that the company can negotiate with customers as to their preferred price-setting system. However, he indicated that switching back and forth at will would not be allowed. However, yesterday, José Carlos Martins, Vale's head of ferrous minerals, rejected the idea of going back to the annual pricing system. "So long as this price volatility persists, it is really hard to implement pricing systems for longer periods of time," he said. These announcements have a material impact on VALE's share price, as they change investors' outlook regarding the company's future.
Recently, Vale has received an environmental license to build its biggest-ever iron ore mine in the Amazon region, which will start its operations from 2016 onwards. The company said that this new mine will be more environmentally-friendly and will also use less power.
Vale has also started to focus on its core business, and has started to divest away from its thermal coal and oil assets. Recently, it sold its coal assets in Columbia to a unit of Columbian Natural Resources for $407 million in an attempt to focus away from thermal coal mining. It now intends to focus more on coking/steelmaking coal.
Last month, Vale decided to sell its oil assets, as its exploration is very capital-intensive. However, it intends to keep natural gas so as to guarantee energy supplies for its mines. It also plans to carry on a natural gas partnership with Argentina's YPF, despite the country's move to nationalize YPF. However, if negotiations can't be reached with the Argentine government, Vale said it may reconsider building the Rio Colorado mine. This can have an adverse impact on its stock price performance.
Its forward price-to-earnings ratio of 5x trails the industry average of 10x. Its dividend yield of 6.2% is way above the industry average of 1.6%. In addition, its stock price has fallen a lot this year given the weak market scenario. At such cheap valuations and lucrative growth prospects, VALE can be a potential buy.
Cliffs Natural Resources Inc. (NYSE:CLF)
Cliffs Natural Resources' financial performance was not so good because of large-scale acquisitions and weak coal markets. However, its recent attempts to diversify away from thermal coal, and expanding its asset base to include chromite, along with its low share price and inexpensive valuations, are indicators of a possible entry point when market conditions improve. Till then, investors need to be cautious on this stock.
CLF's previous quarterly profits received a dip of almost 15%, due to higher mining and transportation costs, and the company now intends to shift its focus away from large-scale acquisitions.
The company sells iron ore and metallurgical coal to steelmakers and thermal coal to power utilities. Recently, it is considering upgrading one of its mines so as to supply direct-reduced iron (NYSE:DRI) pallets for steelmakers. DRI depends on electric arc furnaces (NYSE:EAF), rather than the typical blast furnaces, whose operating costs will be relatively lower, due to the record-low natural gas prices. Although gas prices will rebound in future, these shale fields are expected to provide low-cost natural gas for decades.
CLF plans to continue its Ontario chromite project, whose feasibility studies are currently underway. It is expected to take a final decision on this project once it negotiates with local communities and obtains environmental approvals.
Its dividend yield of 5.5% is very high relative to the industry average of 1.6%. Its price-to-earnings ratio of 4.5x makes it the cheapest of the lot. In addition, its share price has dropped by a significant amount of 27% this year due to not-so-good results in the last quarter.
Other major iron ore market players are BHP Billiton Limited (BHP) and Rio Tinto PLC (RIO).
Disclosure: I have no positions in any stocks mentioned, and no plans to initiate any positions within the next 72 hours.