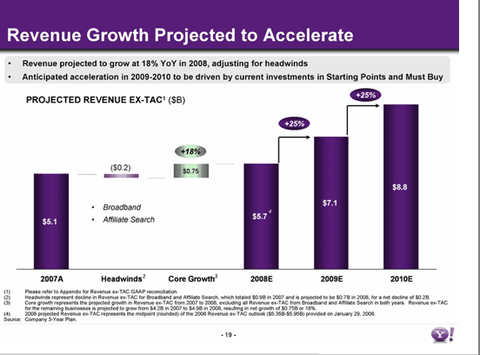 Tuesday, Yahoo (YHOO) filed a presentation detailing its three-year financial plan that management gave to its board of directors in December, before Microsoft's (NASDAQ:MSFT) unsolicited bid. Yahoo is projecting revenues after traffic acquisition costs —i.e., what it shares with other Websites that run Yahoo ads—to grow from $5.1 billion in 2007 to $8.8 billion in 2010.
How does it plan to grow revenues by 73 percent over that period? Here are some slides from the presentation (which you can find here at the SEC's EDGAR Website, or just search there for Yahoo). Yahoo argued to its board that it could exceed Wall Street expectations and accelerate revenue-growth to 25 percent in 2009 and 2010 and increase its operating cash flow from $1.9 billion this year to $3.7 billion in 2010: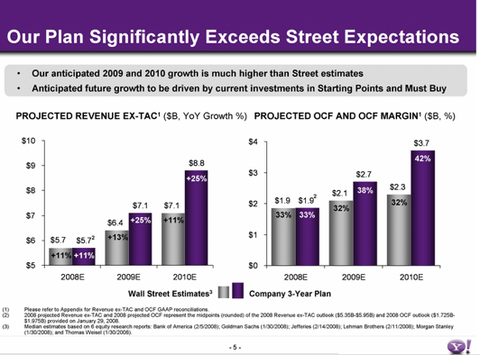 Notice that for these projections to come true, Yahoo needs to increase its operating cash flow margins to 42 percent from 33 percent. That seems overly optimistic, especially now that the economic outlook is so uncertain.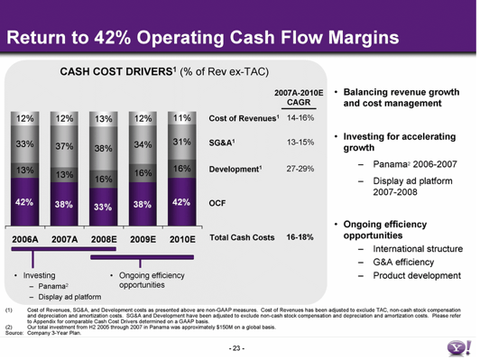 To justify its projections, Yahoo is counting on better clickthrough rates on its search, display and video ads.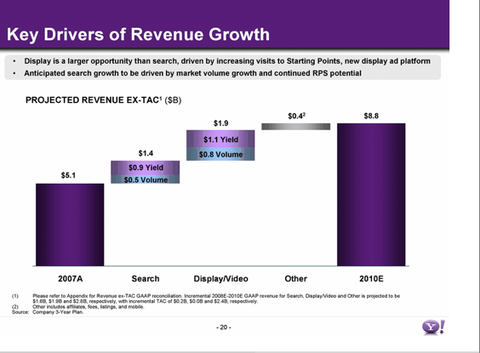 It sees its big opportunity in display advertising, where the top 10 players still control less than a quarter of the market and there is a lot of room for ad rates to go up: