Significant call option volume was recently observed for mall-based youth apparel company Aeropostale (NYSE:ARO) as shown below: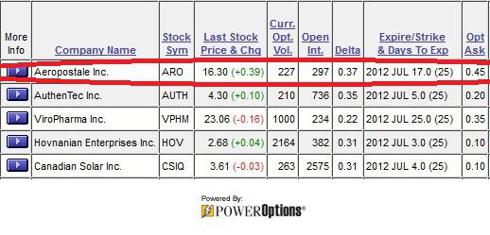 Also exhibiting high option volume were network security company AuthenTec (NASDAQ:AUTH), bio-technology company ViroPharma (VPHM), homebuilder Hovnanian Enterprises (NYSE:HOV) and solar power company Canadian Solar (NASDAQ:CSIQ).
Aeropostale targets youth ages 14 to 17 via its Aeropostale stores and kids ages 7 to 12 via its P.S. stores. The company operates over 980 stores in the United States, Puerto Rico and Canada. Additionally, via licensing, the company has operations in the Middle East and South East Asia.
In the Aeropostale's Q1 2012 earnings call held on May 17, 2012, the company reported comparable sales increase of 2%. Revenue was up 6% as compared to the previous year. On a particularly high note, the company reported a 32% increase in e-commerce business as compared to the previous year. The company opened its first store in Turkey and signed a deal to open 10 to 15 new stores in the Philippines over the next five years. On a negative note, gross margins declined 110 basis points, mostly as a result of product cost increases.
Competitors to Aeropostale include Abercrombie & Fitch (NYSE:ANF), American Eagle Outfitters (NYSE:AEO) and Gap (NYSE:GPS).
In contract to the Aeropostale's call options, there wasn't any overly significant option volume observed for the Aeropostale's put options. The specific call option exhibiting large volume was the 2012 Aug 16 as shown below:

As the call option was a result of opening new positions and there wasn't any notable put option activity, the high option volume appears bullish for the company.
Aeropostale has a modest Price-to-Earnings ratio of 20, but has a value-looking Price-to-Sales (P/S) ratio of 0.6. Aeropostale's stock price is currently near its 200 day moving average and has pulled-back from its 52-week peak of $23 hit in late April as shown below: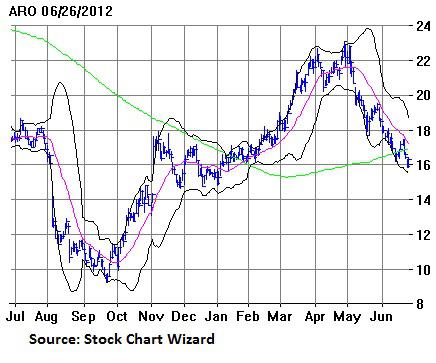 The high call option volume and the lower P/S ratio give the company a bullish outlook, however, the stock price does not appear to have formed a base for the next leg up. An investor might consider entering a protected covered call or collar for Aeropostale, as it provides positioning for a potential return, yet provides protection from a large drop in stock price. A protected covered call may be entered by selling a call option against a stock and using some of the proceeds from selling the call option to purchase protective put option. Selling the call option pays for the protective put option, with the put option operating as "stock insurance," in case the stock drops significantly in price.
A protected covered call was found for Aeropostale with a potential return of 2.6% (18% annualized) and a maximum potential loss of 3.8% as shown below:

The specific call option to sell is the 2012 Aug 16 at $1.25 and the put option to purchase is the 2012 Aug 15 at $0.75. A profit/loss graph for one contract of the Aeropostale protected covered call is shown below: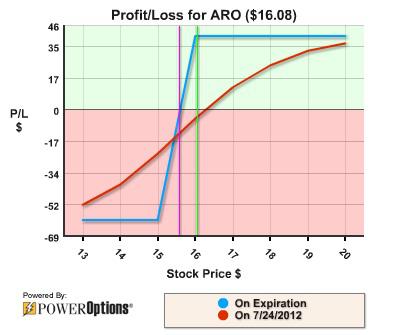 Even if the price of the stock goes to zero, the maximum potential loss, which can be realized, is 3.8% (at expiration). For a stock price below the $15 strike price of the put option, the value of the protected covered call remains unchanged. If the price of the stock increases to around $20, the position can most likely be rolled in order to realize additional potential return.
Disclosure: I have no positions in any stocks mentioned, and no plans to initiate any positions within the next 72 hours.