Oil, and thus the iPath Crude Oil ETN (NYSEARCA:OIL) touched its lowest point since October of 2011. And the last time OIL's price breached the October 2011 low? May 2009.
Hence, I am long OIL.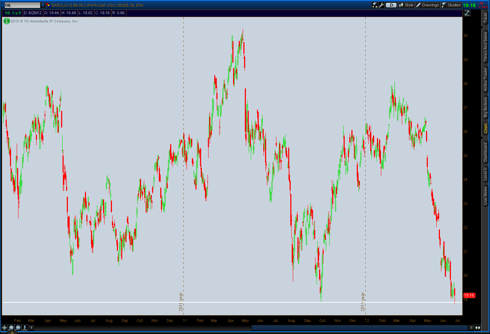 (Note: Chart is 2010 - present)
The oil futures have had a similar trajectory over the same time period, climbing 47.5% from its most recent bottom and falling 29.1% from the most recent high of $110.55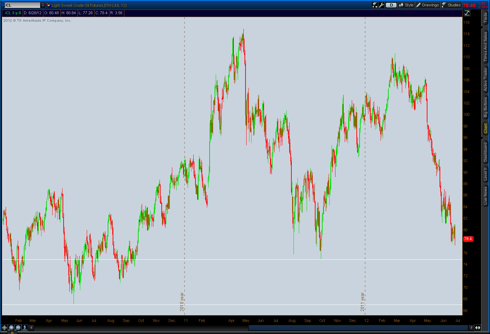 (Note: Chart is 2010 - present)
In the past few years, oil typically dropped in the summer months, and this year is no different. Personally I would prefer to enter a position later in the summer or even in the early fall, but the market presented a good entry price.
Written below are reasons to be optimistic and reasons to be cautious about investing in crude oil.
The commodity information below is patterned somewhat from my recent article "Trading Natural Gas: The Buy of the Decade," which is a worthwhile read in considering the correlation between the different investments mentioned in this writing.
Reasons to Be Optimistic
Here are a number of benefits to entering a play like this at this point in time:
Investors can enter or begin accumulating a position in crude, as we have potentially seen the near-term market bottom in oil.
Investors can begin legging into a position (for example: taking a 1/3 position every week or at different price points) in case crude oil has not made a near-term bottom.
Implied volatility is low, making long calls an attractive play. Right now the VIX trades in the mid-19 range, making far-dated ITM and OTM options relatively inexpensive.
The trading price of Brent crude oil jumped up to near $93 recently due to a strike in Norway, the world's eighth largest oil producer. The strike is cutting 240,000 barrels of oil per day, and Norway's government is allowing the strike to continue.
According to the same source: "Crude oil futures rose on Wednesday as tighter North Sea supplies and strong U.S. economic data put on the back burner concerns that a European summit would do little to solve the region's debt crisis."
On July 1 the EU places oil sanction on Iran, forcing countries to obtain crude from nations other than Iran.
Risks to Going Long Crude Oil
Oil is highly correlated with the market, and a market drop - even a sneeze out of Europe - can cause the price of crude to take a nose dive. (See correlation chart below.)
The S&P 500 has run-up 32.3% since its most recent low of 1074.77 set in - you guessed it - October of 2011, the same exact time that crude oil made a low. If the market falls below support around the 1310 area, the market could carry oil down right along with it.
Contango occurs when further-dated futures are priced higher than the front-month futures. ETF managers investing in crude oil purchase futures, and as a result, ETFs going long further-dated futures can lose some profits because of contango.
Finally, investors choosing to go long crude via ETFs must pay the fund management fee. This is typically a small amount, but the fund fees are more clearly noticed when the price of the underlying stays flat.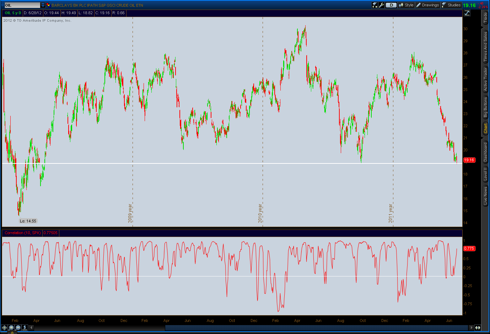 (Note: OIL Chart is 2009 - present. White line on subgraph represents correlation of 0.00.)
Other Ways to Trade
United States Oil (NYSEARCA:USO) is another liquid vehicle that tracks the price of crude, making it another way to make the energy trade. The ETF is highly correlated with the price of crude oil, and it is widely used among investors.
British Petroleum (NYSE:BP) has come a long way since its oil spilling days. The company is reaping success as it continues to push oil and gas exploration in Russia via the TNK-BP partnership.
It remains a mystery whether or not Chesapeake Energy (NYSE:CHK) will be able to pull itself out from its mountain of debt. Its asset sales have gone well and are strong strides towards maintaining a positive cash balance. Nevertheless, Chesapeake is a Top-15 producer of oil.
Perhaps the most stable company that investors use to expose their portfolios to oil is Exxon Mobil (NYSE:XOM). The company has sturdy earnings, a price-to-earnings ratio of 10.04 as of this writing, and also boasts an annual dividend of $2.28 per share, a 2.8% yield.
Conclusion
Crude oil has neared a multi-year low, and investors have an opportunity to begin accumulating a position that could lead to tremendous gains by the end of 2012 and into 2013. However, investors must be wary of a market downturn that might threaten to sink oil right along with it.
Disclosure: I am long OIL.