The Walton family is the richest family in the world. Its main members are the children of the founder Sam Walton: S. Robson Walton, Alice Walton and Jim Walton. Christy Walton, currently the richest of the Waltons, is the widow of John Walton, the fourth child of the founder. Collectively, they are worth over $100 billion and have received a total of $2.5 billion in dividends from Wal-Mart (NYSE:WMT) during 2011. They own 50.4% of the company.
As the current annual report advertises, the company has managed to increase its earnings from $30,000 to $15.8 billion in the 50 years of its existence from 1962 to 2012. That is an annualized growth rate in earnings of 30% per year. The main reason behind this has been an almost manic obsession of Sam Walton with driving down costs. Sam Walton is still treated as a deity by the company's managers, no doubt because the company is still so firmly controlled by his progeny. The son of the founder S. Robson Walton is still the chairman of the company. And while Wal-Mart is widely reviled for what it is doing to Mom and Pop stores all over America, it might be comforting to know that this arch villain of the American Main Street is still owned by a quintessentially American family - a Bro-and-Sis operation, one might say.
Sam Walton, whose autobiography is entitled Made in America, died in 1992 and was unable to witness the greatest ascent of his company which occurred during the late nineties. That ascent coincided with the greatest and most ruthless destruction of American manufacturing by a retail enterprise in history. Assisted by Bill Clinton's free trade policy with China, the company became a massive conduit for goods produced in China under atrocious working conditions. Simultaneously, marginally uncompetitive American family retailers and US manufacturers without access to very cheap labor had to close their doors. Incidentally, Bill Clinton is the husband of the company's first female board member, Hillary Clinton, whom Sam Walton has called 'a strong willed young lady.'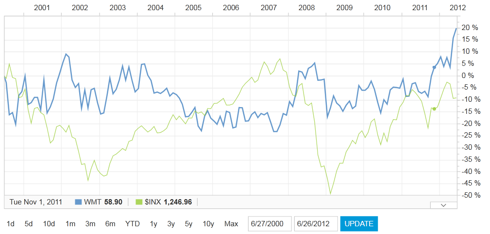 Click to enlarge.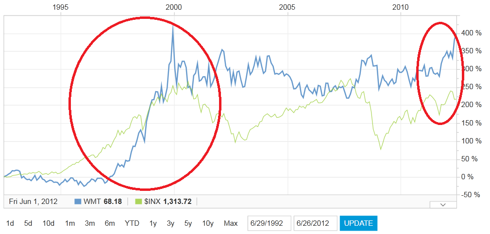 The above chart (big red circle) depicts the greatest growth period of Wal-Mart's stock price during the last 20 years. It occurred towards the end of the nineties - when China/Wal-Mart synergy seemed to hold enormous promise for the future.
After 2000, the company's stock price performance has been dismal and it has increased only 20% during that period. That is despite the fact that the net income of $5.37 billion from the year 2000 increased almost three times - to $15.8 billion in 2012 (an annualized yearly earnings growth of 10%). If you take into account the company's massive share repurchases, the EPS performance gets even better: $1.21 in 2000 vs. $4.54 in 2012 - an annualized growth of 11.6% per year.
The little red circle above indicates the latest growth spurt for Wal-Mart. Latest increase in price was caused by a simple increase in dividend. In 2011 the Waltons have increased the dividend by a whopping 20.6% - from $1.21 to $1.46. This dividend increase translated to a 31% stock price increase during the last 12 months.
Wal-Mart's dividend is safe but is it worth investing right now? Old investor's rule of thumb is never to invest after a significant increase in stock price. Wal-Mart faces some serious headwinds. It has difficulty expanding into US coastal population centers. The town of Atascadero in California has debated for 6 years whether to allow a Wal-Mart within its territory.
Foreign growth prospects are also dubious. It had to leave the massive German market with its tail between its legs and recent problems in Mexico show how those thrifty principles from the Ozarks cannot be so easily transplanted to other countries. Its workers in Germany were outraged by the company's stingy compensation policy. On the other hand this culture of relentless cost cutting is an important legacy from Sam Walton, as the woes of Wal-Mart's employees can attest. According to this article, in January 2012, Wal-Mart Associate Benefits book provided a directory so associates can locate their local Medicaid office. This policy has caused some resentment from welfare workers in Los Angeles.
Wal-Mart has many enemies but it remains a strong money machine. Perhaps the Waltons should use all of their company's free cash flow to pay out dividends. I think that would be wiser than buying back stock to the amount of $6.3 billion, like they did in 2011. Warren Buffett has owned 39.037.142 shares of Wal-Mart at the end of 2010. Now he owns 46.708.142 (1.4% of the company), an increase of 19.7%. Dividend may be a little low at 2.32%, but this company has a lot of room to grow it because of an excellent cash flow. For those who value capital preservation as well as a reasonable dividend growth, it might be wise to jump in with the Waltons and Mr. Buffett.
Disclosure: I have no positions in any stocks mentioned, and no plans to initiate any positions within the next 72 hours.