Nike (NYSE:NKE) shares have tumbled in after hours trading after missing analysts' targeted fourth quarter earnings per share. At the time of this writing, the company's shares sit at $85.15, down 11.7%. Nike is now trading at levels not seen since October 2011.
Fourth quarter EPS came in at $1.17, compared to last year's $1.24. Analysts at Yahoo Finance had expected EPS of $1.37. With revenues of $6.5 billion, Nike came close to hitting its targeted revenues of $6.51 billion. The miss breaks Nike's trend of beating estimates at +2.6%, +3.1%, +12.4%, +6.9% for the past four quarters. Strong sales came from the Nike brand, with an increase of 14%. However, the company incurred higher marketing costs for the quarter related to the European Championship soccer tournament and Summer Olympics, as it has huge sponsorship stakes in both events.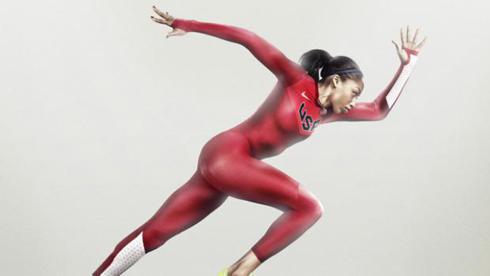 Full fiscal year earnings were reported at $4.73 per share. Analysts' guidance was for $4.93 per share. Full year revenue was up 16% to $24.1 billion.
Here is a breakdown of Nike Brand wholesale sales by sport:
· Running: $3.7 billion, +32%
· Basketball: $2.2 billion, +17%
· Soccer: $2.0 billion, +14%
· Men's Training: $2.0 billion, +18%
· Women's Training: $1.0 billion, +21%
· Action Sports: $499 million, +6%
· Sportswear: $5.6 billion, +8%
· Other: $2.4 billion, +12%
And here is how sales by other Nike owned brands played out:
· Converse: $1.3 billion, +17%
· Nike Golf: $726 million, +10%
· Cole Haan: $535 million, +3%
· Hurley: $248 million, -2%
· Umbro: $262 million, +17%
Nike had previously announced that it is looking to divest the Cole Haan and Umbro brands, which were responsible for a loss of $43 million in fiscal 2012.
By regional area, full year Nike sales were:
· North America: $2.4 billion, +13%
· Western Europe: $1.0 billion, +2%
· Central and Eastern Europe: $330 million, +12%
· China: $667 million, +18%
· Japan: $240 million, +11%
· Emerging Markets: $870 million, +16%
I think the price dip plays well for investors. Nike is heading into the London Summer Olympics at the end of July. The company is among the largest players at the Olympics, as it will provide uniforms and sponsorships for numerous athletes and teams during the event. That is why I believe fourth quarter earnings were hit by higher advertising costs related to the Olympics.
There are other positive signs that bode well for investors. Nike recently raised its quarterly dividend, and has also been buying back shares to reward shareholders. The company bought back 2.3 million shares in the fourth quarter at $245 million. What's more, it bought back shares at an average of $106.52, much higher than current levels. The buybacks were part of a four-year, $5 billion share repurchase agreement made in 2008. To date, Nike has bought back $4.1 billion worth of its stock in the time frame.
I argued before that shares of Nike could hit $125 on the success of the Summer Olympics, European Championship, and new products. I also wrote a previous article exploring what the new NFL deal means for Nike's sales. Based on these assessments and the strong prospects that remain on the horizon for the company, I believe Nike is still a global leader and will continue to treat shareholders well in the coming years.
Disclosure: I have no positions in any stocks mentioned, but may initiate a long position in NKE over the next 72 hours.