Every day, Alcoa Inc (NYSE:AA) mines 86,300 tons of bauxite, refines 41,000 tons of alumina, and smelts 9,575 tons of aluminum, worldwide, from Iceland to Australia. This upstream business model remains highly profitable, with fiscal 2007 income from operations up 19 percent Y/Y to $2.6 billion, or $2.95 a share, on $30.7 billion in revenue.
Growth, however, does not come without external costs. EPA fines in the United States for wastewater runoff pollutants, accusations of increased greenhouse gases, claims that its emissions are making nearby residents sick (cancers and respiratory illnesses)—the world's largest aluminum producer is under increasing attack from environmental activists that it is leaving toxic footprints wherever it treads.
The Free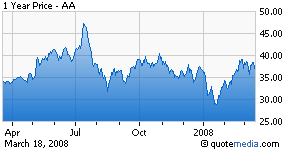 Enterprise Action Fund, beneficial owner of 734 shares of common stock of Alcoa, notified the aluminum manufacturer that it intends to present an environmental proposal at the annual meeting on May 8, requesting the Board of Directors to prepare by October 2008, a Global Warming Report that describes how actions taken by Alcoa has affected global climate to date, according to its Proxy filing on Monday.
The Board of Directors is recommending a vote "against" this proposal, arguing that the Company is successfully executing on a plan to reduce greenhouse gas emissions—and the Company is well ahead of a future 'carbon-constrained horizon.
Speaking of unchecked greenhouse emissions—the 10Q Detective did cough several times after reviewing Alain Belda's compensation package for fiscal 2007.
Chief Executive Alain Belda received compensation valued at $25.65 million in 2007—more than twice the amount he received the previous year, according to the regulatory filing.
The aluminum manufacturer paid the 64-year-old executive a salary of $1.46 million and performance awards of $2.0 million in cash incentive, $6.94 million in stock grants, and $12.42 million in stock options (which also included reload options).
Irritating our lungs, however, was breathing in the newsprint that the Board saw fit to spew out to Belda additional largesse of $1.0 million 'to recognize his sustained performance and contribution to the company and its stakeholders in his nine years as CEO.'
The 10Q Detective rhetorically asks: Did Alcoa need to reward Belda with this one-time $1.0 million bonus? Excuse us for asking, but did not his pay package already include both annual and long-term performance incentives?
Belda is sitting on retirement and SERP benefits (with a present value) of $1.72 million per annum and $17.80 million, respectively, too.
And, the aggregate balance of Belda's nonqualified deferred compensation was about $7.91 million, as of December 31.

As for that one-time $1.0 million 'recognition award,' just another pathetic example of an already well-compensated executive being enriched by a Compensation Committee that does not know the meaning of the word 'enough.'
And speaking of egregious compensation—our old friend, E. Stanley O'Neal, former Chairman & CEO of Merrill Lynch (MER), joined the Board of Alcoa in January 2008. His director pay is estimated to be about $203,500 per annum.


Author David J. Phillips does not hold a financial interest in any stocks mentioned in this article. The 10Q Detective has a Full Disclosure Policy.