Air Methods (NASDAQ:AIRM), a Centennial, CO, operator of helicopter and small airplane ambulances, may be down 21% from its 52-week high, but it's up 75% over the last 12 months and is a market leader, according to Investor's Business Daily. AIRM closed Tuesday at $46.77.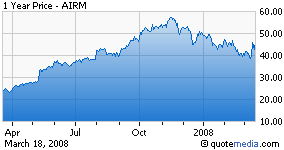 IBD gives AIRM a composite rating of 96 out of a possible 99, an earnings per share growth rating of 95, a relative strength rating of 95, an industry group rating of A-, a profitability rating of A and an accumulation/distribution rating of B, which means institutional investors have been buying the stock during it's correction.
Analysts' consensus one-year estimate for AIRM is $58.67. Only three brokers are following the stock. They give it an average rating of 1.3, or a buy. AIRM October 55 calls suggest the stock will touch about $55.70 before they expire, while the bearish AIRM 45 October puts suggest the stock could correct to about $39 before those options expire. The stock's point and figure chart has a price objective of $63. Note that point and figure charts' price objectives change as stocks fluctuate. They should be used as a trading guide more than a trading tool.
Air Methods' key statistics are here. Note that its PEG ratio (PE/estimated five year growth rate) is a relatively cheap 0.93. But these days, five year growth rate estimates are suspect, so treat this ratio with caution.
During its recent conference call with analysts, which is available on Seeking Alpha, AIRM's CEO, Aaron Todd, told analysts:
As you know, our recurring annual objective is to grow earnings by greater than 20% each year. This objective presumes normal weather patterns, consistent reimbursement rates, and on-budget performance for maintenance expenditures. While the more extreme weather patterns during the first quarter today, that have adversely impacted our flight volume; we would anticipate that we will be able to achieve our objectives in 2008, subject to more moderate weather the rest of the year and on target performance in other key variables just mentioned.
No wonder the stock is a market leader and is being added to S&P small cap 600.
Disclosure: I don't own a position in AIRM