As I discussed yesterday in Silver: What Gives?, the gold market's recent reactions are somewhat puzzling. Gold (SPDR Gold Trust ETF: GLD, Sprott Physical Gold Trust: PHYS) should theoretically be acting as a "safe haven" and tracking somewhat with Treasuries, yet as of late it's been playing possum. (As in, it's kind of just laid around.) On days like yesterday when the market sharply drops, gold is rapidly sold off, yet on good days for the market, gold doesn't always respond in turn.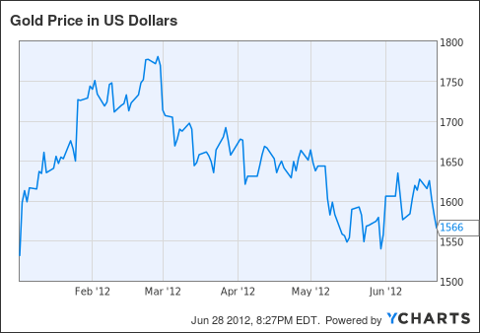 Gold Price in US Dollars data by YCharts
The recent price action is somewhat confusing and has some analysts saying that gold is "on the edge of a violent downturn":
Gold is on the brink of a "violent downturn" and could even fall as low as $700 an ounce as the risk of deflation in developed economies grows and technical pointers turn bearish, one expert tells CNBC.
Other analysts have different views, and the consensus opinion is still bullish on gold:
Gold traders are bullish for a sixth week on speculation that Europe's debt crisis will boost demand from investors seeking to protect their wealth and drive prices higher after the biggest quarterly slump in eight years.

Sixteen analysts surveyed by Bloomberg said they expect a rally next week and 10 were bearish. Another five were neutral. Investors added about $1.9 billion to holdings in gold-backed exchange-traded products this month, the most since November.
Morgan Stanley has a year-end forecast of $1,677/oz, representing only a 7% premium to current prices. (This forecast was recently cut by 8%.)
One of the major factors currently affecting gold is the strength in the dollar. Since mid-2010, gold has had a fairly strong inverse correlation with the strength of the dollar. (For comparison, gold is currently at an all-time high denominated in Indian rupees.)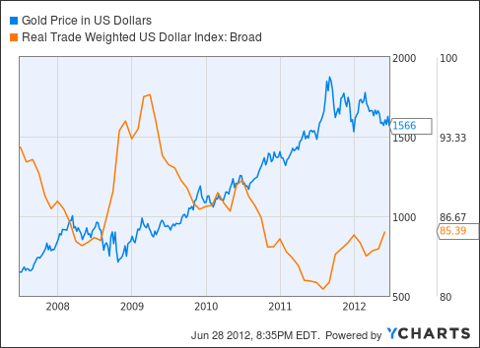 Gold Price in US Dollars data by YCharts
For this reason, increased liquidity or loose monetary policy announced at the Euro summit today may actually have a negative impact on gold prices, in USD anyway - if the dollar continues to strengthen, there's a good chance gold will have trouble continuing the run.
Despite these headwinds, gold bulls can take solace in at least four positive factors.
1: Bernanke Still Has An Easing Bias
QE3 is to gold what drugs are to addicts. Unless the US suddenly starts hiring, there's a good chance QE3 is coming in the future. Even if it doesn't arrive, it's hard to envision a scenario where the Fed suddenly tightens monetary policy - in the absence of QE3, they will likely find another unconventional way to ease monetary policy.
2: Deflation Is Not Currently A Credible Threat
The Wall Street Journal has an excellent piece on why deflation (and hyperinflation) fears are currently overblown. And of course, there's always the chance that Helicopter Ben will decide to print money and throw it out of helicopters.
3: Volume Speaks
As stated earlier, holdings in gold ETFs and other vehicles have been increasing, and most analysts are still bullish on gold. With enough people interested in buying, it's hard to imagine a scenario where gold freefalls and there aren't investors around buying the dip.
4: Zero Risk Gold
In possibly the most underreported story of the year, the FDIC is considering making gold a zero-risk-weighted asset. If approved, the proposal would undoubtedly be positive for gold.
Disclosure: I am long SLV.