Commodities Watch:
Crude Oil: The April contract (expiring today) fell $4.53 to $105.68 Monday as profit taking set in early in the session and accelerated as the day wore on. The theory goes that despite a weaker dollar, speculators were selling whatever was up to handle margin calls on the financials and whatever else they had that was down. Once oil was off $4+, the story shift to fear over the economy. It was probably a bit of both and I'm not looking for a sudden collapse in oil prices.
OPEC Production Up In February. According to Platts:

Feb total OPEC (includes Iraq) production was 32.33 million, up 80,000 bopd from January figures.
OPEC 12 production (excludes Iraq) was 260,000 bopd over quota.
The increase in total OPEC production came entirely from Iraq which produced 2.4 mm bopd in February which is in line with pre war levels (first time since March 2003 Iraq has produced this much).
Iraq was producing 2.6 to 2.8 million bopd back in 2001 and, with time, may get back to higher levels seen in the late 1980s (they are not part of the OPEC quota system at present).

Heating Oil Watch: Heating oil dealers are about to ask the DOE to release volumes from the Northeast Heating Oil Reserve. Dealers need the volumes to meet demand as "many" consumers living on a fixed income in the northeast have been late in paying their record heating bills this Winter.
Natural Gas fell $0.77 (8%), closing at $9.10 Monday. I think the critical levels here are Monday's low ($9.06), then $9 even, then $8.78. Natural gas was trading up $0.24 Tuesday morning as it marked the move in oil. In comments last Friday I wrote:
IF NG cracks $10 this will be the worst daily performance in a month for the UNG…could have a cascade effect. Currently gas down .16 at 10.06 (a little more % than oil is down). UNG has been pretty much nothing but up since 39 on Feb 7, now at 49.

I've seen gas move in several big increments after moves like the one we've had, corrective movements where you can get 20 to 50 cents per day.

I also said Monday that an expected bounce in Tuesday morning could lure me into April (NYSEARCA:UNG) puts, so far, so good.
Chart of UNG vs April Natural Gas (NG/J8): Easy Come, Easy Go.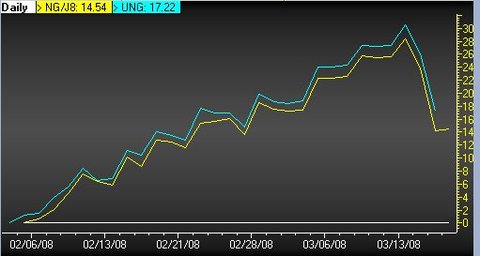 Imports: Natural gas imports continue to run about 2 Bcfgpd light of year-ago levels. The deficiency comes completely from the LNG side as Canadian volumes were actually 0.3 Bcfgpd higher than in the year-ago period.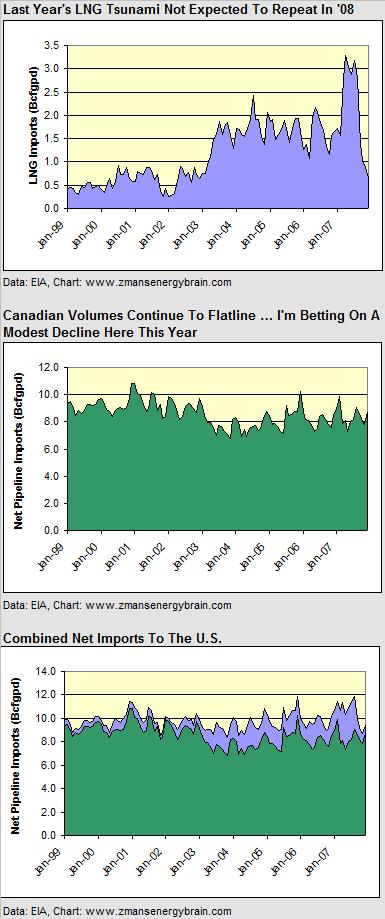 Crack Spread Update - Normally on Tuesdays I show the regional cracks here, and those can still be seen over on the Refiners and Cracks page here (not pretty!). After several questions in the comments about whether or not it's time to bottom fish the group, I thought I'd try to show a little different perspective about why I'm not jumping back in yet. Many analysts have gone with the seasonal flow, upgrading the group. I even dipped a toe in (NYSE:VLO) a few weeks back to test the waters (a toe which has since been rent from my foot). Otherwise I have steadfastly avoided this "cheap for a reason" group. True, I could have shorted the group and made piles of cash but the refiners have a weird habit of trending with oil without regard for products pricing (margins), which they have only very recently deviated from. Sometimes the best trade you make is the one you don't.
Summer RBOB Cracks Have Fallen Out of Bed In The Last Couple of Weeks. This is the result of bloated gasoline inventories which kept gas' feet to the ground with respect to oil.
You knew it was bad but the divergence between the two has become extreme with gasoline pulling back much more sharply on Monday's $4+ drop in oil.
Summer Cracks Are Low… Last Spring, the out or Summer month cracks were between 2 and 4x current levels.
…And Falling. They were trending up not down and gasoline stocks would eventually reach a 10 year low (last September). We are at a 15 year high on inventories now, so the refiners are being set up for a successive difficult comps.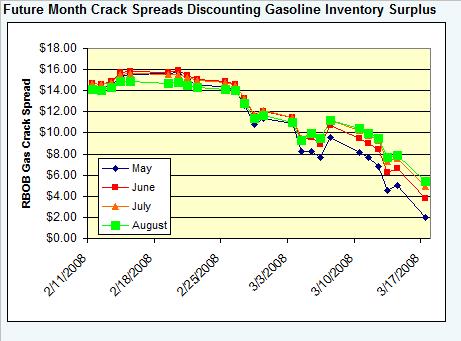 Cheap For A Reason. So is the group close to a bottom? Maybe, but estimates have further to fall.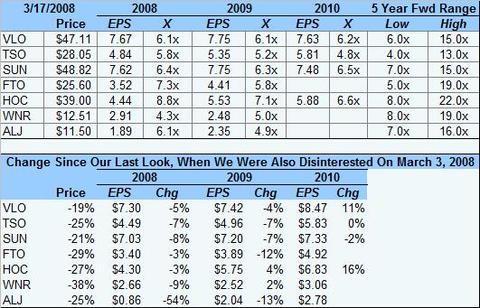 Goldman Sachs, An Axe In The Refining Sector, Seems To Agree With Me In Comments From Their Upgrade of (NYSE:COP) Monday.
"While we think Conoco's stock is very inexpensive and its risk/reward favorable, our upgrade of Conoco is as much about avoiding near-term earnings risk with our pure-play refiners … Goldman analysts said in a note to clients. Goldman also cited dynamics of the refining business, with the cost of gasoline not keeping up with the cost of crude oil ~ Marketwatch.
Stocks We Care About Today:
(NYSE:OII) Makes A Small Acquisition; Should Be Minor Boost To Earnings.
Oil Sands Watch: Canadian Oil Sand Trust cut its 1Q08 forecast from 320,000 bopd to 265,000 bopd, due to production problems in the first two months of the year. Partners here include (COP), (NXY), and (NYSE:MUR) but I wouldn't expect the reduced forecast to be particularly significant to any of them.
(NYSE:DVN) - getting interested in a play on their Chuck prospect, currently drilling the lower tertiary trend of the deepwater GOMex if the stock continues to come under more pressure. Will keep you posted.
Holdings Watch:
CALLS - Adding some April Exposure
APA - April $120 Calls taken for $4.30
COP - April $80 Calls taken for $2.02.
APC - April $65 Calls taken for $2.20
EOG - March $120 Calls taken for $2.70 (when the stock was off $7).
PUTS - Collapse of natural gas revitalizes UNG put positions. We began shorting UNG (the natural gas ETF) back in mid February and added more contracts as recently as early March. It has been nothing but pain and suffering until last Friday when the bloom came of the gassy rose. Monday, the weak market for crude sent gas:

UNG $46 - out at $1.75, up 21%.
UNG $47 - out at $2.70, up 170%. In comments last Friday, I said I was standing pat on holding these, but the fall in NG was better than I could have hoped for.
Odds & Ends
Analyst Watch: Stiffel ups (NYSE:OIS) and (NYSE:HP) to buy, Citi takes (NYSE:TK) and (NYSE:GMR) from hold to buy and (NYSE:OSG) from sell to buy, (NYSE:MRO) cut to hold at BMO (Citi cut MRO Monday over rising concerns on the E&P side). Lehman takes up price targets on several E&Ps to at, or just above, where the stocks are already trading as they mark-to-market their oil and gas price decks for the group.
MMS Will hold GOMEX Lease Sales 206 & 224 (eastern Gulf) Tuesday.