Lehman Brothers Inc. (LEH) investors breathed a collective sigh of relief Tuesday morning after the investment bank beat expectations despite reporting a 57% drop in first quarter earnings.
Lehman shares were up more than 31% on the news, erasing in swift order Monday's 19% drop on speculation that Lehman would follow Bear Stearns (BSC) as the next big-name bank to fall.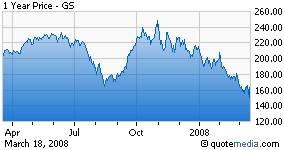 The turnaround was also fuelled by similar news that Goldman Sachs Group Inc.'s (GS) first quarter results, in which profits fell by half, were also better than expected. Goldman Sachs shares were up 13%.
Goldman Sachs analyst William Tanona added Lehman to Goldman's Americas Buy list, saying the fears around the firm's funding and liquidity position have been overestimated in recent weeks. He lowered his price target from $58 to $45.
In a research note Mr. Tanona said:
We believe that the market is significantly over-estimating the default risk at Lehman following the recently announced Fed liquidity measures. We believe that the Fed's initiatives have substantially reduced the risk of another liquidity crunch on a bank or a primary dealer.
The analyst added that the funding structure at Lehman should prove more stable than Bear Stearns given lower dependency on customer payables and a lower proportion of short term funding liabilities.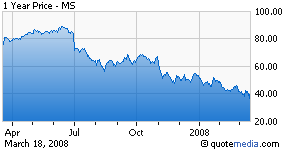 Mr. Tanona also added Morgan Stanley (MS) to Goldman's America Buy list, leaving his $50 price target unchanged.
"Morgan Stanley is one of the better positioned firms, in our view, as it has an enviable business mix with a strong international presence," he told clients
He noted that both Morgan Stanley and Lehman Brothers derive about 40% to 50% of their revenues from outside of North America, where "economic growth (and therefore capital markets activity) should prove more resilient.