With the markets low, "Barron's" is now predicting a further wave of mergers and acquisitions in the tech sector, over and above those that have already been announced. Of all the events since the beginning of the year, two stand out above the rest, Microsoft Corp.'s (NASDAQ:MSFT) attempted takeover of Yahoo Inc. (YHOO), and the bid by electronic video games company Electronic Arts Inc. (ERTS) for Take-Two Interactive Software Inc. (NASDAQ:TTWO). Both are hostile bids, whose fate will probably be decided at the respective companies' shareholders' meetings, with or without the management's backing.
It is known that Microsoft would not have embarked on a hostile bid, had Yahoo's share not sunk to a five-year low of $18.50. This was so low that Microsoft's managers decided to abandon its discreet behind-the-scenes pitch to Yahoo, which was going nowhere, and opt instead for a unilateral takeover. Electronic Arts' managers adopted a similar tack when they offered $26 per share for Take Two, which tumbled to a $12 low last summer.
Microsoft, as is known, is desperate to catch up with Google Inc. (NASDAQ:GOOG) in online advertising, but why Electronic Arts was in such a rush to mount a hostile bid for Take Two, with the markets in freefall and talk of recession on the horizon, was unclear.
But the fog finally lifted last Friday with the publication of figures on sales of computer games in the US, which showed a 48% jump over 2006. For the time being, there does not appear to be any recession in this sector, nor are there any such signs in sales of games consoles, by Sony Corporation (NYSE:
SNE
), Microsoft, or Nintendo Co. Ltd. ADR (
OTCPK:NTDOY
).
"Barron's" names Check Point (NASDAQ:CHKP) as one acquisition target for the software giants, but it appears to be unaware that for the time being, the company's founders and managers, Gil Shwed and Marius Nacht, are not interested in selling, and would rather grow into a large but independent security software company.
As I see it, with Shwed and Nacht holding one fifth of the company, and Shwed himself considered the brains behind the entire operation, it would not make sense for anyone to mount a hostile bid for Check Point, despite its tempting mountain of cash, currently $5.5 per share. As it is an Israeli company, any bidder would have to secure a 75% majority of Check Point's shareholders, and without the consent of the owners, that is virtually impossible.
In my opinion, the current state of markets worldwide has provided Shwed an opportunity, for the second time in the company's history and one which might not come again all that quickly, to become an aggressive takeover specialist in his own right, rather than turning down merger offers every other day, or cowering in fear of hostile takeover bids.
During the bubble era, Shwed was astute enough to fend off the welter of yield-hunting banks that pitched him with offers to buy artificially inflated companies, but I feel he made a mistake when he prevaricated in the slump years that followed. He could have gone on a hunting trip with the $1.5 billion plus in cash he had, seeing that prices had gone through the floor.
Check Point could have become an Israeli empire in its field, second only to Teva Pharmaceutical Industries Ltd. (NYSE:TEVA), had it gone on an aggressive round of acquisitions, like those of Cisco Systems Inc. (NASDAQ:CSCO), and IBM Corp. (NYSE:IBM). I believe it now has another window of opportunity.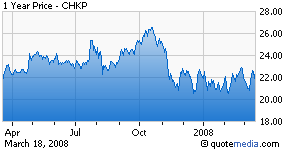 Check Point is not the only Israeli company that investors could find tempting at today's rock bottom prices. There are number of much smaller ones that could also make an attractive proposition such as, for example, Orckit Communications (NASDAQ:ORCT), which is currently traded at a market cap of $105 million and has $75 million in cash, net of liabilities.
"It burns $10 million a quarter," I am told by those who are less than enthusiastic about Orckit, but they have forgotten that the company's cash burn rate is set to decrease rapidly, reaching zero as early as the beginning of 2009, thanks solely to the recent contract it signed with Deutsche Telekom AG (DT ).
Poison pill
I don't know how the buyers of ECI Telecom will repay the $1 billion loan they took from Credit Suisse (NYSE:CS), but I can see Orckit's existing orders backlog from Germany, and in the near future, from Japan and the US too, swiftly returning any leverage that potential buyers take on.
Back at the start of the decade, Orckit's owners feared a hostile takeover, since the company habitually had a lot of cash on its hands and a low market cap. It even went through one failed takeover bid in 2002, and even before that it was the first Israeli company to introduce a poison pill mechanism in its articles of association to prevent a hostile takeover, a mechanism that is widely used in the US.
Another semi-Israeli company, whose current bargain basement prices could bring the takeover sharks swirling in is SanDisk Corporation (SNDK). Two consecutive days of gains last week were all it took to set the rumor mill in motion, and it wasn't until last Friday's collapse on the markets, which affected SanDisk as well, that the talk of a takeover bid was buried for the time being.
SanDisk is currently traded at its book value, $5 billion, of which more than $1 billion is net cash. All the experts in the electronics market will tell us that the NAND-based flash chip sector has a strategic future. As a consequence, SanDisk could quite definitely find itself courting takeover bids from the flash chip giants because of the patents it holds, especially those for its newest generation of technologies, X, X4, and 3D3.
Published originally by Globes [online], Israel business news - www.globes.co.il
© Copyright of Globes Publisher Itonut (1983) Ltd. 2006. Republished on Seeking Alpha with full permission.