Ralcorp's (RAH) recent purchase of Kraft Foods (KFT) Post cereal division is scheduled to be completed in mid 2008. With the purchase, Ralcorp faces several key challenges in integrating the two companies and transforming the company into a successful manufacturer of branded and private label food products. Ralcorp is most known for its portfolio of private label food products in the cereal, cookie, cracker, frozen bakery and syrup categories. Ralcorp is no stranger to acquisitions, having recently purchased Bloomfield Bakers for $140 million and Cottage Bakery for $170 million. However, Ralcorp's acquisition of Post cereals for $2.8 billion is obviously much larger and presents much more of an integration risk.
The cereal category continues to be dominated by Kellogg's (K) with a 30+ share and General Mills (GIS) with an approximate 24 share of sales. A combined Ralcorp and Post cereal combination will increase their overall share, but will still keep them as the # 3 manufacturer. Quaker (part of PepsiCo (PEP)), privately owned Malt-O-Meal and little known Gilster Mary Lee round out the top competitors. Ralcorp leads the battle in private label cereal sales followed by Malt-O-Meal and Gilster.
Most analysts and industry experts (including myself --former VP of Marketing for Malt-O-Meal) were surprised by Ralcorp's winning bid. Most expected Quaker or General Mills to be the likely acquirers.
Ralcorp was obviously looking for scale and size with its purchase to better compete in the cereal category. For the acquisition to be successful, it must achieve synergies and have a successful integration in three key areas.
First, Ralcorp needs to successfully combine its plants with Post's manufacturing capabilities. Ralcorp produces many of the same items as Post's branded operations. By combining the two sets of plants including similar product formulas, it will be able to drive down unit costs, reduce fixed manufacturing costs and improve margins. While complex, this objective is certainly achievable. The key is how fast it is able to do it and how much margin cost savings will it generate.
Secondly, can Ralcorp's private label business work with Post's branded business to achieve leverage at retail and improve overall sales volume? This goal is much more difficult to achieve. Their customers - folks like Walmart (WMT), SuperValu (SVU) and Kroger (KR) - are obviously large and not easily leveraged by any CPG food manufacturers. In addition, most retailers and category buyers resist attempts to combine programs between private label and branded foods. Without sales growth for both Post's branded and Ralcorp's private label businesses, the numbers are much harder to reach to make the acquisition pay off.
Lastly, company cultures for Post and Ralcorp are dramatically different. Post follows the Kraft heritage with marketing leading the company. (I was also a former Kraft Marketing Director). Ralcorp has been led more by sales and manufacturing with very little emphasis on marketing. Working together and achieving Ralcorp's senior managements key strategies will be a difficult challenge.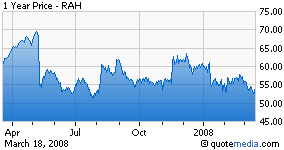 So the question remains : Can Ralcorp successfully integrate Post cereals? Only time will tell, but Ralcorp clearly has bet the company believing that they can make it work.
Disclosure: None