China (NYSEARCA:FXI) has around 200 million people over the age of 60 now, with 8 million adding to the count each year. At this rate by 2050, China would have a whopping 400 million over 60 years, a number that is greater than the entire current population of the United States. The aging population could turn into an Achilles' heel for China's leadership in the coming years and serve good for the orthopedic industry. Because of the aging population, the demand for orthopedic surgery primarily undertaken by people over 60 years of age with osteoporosis conditions has risen very quickly in China.
What makes the China Orthopedic Market Attractive?
1. Strong Growth profile at a CAGR of 18%+: According to Frost & Sullivan, China's orthopedic implant market is expected to grow to RMB16.6 billion in 2015, representing a CAGR of 18.1% from 2009.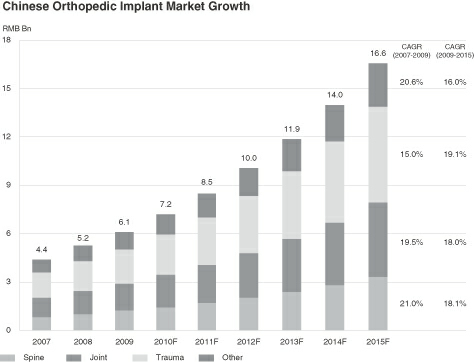 Source: China Kanguhai Prospectus
2. China to become 2nd largest orthopedic market by 2015: China's orthopedic implant market is estimated to grow from the eighth largest in 2005 to the third largest in 2010, and to the second largest in 2015, surpassing Japan.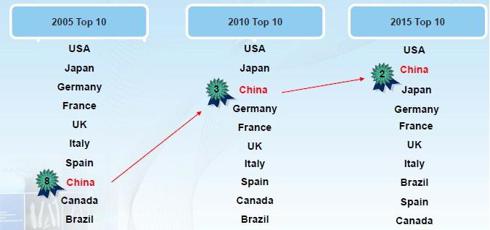 Source: China Kanguhai IP
3. Large addressable market: Ageing is generally considered to be one of the most important factors for orthopedic conditions as the wear and tear of the musculoskeletal system of the human body tends to decrease the quality of bones and create degenerative medical conditions in the elderly population.
Size of the population aged 65 or above for selected countries in 2008: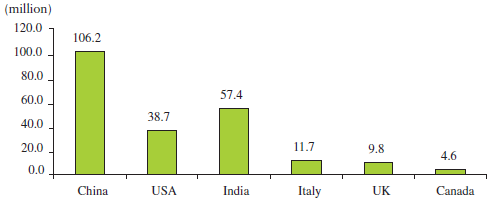 Source: Trauson Prospectus
China, with its large and ageing population base, represents perhaps the largest addressable market in the world.
4. Low Implantation rates represent Considerable Room for Continued Growth: Although China's orthopedic market experienced 18%+ annual growth over the past several years, it is still less than one tenth of the US market.

Source: China Kanguhai IP
Investment Options
The Chinese orthopedic market is currently dominated by the large US companies like Johnson & Johnson (NYSE:JNJ), Zimmer (ZMH), Wright Medical Group (NASDAQ:WMGI), Stryker (NYSE:SYK) and Medtronic (NYSE:MDT). These MNC's and their subsidiaries have cornered close to 50% of the market share given their experience, robust product portfolio and R&D capabilities.
China Kanghui Holdings (KH), Medtronic and Mindray Medical (NYSE:MR) are three major domestic players which US retail investors can access. China Kanguhai is an ADR listed on the NYSE with a market cap of $470 mn. The other player Medtronic formed a JV with Shandong Weigao Group (Hong Kong listed) to venture into market therapies in the spine and orthopedics sector in China.
Also, there have been have been 2 listed players entering the market through the M&A route. The Hong Kong listed MicroPort Scientific Corporation acquired Suzhou Best for $17 mn in 2010. This was followed by the US listed Mindray Medical (MR) acquisition of Dragonbio Orthopedics for $35.5 mn in June 2012.
One can also look at investing in iShares Dow Jones US Healthcare ETF (NYSEARCA:IYH) and iShares Dow Jones US Medical Devices ETF (NYSEARCA:IHI) to get a broad based exposure to China growth story.
Please refer to my previous article "Will China Grow Old Before It Becomes Rich? A Demographic Time Bomb", which discusses the demographic problem China faces as a result of one child policy. The aging population could turn into an Achilles' heel for China's leadership in the coming years and serve the orthopedic industry well.
Disclosure: I have no positions in any stocks mentioned, and no plans to initiate any positions within the next 72 hours.