There are lots of different investing strategies. One of my favorites is Donald Yacktman's strategy, which focuses on maximizing long-term total return. As explained by Yacktman using the recent performance of Coca Cola and Pepsi, buying "beaten down" stocks during periods of weakness can maximize total return over time. Generally, the stocks Yacktman likes are those belonging to solid corporations with strong management and a good history -- however, challenging market conditions or short-term problems may have decreased the valuation for the stock.
I try to follow a similar approach to investing, focusing on stocks that are both undervalued (and hence have the potential for capital appreciation) and have a solid dividend history (thus giving me at least a little return even in a sideways market). It's important to note that this investing strategy will not produce phenomenal returns overnight, and may result in market underperformance during short-term rallies, but Yacktman's record speaks to the long-term potential of such a strategy.
While I by no means claim to be anywhere near the same level as Yacktman, I try to use the same "contrarian value" mindset to pick out stocks with the potential for good long term returns. This week, three in particular caught my eye.
Pitney Bowes (PBI)
Pitney Bowes is well-known as the postage meter maker, which is perhaps why in the wake of the troubles faced by the US Post Office, Pitney's share price has collapsed.
Much of this collapse was unwarranted. The current P/E of 4.345 makes Pitney Bowes a dirt cheap stock.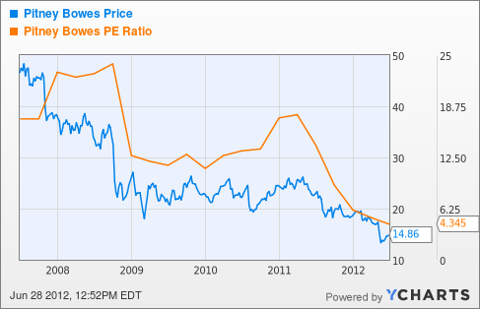 Some reasons to like Pitney Bowes, besides the valuation:
Dividends, dividends, dividends. The current dividend yield on PBI is over 10%, and the company is a Dividend Aristocrat, meaning it has consistently increased dividends for 25 years. I don't think you can find a better dividend stock in the market right now. The yield provides a significant cushion and phenomenal upside via DRIP.
Analysts are bullish. While earnings per share has declined slightly due to macroeconomics (a lot of PB's income is sourced from small businesses, which aren't doing so hot), they're by no means about to collapse. The freefall in P/E is unjustified.
Pitney Bowes has a history of patents and innovation, and they're refashioning themselves as a strong player in the ecommerce sector for small businesses.
For a more detailed analysis, see 6 Reasons Analysts Love This Beaten Down Dividend Aristocrat.
2: Caterpillar (CAT)
Everyone's seen the big yellow bulldozers doing construction work at one point or another. Well, that's one of the many things Caterpillar does. As you might imagine, in the current macro environment, there aren't a whole lot of people in a rush to buy new bulldozers and other heavy machinery -- and as a result, Caterpillar's been punished this year.
But further analysis shows that Caterpillar is near the bottom of its 5-year range in terms of valuation metrics like P/E, P/B, and P/S.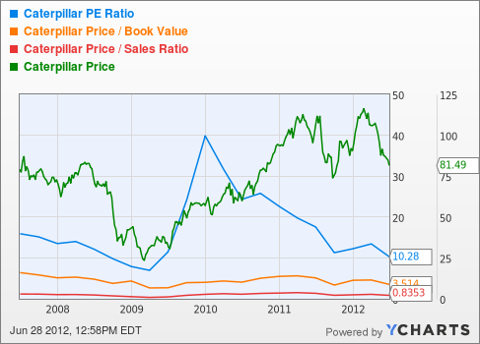 CAT PE Ratio data by YCharts
At this valuation, there are several things to like about the company.
Dividends. Caterpillar has a history of raising the dividend, and currently offers a respectable ~2.5% yield.
Growth. As I stated, a lot of Caterpillar's recent problems source from the fact that nobody's chomping at the bit to buy heavy machinery. But machinery wears out over time, and when the recovery gets stronger, pent-up demand may make Caterpillar as much of a "growth" stock as a "value" stock.
Analyst consensus is largely positive. For more details, see 4 Reasons To Like Caterpillar At Current Valuations.
3: Cummins (CMI)
If you've ever driven a pickup, the name Cummins should sound familiar. Cummins is a manufacturer of engines, engine parts, and various other industrial things made from metal. Somewhat like Caterpillar, Cummins experienced a run-up at the beginning of the year, but has since fallen back to earth. Again, valuation metrics suggest Cummins has far more upside than downside.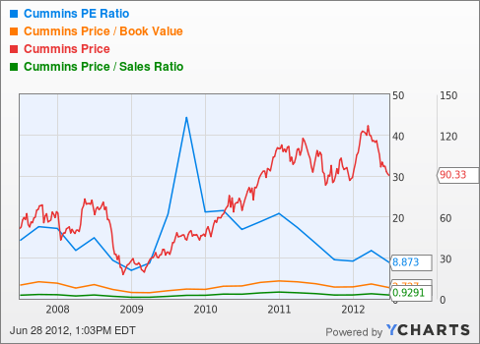 CMI PE Ratio data by YCharts
The arguments for Cummins are somewhat similar to the arguments for Caterpillar -- again, analyst consensus is largely positive, and Cummins' growth has the potential to increase sharply with any uptick in economic activity. The dividend on Cummins, at 1.81%, isn't as high as the other two picks, but the company does have a history of increasing the dividend. So down the road, yield-on-cost will likely improve.
For a more thorough analysis, see 4 Reasons to Like Cummins.
Conclusion
From a "value investing" standpoint, I believe these three stocks are worth a good look due to their attractive valuations and long-term growth potential.
Disclaimer: I am an individual investor, not a licensed investment advisor or broker dealer. Investors are cautioned to perform their own due diligence. All information contained within this report is presented as-is and has been derived from public sources & management. Always contact a financial professional before making any major financial decisions. All investments have an inherent degree of risk. The future is uncertain, and actual results may be materially different from those expected. Past performance is no guarantee of future results. All views expressed herein are my own, and cannot be interpreted as the views of my employer(s) or any organizations I am affiliated with. Presentation of information does not necessarily constitute a recommendation to buy or sell. Never make any investment without conducting your own research and reading multiple points of view.
Disclosure: I am long PBI.
Additional disclosure: I may initiate a long position in CAT and/or CMI over the next 72 hours.