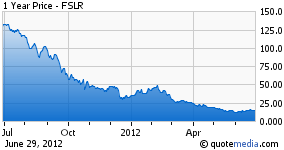 I have a somewhat personal attachment to First Solar (NASDAQ:FSLR). It was the first stock I ever purchased back in 2008. At that time, I held it for a meager three hours before selling it and haven't looked at it since. Imagine my reaction when I look up a quote of FSLR to see it has risen below expectations from $173 when I bought and sold it to the current low of about $15.
What happened? Murphy's Law, apparently. They wrote off almost all their goodwill, saw a flood of supply into the market thanks to China, and have had to record some extraordinary expenses in restructuring their operations with costs totaling at least $400 million in the last two quarters.
Does this mean First Solar is on its way out? Not likely. They've been considered one of the leaders in the industry in terms of making high quality solar cells while driving down the important costs/watt ratio being the first solar firm to lower said ratio below $1 in 2009. On top of that, they have been putting more of their revenue into R&D in the recent years (5.1% of revenue in 2011 compared to 3.7% in 2010).
What makes this particular analysis difficult is its business structure and the market it's in. Here are some points that I consider significant.
1. Past and Present. First off, their recent loses have been mainly due to changes in the market, and FSLR is simply trying to adjust as quickly as possible. They've had to reduce operations in Germany and the Pacific, leading to asset impairment charges. While these are mostly non-cash charges, it signifies that their main international operations are likely in for a slowdown. This is applies particularly to Europe until the PIGS issue is solved. The other current issue is a recent flooding of the market of Chinese solar cells. This has caused FSLR's gross profit margin to get cleaved by 11% points from 46% to 35% in just 1 fiscal year.
2. Firm structure. FSLR is really two different firms: one part solar cell designer and one part construction firm. Each one has to be looked at individually due to the different accounting principles used as well as its main competition. For instance, the components business recognizes revenue like any other manufacturing firm would. On the other hand, its systems (construction) business must use ASC 605 (long-term construction contracts method) for recording revenue. Also, the reason FSLR had an increase in revenues in 2011 was due to the awarding of more construction contracts, while the components business declined.
3. Nit picking Footnotes. Looking into their recent 10-K simply bugs me. It's just plain convoluted and uses some quirky accounting tactics. A couple examples include the use of capitalizing interest expenses and the ways in which different notes refer to each other. Due to the firm's capitalizing interest, they don't have to put their true interest expense on their official income statement. However, looking at Note 8 under "Capitalized Interest" shows that they had an interest expense of about $15 million, while they showed an expense of only $0.1 million on their income statement. In spite of this, the interest earned due to short and long term marketable securities and restricted cash/ investments makes up for this amount by making $13.4 million in the 2012. FSLR will also have footnotes that refer to footnotes. In particular, looking at Note 14 will refer you to Note 7 for financial details which will refer you to Note 7 for more details (at which I gave up going further into).
The conclusion is that FSLR is not about to go belly up, but their situation requires a great deal of effort to determine its value. They remain the largest publicly traded solar firm that only produces solar cells, giving them the economics of scale advantage. In the end, I'd do a reproduction cost estimation for value (based on Bruce Greenwald's method of valuation outlined in his book), due to the high uncertainty of its earnings power. Another area to look at would be to purchase the bonds seeing as how the interest is almost entirely paid for by the interest earned on their own marketable securities [much like how Warren Buffett bought Amazon.com (NASDAQ:AMZN) bonds after the dot-com crash].
Side Note: It's not just FSLR that's doing bad, but every solar cell manufacturer that's performing badly right now. The following solar firms are also in the red TTM: LDK (NYSE:LDK), Trina Solar (NYSE:TSL), Canadian Solar (NASDAQ:CSIQ) and Yingli Green Energy (NYSE:YGE) (yes, I'm aware these are all Chinese firms).
SEC filings here.
Disclosure: I have no positions in any stocks mentioned, and no plans to initiate any positions within the next 72 hours.