Following better-than-expected news out of the EU, the broad stock market indices -- along with almost all major commodities -- are trading sharply higher Friday.
Click to enlarge images.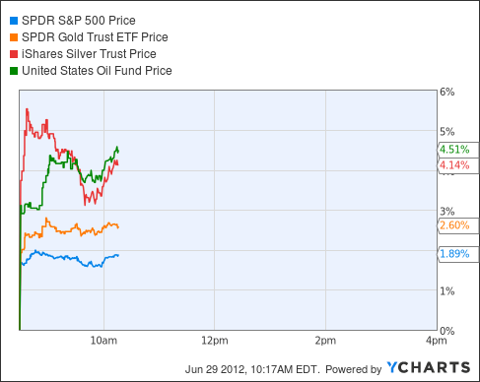 Coal Stocks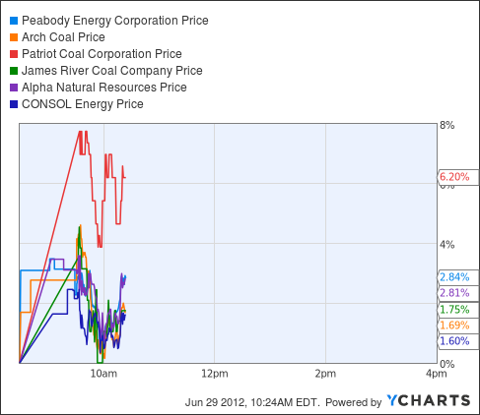 As shown by the chart above, Peabody Energy (NYSE:BTU), Arch Coal (ACI), Patriot Coal (PCX), James River Coal (JRCC), Consol Energy (NYSE:CNX) and Alpha Natural Resources (ANR) are all somewhat higher. However, considering the high beta of these stocks, the move is somewhat disappointing.
Beta
BTU: 1.47
ACI: 1.82
PCX: 2.98
JRCC: 2.01
ANR: 1.8
CNX: 1.47
Based on their respective betas, some of these stocks are badly underperforming -- notably, ACI, CNX, and JRCC.
Recent Rally
It should be noted that coal stocks have been moving sharply higher over the past few days.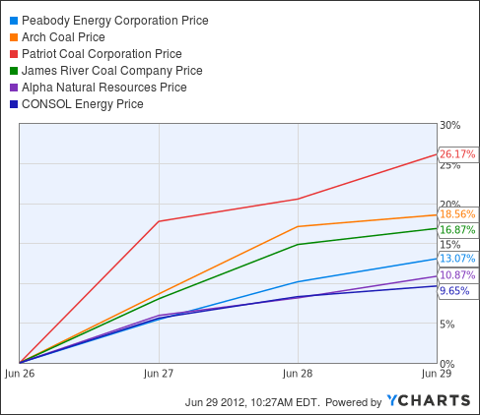 What It Means
The relative weakness of coal stocks on Friday could be an early signal that the recent coal rally has run its course. For traders, I would look to pair back positions and put money to work in other sectors.
Disclosure: I have no positions in any stocks mentioned, and no plans to initiate any positions within the next 72 hours.