Economists and market participants have done much hand-wringing in the last two months over fears that the US economy may be slipping into another recession. But recent data coming out of the US trucking industry suggests that the US economy is not slipping into recession but instead is continuing to grow at an albeit slow but steady pace.
US Transports are often looked at as a leading indicator for the broader US indices because goods transportation is one the first sectors of the economy to be hit in an economic slowdown:
"The economy has never contracted without tonnage turning negative first, so the truck figures are a leading indicator, providing the "first signal" of a slump," said Thom Albrecht, an analyst in Richmond, Virginia, with BB&T Capital Markets. Bloomberg.
The following article from Bloomberg summarizes recent trucking and transport data:
Truckers as Leading Indicator Show Stable U.S. Economic Growth
Below are some takeaways from the article:
The improving data complement anecdotal information from carriers that freight demand ended May on a strong note.
Trucking trends are reflective of an economic environment that is stable, not deteriorating.
The for-hire truck-tonnage index rose 2.8% in April from a year earlier, up from 0.2% the prior month, marking 29 months of growth, based on data from the American Trucking Associations.
FTR's index of U.S. truck loadings increased 3% to 115.9 in April from a year earlier, the highest since 2008, based on data from the Nashville, Indiana- based transportation-forecasting company.
Annual gains above 5% for the for-hire truck-tonnage index would suggest robust activity. Index growth exceeded 5% between July 2010 and March 2011,
If US Transports are indeed a leading indicator for the future direction of the broader US equity indices, then we are on the verge of receiving a green light for a potential bullish move to the upside for US equities.
The iShares DJ Transportation Index Fund (BATS:IYT) which is comprised of trucking, railway, and parcel delivery companies, will trigger a TrendCharts Bullish Buy Signal if it closes above $92.00 this week.
Note the bullish breakout above the bearish downtrend line that originates from March 2012 - a weekly close above this bearish trend line could signal the beginning of a new bullish uptrend for IYT.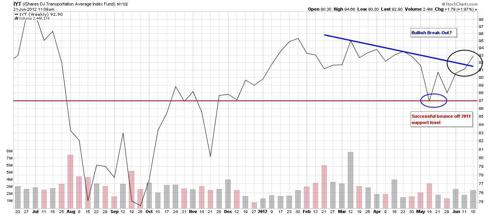 If IYT does close above $92.00 this week (June 29) we will allocate 2% of our TrendCharts Model Portfolio to a long position in IYT.
As always we will manage the trade with a stop-loss, just in case this IYT bullish breakout turns out to be a head-fake, and the trade turns against us.
Disclosure: I have no positions in any stocks mentioned, but may initiate a long position in IYT over the next 72 hours.