Silver is losing its shine as a safe haven as well as an inflation hedge. Slower global economic activity, and the view that American and European policymakers are not going to take further monetary easing steps, have led to a decline in commodity prices, with silver prices currently dropping to 19-month low levels.
Bloomberg reported that 'the silver futures for September delivery dropped 2.6% to $26.291 per ounce on the Comex, after touching $26.105, the lowest level since November 28, 2010".
The silver prices have rebounded today.

However, even though the market is currently bearish regarding silver and its stocks, we are bullish on this sector because we expect its demand to increase in future, especially in industrial applications, currently accounting for more than 55% of its demand. Its demand is projected to increase significantly due to its technical proficiency limiting the ability to switch to low-cost alternatives.
The considerable forecasted increase in silver's demand from the industrial segment is also attributable to the new industrial applications of silver, such as hygiene, food packaging, super capacitors, wood preservatives, etc. , which is why we are quite bullish on silver going forward.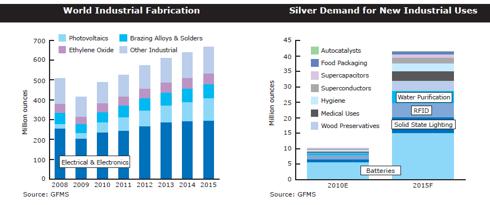 Jewelry and silverware are also important constituents of silver demand, accounting for 23.5% in 2011. Their demand dropped in 2011 due to a fall in consumption and volatility of silver prices. However, we feel that declining silver prices and relatively higher gold prices will improve jewelry's demand. The ongoing 19-week low silver prices might also improve the demand for silverware, and coins & medals.
Due to the continuation of a switch from conventional to digital X-rays, silver's demand is falling in photography. However, recently, GFMS reported that silver's photographic demand experienced its "slowest percentage decline in six years". However, given its current low demand (7.5%), its impact on silver's overall demand is relatively low.
According to GFMS' World Silver Survey 2012, mine production currently accounts for more than 73% of total silver supply, and will grow by approximately 4% due to additional gains in Mexico and China. The impact of other subcomponents is relatively smaller on silver's total supply.
Silver Stock - Silver Wheaton (SLW)
We reiterate our recommendation of taking a long position on SLW because:
Its unique business model of making an upfront payment to purchase a set proportion of a mine's future silver production gives it an edge over its competitors. This competitive advantage is sustainable due to its lucrative growth profile, negligible exposure to mining risks, and leverage to rising silver prices.
It will receive 25% of the life-of-the-mine silver production from one of the largest and low-cost gold mines, Pascua-Lama, which is expected to start production in mid-2013.
It will continue executing its growth strategy for acquiring silver stream interests due to fully unutilized $400 million revolving credit facility, $ 1 billion cash in hand, and projected annual operating cash flows of more than $600 million.
Its valuations are very cheap as its forward price-to-earnings ratio of 12x is behind the industry average of 15x. Its stock price has also declined by a huge 12% this year, primarily due to declining silver prices, as against the increase in the S&P 500 index of almost 6%.
Silver ETF - iShares Silver Trust (NYSEARCA:SLV)
SLV has also hit its 19-month low because traders are not optimistic about the results of the EU meeting later this week. Markets are not anticipating European leaders to come up with new liquidity measures, and so, silver's demand as an inflation hedge is expected to further decrease.
Even last week, silver ETFs lost more than 6%, primarily because of disappointment by the Fed regarding further monetary stimulus. As long as global economic activity remains slow, and there is no further quantitative easing, the U.S. dollar will keep on surging and silver will keep falling, because of its reducing demand as an inflation hedge.
Given the global macroeconomic environment, we recommend investors to stay away from SLV. However, as part of a portfolio, one can take a short position on SLV to hedge against the long position in SLW.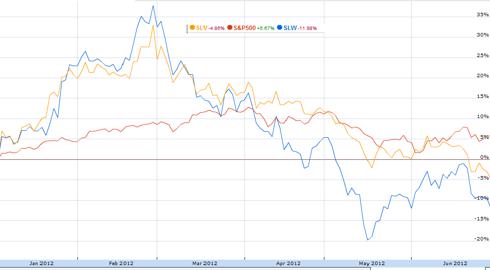 Disclosure: I have no positions in any stocks mentioned, and no plans to initiate any positions within the next 72 hours.